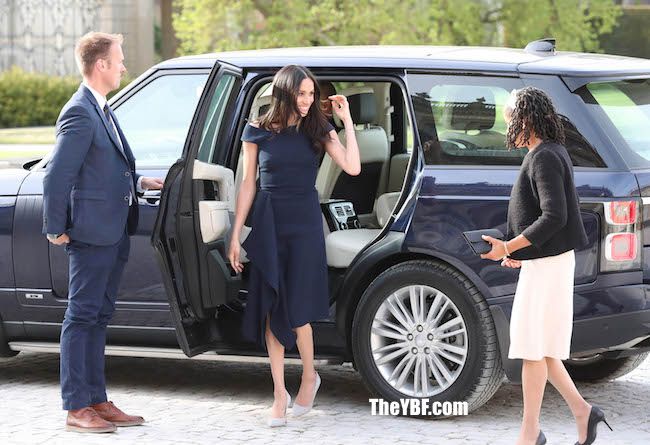 While her daddy and 'em are still cutting up back in the States, Meghan Markle and her mom were busy getting the Royal treatment just one day before the biggest wedding of the year.  And securing someone else to walk her down the aisle.  Deets inside...
In yet another break from tradition, Meghan Markle asked her future father-in-law Prince Charles to walk her down the aisle at tomorrow's Royal Wedding.  He happily obliged, and that move is just one more way the Royal Family is showing they're all the way here for this wedding. And they're proving they have Meghan's back through this turbulent time with her own family.
An update on the #RoyalWedding: pic.twitter.com/wfJ6ZFyzHi

— Kensington Palace (@KensingtonRoyal) May 18, 2018
Her mother, Doria Ragland, has been on Mother of the Bride duty and has been beaming from ear to ear ever since arriving in London.  The proud mom met the Royals earlier this week, and today, she met Her Royal Highness, the Queen.
It was her first time meeting Meghan's new in-laws, and reportedly she had tea with the Queen before the mother & daughter duo arrived at Cliveden House hotel in Windsor today (pictured here). They will leave from this hotel, which is a different place than where Prince Harry and Prince William are staying, for the wedding via carriage.
Ms. Meghan Markle arrives at Cliveden House Hotel, accompanied by her mother Ms. Doria Ragland #RoyalWeddingpic.twitter.com/SqOFhb0Wr5

— Kensington Palace (@KensingtonRoyal) May 18, 2018
He will meet her halfway into St George's Chapel, as Meghan planned to walk in by herself.
Meghan was in full on pre-Duchess mode rocking a navy Roland Mouret ruffle detailed pencil dress and her favorite grey suede pumps.  Her mom kept it chic in a white dress and black tweed blazer. Roland is a good friend of Meghan's so he's also rumored to be in the running as the designer who will create her epic Royal Wedding gown.
The Queen was spotted arriving to Windsor before the meeting - possibly with Meghan's Beagle in tow!
Sweet.
While the former "Suits" star should have been basking in a Royal glow all week as she prepares for arguably the biggest day of her life, she was dealing with thirsty family members who are trying to ruin this for us!  (Yes, us.)
Her father, "Thomas Markle, underwent heart surgery this week after a recent heart attack and is unable to travel for the wedding.  It's interesting, since at the beginning of the week, he made folks think he was indeed coming.  Then he quickly, in the same day, said he is not.   It was widely believed that was just an excuse to not be in attendance after his embarrassing publicity stunt where he staged "I'm getting ready for Meghan's wedding" photos....after it was reoprted he wasn't even invited.  Apparently, his other daughter, Meghan's (hating) half-sister, got paid by a paparazzi agency to stage the photos, and she pocketed most of the money.
CNN states:
In an unusual move, Kensington Palace issued a statement on Monday night, describing the situation as a "deeply personal moment for Ms Markle in the days before the wedding."

 

A Kensington Palace spokesman added that "She and Prince Harry ask again for understanding and respect to be extended to Mr. Markle in this difficult situation."
It's been a roller coaster of drama with Meghan's father's side ever since the enagagment was announced.  He hasn't been in good health for years, and he and Meghan are rumored to be estranged.  It's also rumored he has asked her for money since he is on the down and out these days. And it's unclear if anything he tells the tablods is true. 
His other children, who seem to have issues of their own, have spoken out about Meghan saying she doesn't speak to them and have not been invited to the wedding.  Many uninvited family members were spotted arriving into London this week though with luggage.  Also, one of her half brothers was sent to jail back in January afte fighting with his girlfriend and threatening her with a gun.
After news dropped this morning that Prince Charles is his replacement, Thomas is reportedly"honored and grateful" that Prince Charles will walk Meghan down the aisle in his absence at the royal wedding on Saturday.  Thomas also claimed Meghan and Harry "cleared it with him" before announcing.
Oh.
Thankfully, her mom made a beeline across the pond to be the supportive parent she needed.  It was also rumored she may walk her down the aisle, but that's obviously not the case.
Photos: InSTAR