Jay Z finally sits down wit the SEC to answer questions they have in a fraud case against a company he sold Rocawear to. See the video of Hov making his way inside the offices, plus deets on TIDAL being accused of inflating stream numbers and a new Prince album set to drop on the platform inside...
Jay Z (and his lawyers) finally gave in to the requests of the Securities and Exchange Commission as they investigate a fraud case on another company.
After several months of ducking the SEC's request to testify in a federal probe against Iconix, Hov (real name Shawn Carter) made his way to the SEC offices in NYC yesterday (above) to answer questions about his dealings with New York licensing firm Iconix Brand Group - the company who bought Jay's Rocawear brand in 2007 for $204 million.
See his arrival below:
Hov isn't in any trouble. The SEC is investigating "potential violations" of federal financial disclosure laws by Iconix when the company reported financial results, including about its Rocawear-related assets.
Since the Hip Hop mogul felt he didn't have anything to do with the company, he felt he shouldn't have to testify. After reportedly dodging the SEC's requests to testify since last year, U.S. District Judge Paul G. Gardephe stepped in and demanded Jay explain himself.
The "99 Problems" rapper tried his damnedest to get out of it by responding to the judge's orders with an 18-page opposition brief drafted by his attorneys. Days later, Mr. Carter agreed to sit down with the SEC for a deposition.
It's unclear how long the questioning will last. Let's hope not too long since Hov said anything over a day would affect everyone working on his upcoming joint tour with his wife Beyonce, On The Run II.
Don't mess this up for us SEC!
This isn't the only legal issues Hov is dealing with this week.
Tono - a Norwegian collection society representing around 30,000 songwriters, lyricists and composers, as well as more 2.5 million songwriters worldwide - has filed a criminal complaint against Jay Z's streaming music service, TIDAL. In fact, several Scandinavian artist organizations and other entities are on a witch hunt after a Norwegian business newspaper made some serious accusations against TIDAL.
So why are they mad? Well, Tono claims the streaming platform manipulated its data and inflated hundreds of millions of plays for Beyonce's LEMONADE and Kanye West's The Life Of Pablo. TIDAL denies these accusations, calling them "a smear campaign" made up of "lies and falsehoods," and went on record to say they will fight against it vigorously. They sent out an official statement when reports about faking streams first started making their rounds.
Billboard reports:
The report, which was produced in conjunction with Norwegian University of Science and Technology (NTNU) -- based on data passed to the newspaper by an anonymous source -- claimed that Tidal used genuine user accounts to significantly beef up the number of streams of both albums with more than 320 million false plays, alleging that the false data had "generated massive royalty payouts at the expense of other artists."

The investigation prompted Tono to report Tidal to the Norwegian National Authority for Investigation and Prosecution of Economic and Environmental Crime. The police body has confirmed it has received a complaint but is yet to announce if it will investigate the claims.

Danish collection society Koda also announced today that it will be conducting an independent audit of Tidal data "so that we can come to terms with the matter and ensure that our members have received the money from Tidal that belongs to them."

Other music organizations are considering filing complaints against Tidal based on the Norwegian newspaper story as well, Billboard has learned.
What's that saying? When it rains, it pours.
Speaking of rain..."Purple Rain" that is...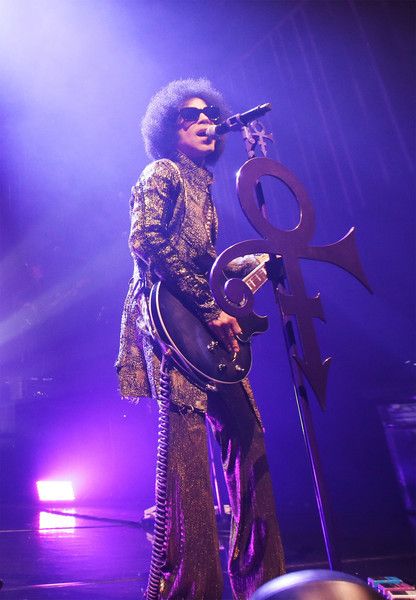 In the midst of all of this legal drama, Jay Z is working on a new Prince album to stream exclusively on TIDAL, of course. Yes, they've squashed their "beef."
In 2016, Prince's estate filed a lawsuit against Roc Nation over TIDAL's claims of exclusive streaming rights of Prince's catalog. Now, the legal issue has been resolved and fans are about to get a special treat.
The full-length album will reportedly feature unreleased music from Prince's vault (and we all know there are TONS of songs in it). It's expected to be released to the TIDAL masses in 2019, streaming exclusively on TIDAL for two weeks.
Who's here for it?
EXTRAS:
1. Rap legend Slick Rick will be honored with an induction into the Bronx Walk of Fame. STORY
Photos: Splash/Getty