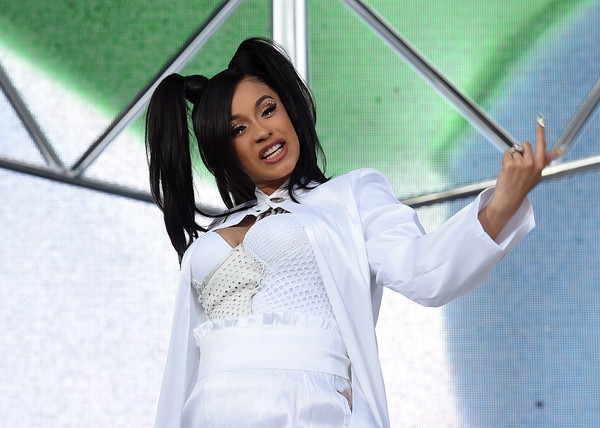 We're barely into the week and Cardi B is already having a week from hell. The pregnant rapper unleashed a series of tweets explaning what went down in the mall fight video that has gone viral. She's also apologizing for offensive language in her lyrics on Rita Ora's new track, "Girls." Deets inside...
Following an online feud with Azealia Banks and deleting her Instagram account, Cardi B is still trying to put out fires on social media.
Over the weekend, a video of the pregnant rapper arguing with a group of people outside of a store in a mall in Las Vegas last month went viral. It wasn't quite clear at the time why the "Cartier Bardi" rapper was engaged in a verbal alteration with "fans," but now we know what went down, at least, according to the mom-to-be.
Peep the clip below:
According to The Blast, Cardi ran into a group of fans outside of the Fendi store at The Shops at Crystals in the CityCenter complex on April 27th. One of the people in the group, Lolita Beckford-Dawkins, spoke to The Blast about the incident, saying Cardi ignored them when she was asked for a photo. Eventually, they got a reaction out of Cardi after someone in the group yelled out,"F*ck Cardi! You ain't sh*t."
In the clip that has gone viral, we see Cardi yelling at the group of people from inside the Fendi store as security tried to keep everyone separated. Some of what Lolita said is true. Someone did ask Cardi for a picture and she did refuse. However, she said fans need to learn to respect a person's privacy, especially a pregnant person.
After the incident, the Invasion of Privacy rapper hopped on Twitter to respond to rumors that the fight was over her wanting to shut down the store for a private shopping spree.
In a series of now deleted Twitter posts, the 25-year-old entertainer explained a man asked to take a picture with her and she declined. After she said no, the man and his friends followed her as she made her way to her next destination and that's when ish went left.
"I was walking to the store and the man asked for a picture and I said no!" she wrote in the tweets, she wrote. "Then he took out his phone, got next to me, and my security told him, 'She said no!' Then the guy and his girl started calling me a wack a** b*tch so I started barking."
"I walked all the way to the store and they still followed me trying to argue with me," she continued in the now deleted tweet. "If I respectfully told you I don't want to take a picture, your drunk ass shouldn't get close to me and disrespect my decisions, space or privacy."
A fan responded to Cardi's tweets accusing her of never snapping pics with her Bardi Gang members, in which she responded, "I always take pictures with fans. If I don't have no makeup, in a rush, not in the mood, I'm not obligated and not everybody is YOUR FAN. Clearly."
Damn. Can a pregnant woman shop in peace?!
This isn't the first time Cardi has had some issues with overzealous fans since announcing her pregnancy. Cardi B's security team was accused of brutally beating a fan who was seeking an autograph after the 2018 Met Gala.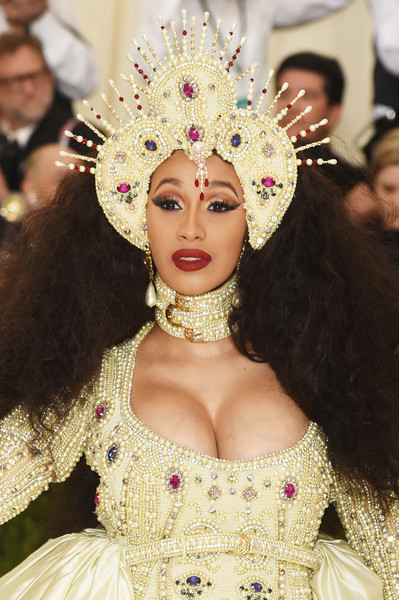 That's not the only drama Cardi is involved in.
Folks have been bashing her for what some have deemed "offensive lyrics" in Rita Ora's new track "Girls," also featuring Bebe Rexha and Charli XCX. It's a sexually fluid track that explores a woman who enjoys kissing other women.
On the track, Cardi raps:
Now I could be your lipstick, just for one night (one night)

Girls just wanna have fun and have their funds right (yeah)

I mean, say my name, say my name, say my name (say my name)

It tastes good just rollin' off your tongue, right? (Hurrr)

I put this MAC on your lips, so pucker up (mwah)

We ain't never heard of you 'cause you ain't done enough (no)

And I don't gotta introduce myself (Cardi)

I'm too sexy, I seduce myself (Bardi)

Seven-figure, never need a nigga (nope)

I steal your bitch, have her down with the scissor

Tonight, I don't want a dog, I want a kitten (eoooaaawww)

I might French a girl from Great Britain
A few LGBTQ artists, including singer Kehlani, spoke out publicly against the song, calling its lyrics problematic and exploitative.
every artist on the song is fantastic, and very much loved and supported by me... by all of us. but this isn't about talent. it's about choice.

— Kehlani (@Kehlani) May 11, 2018
and don't make this personal.

i have an incredible song out with one of the artists, and would love to work with the other three as well. & have met them all and respect them.

there. were. harmful. lyrics.
period. love y'all.

— Kehlani (@Kehlani) May 11, 2018
Now, Cardi is offering up an apology to anyone she may have offended due to her ignorance and opened up about her own "experiences" with women:
Listen to "GIRLS" by Rita Ora ft me @BebeRexha@charli_xcx .We never try to cause harm or had bad intentions with the song .I personally myself had experiences with other woman ,shiieeett with a lot of woman ! I though the song was a good song and i remember my experience .

— iamcardib (@iamcardib) May 15, 2018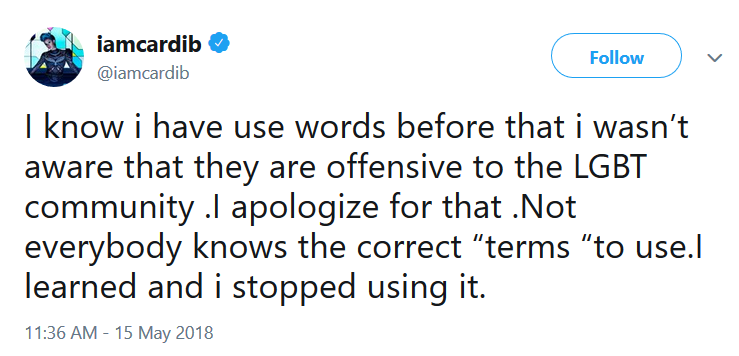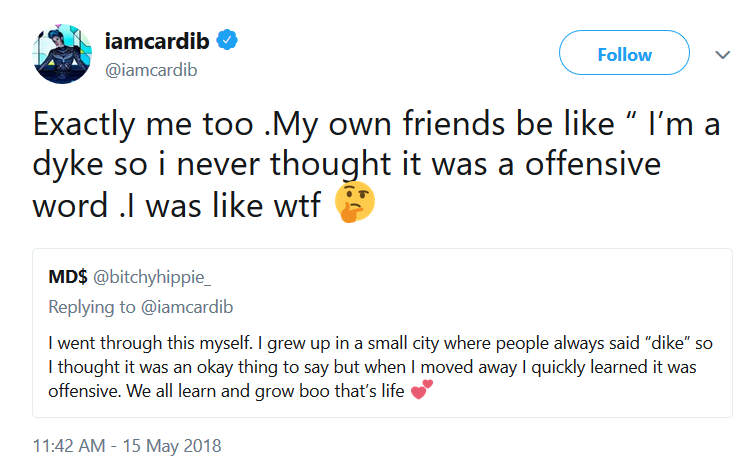 Back in January, Cardi defended her fiance Offset's homophobic lyrics, but that didn't go over well.
Meanwhile, Rita Ora also offered up an apology.
— Rita Ora (@RitaOra) May 14, 2018
The British singer then explained to Billboard that folks are taking the song out of context and that it's "not that deep."
"I just really wanted to show a side of me that just represents freedom and the belief [that you should] really be what you want to be," she said. "It's not actually that deep. It really is just about that. It's a free message, and for me, really fun. It's just a fun record."
When you know better, you do better.
Photos: Getty