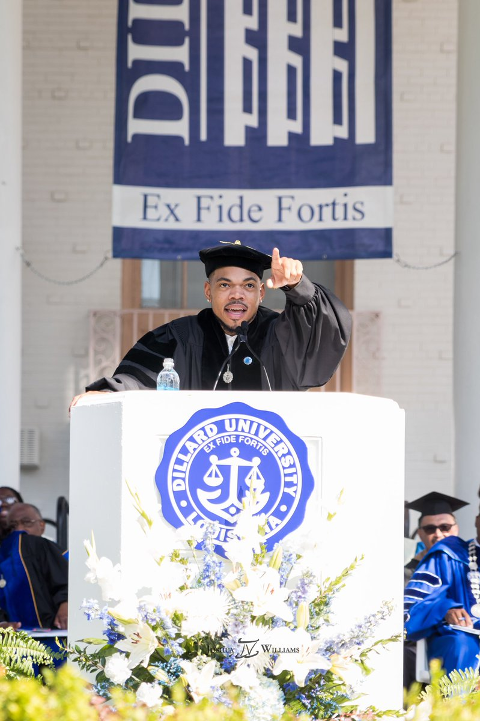 Chance The Rapper and Angela Rye delivered keynote speeches at two separate HBCU commencent ceremonies over the weekend. Get it all inside...
How's this for your very first college graduation?!
Over the weekend, Chance The Rapper attended his first ever college graduation. And he didn't just attend. The Chi-town native delivered the keynote speech at Dillard University, a historically black liberal arts school, in New Orleans. The Grammy Award winner also copped an honorary doctorate degree for his philanthropy and continued service to the youth. Nice!
Chance is only 25-years-old, but he is very wise beyond his years.
Me with President Kimbrough presenting the Honorary Degree to our Commencement Speaker Chancelor Bennett. (Also know as Chance the Rapper). #DillardGrad18#MYDUpic.twitter.com/M8whftr56M

— Robert Collins (@DrRobertCollins) May 12, 2018
The Coloring Book rapper delivered a 20-minute speech before the 2018 graduation class, encouraging them all to be better than the legends who came before them and to fearlessly transcend them.
"Some people might find this kind of talk disrespectful, but it's exactly the opposite. The highest form of respect that we can pay to the people who came before us, the people who sacrificed for us and gave us everything, is to be better than them," he said. "Our parents, grandparents, ancestors sacrificed, not so that we can keep doing the same thing that they were doing but so that we can be better. To simply copy them would be almost an insult to their sacrifice."
#myDU 2018 Graduates – Remember that greatness is never replicated, and that you must strive to be greater than your opposition in your own way
~ @chancetherapper

: @TheJoshIVpic.twitter.com/aNTSqP8op2

— Joshua Williams IV (@TheJoshIV) May 12, 2018
He went on to explain how Michael Jackson "was the greatest" and "solidified his space in world history," but then explained how a kid from a younger generation would surpass him.
"Generations of little black kids have been mesmerized before the TV screen or YouTube, watching as Mike seemed to do the impossible. One of those little black kids would grow up to be someone especially amazing," Chance said. "She would do more than just copy Mike. She would surpass him. And now, I'm going to tell you about the greatest performance put on by the greatest performer of all time, and it wasn't Mike."

"Beyonce," Chance said and then the graduates went wild.

He continued: "In real time, in one fell swoop, she eclipsed every Grammy performance, every Super Bowl halftime show, every talent show," Chance said in his commencement address Saturday. "Literally, any performance from the beginning of time in contrast became outdated and obsolete."

"I realized that all of us have a responsibility to be greater than the people who came before us. We have a responsibility to be not as good as them or live up to their example, but to actually surpass them, even when it seems scary. We have to overcome that fear and be greater than our role models," he explained. "We have to erase the fear and stigma behind eclipsing our heroes."
Got to see the homie @chancetherapper aka Dr. Bennett, get his Doctorate today at #DillardUniversity!!!! Proud of you brother!!! Great speech too! pic.twitter.com/hZyb6P4jU7

— Dee-1; IG @dee1music (@Dee1music) May 12, 2018
The "No Problems" rapper also talked about how students shouldn't be afraid to go beyond what the late Dr. Martin Luther King Jr. achieved as he fought led the civil rights movement.
"If I were to say right now that someone in this room will do more for black people than Dr. Martin Luther King, a lot of people would find that offensive. But to the man who directly spoke to seeing over the mountaintop, knowing he might not get here with us, truth is it would be counterproductive to find complacency in where he brought us," Chance said in his commencement address. "Dr. King's service to the movement was movement. Sometimes by immortalizing someone in their accomplishments, we immobilize the very thing that they believe in. We have to create new moves."
Peep the clip below:
Today at Dillard pic.twitter.com/sw8RuZf4iW

— Chance The Rapper (@chancetherapper) May 13, 2018
Watch his full speech below at the 1:30:23 mark:
Congrats Chance!
At another HBCU over the weekend...
CNN political analyst Angela Rye was tapped to deliver the keynote speech for the Spring 2018 Commencement Exercises at Southern University held at F.G. Clark Activity Center in Baton Rouge, LA on Friday.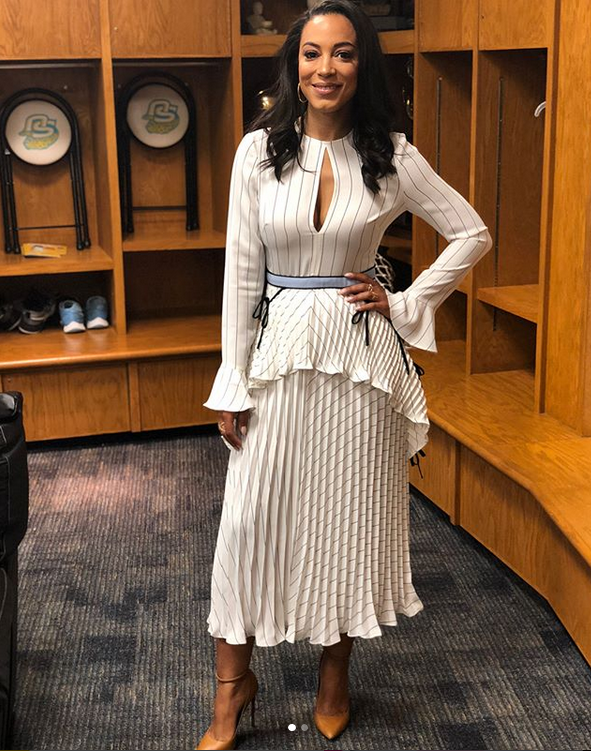 The YBF attorney, who rocked a Self Portrait ensemble with Tom Ford pumps, spoke before a graduating class of 650 students, asking them real life questions that will need answers once they step out into the real world.
"Will your degree serve you or will you use your degree to serve others?" Angela asked. "My responsibility to you today is truth. My responsibility to you today is ensuring you are adequately equipped to survive in a 2018 America. And in the America we create together for the future."
Commencement is on its way! We can feel the excitement in the room! President/Chancellor Belton and Chairwoman Ann Smith were excited to meet @angela_rye. #WeAreSouthern#gradszn#SU18pic.twitter.com/8UBFewW2JV

— Southern University (@SouthernU_BR) May 11, 2018
Angela drilled into the graduates' heads that we can't keep talking about our problems, we must start taking action.
"We cannot keep talking about the problems, and not playing our respective parts to change them. Be the change. Be courageous. Be bold, like your lives, our lives, depend on it because they do. Create the community you know we can be. Create the country you deserve to see. Create the world in which you want to live," she said.
Perfect words to live by.
BONUS:
After walking across the stage at SU, this YBF graduate got engaged! Peep the sweet clip above.
Congrats to the graduates!
Photos: Dillard University's Twitter/@TheJoshIV /Angela's IG