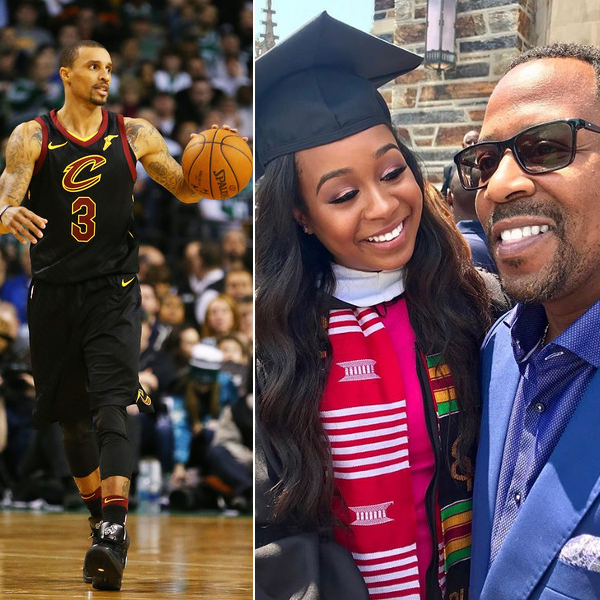 Cleveland Cavaliers baller George Hill wasn't going to let the NBA Playoffs keep him from receiving his college diploma. Peep a clip of the NBA player speaking during commencement, plus deets on Jamie Foxx receiving his honorary degree and Martin Lawrence gushing over his daughter Jasmin Lawrence graduating Cum Laude inside...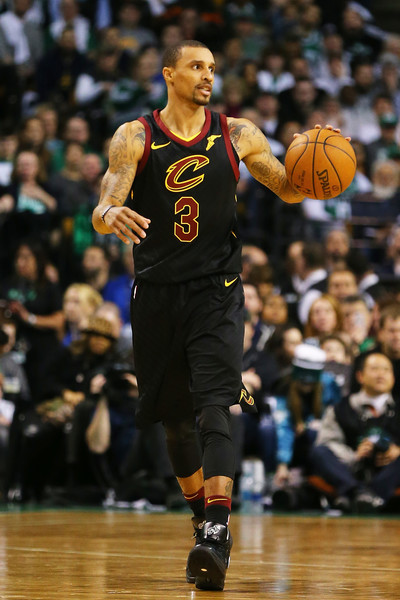 Ball is life, but so is education.
Cleveland Cavaliers player George Hill is currently balling out during the NBA Eastern Conference Finals. However, the 32-year-old wasn't going to let anything stand in his way to receive his college degree.
The Cavs point guard missed practice on Saturday before Game 1 against the Boston Celtics during the Eastern Conference Finals , but he had one hell of a reason to skip out on it. He was set to receive his college degree from the School of Liberal Arts at IUPUI and he also took part in the commencement ceremonies in Indianapolis. He was one of two student speakers to address the grauduating class.
It was a big day for the father of two, who's gearing up to get married this summer, as he is the first person in his family to graduate from college.
#IUPUIgrad18@IUPUI@IUPUIJaguars@IUPUIMensBball Final Walk Off pic.twitter.com/pDLoheyf65

— INDIANA GEORGE HILL (@George_Hill3) May 12, 2018
"It's not about how long it took, it's about finishing the job," he said
He said it was hard trying to find time in between practices and games to complete his assisngnments, but he was so focused on getting it done. He had been out of school for 15 years before he decided to cop his degree!
Peep a clip from his speech and his interview after walking across the stage below:
#IUPUIgrad18@IUPUI@IUPUIJaguars@IUPUIMensBball Final Walk Off pic.twitter.com/pDLoheyf65

— INDIANA GEORGE HILL (@George_Hill3) May 12, 2018
George Hill wasn't going to miss his graduation for anything.

Not even the Eastern Conference Finals. pic.twitter.com/QD66Hm6dFt

— SportsCenter (@SportsCenter) May 13, 2018
Congrats George!
By the way, the Cavs suffered a lost during Game 1 of the Eastern Conference Finals with an ending score of 108-83.
Speaking of graduations....
You can know call him Dr. Foxx!
Actor/singer/comedian Jamie Foxx (real name Eric Bishop) received an Honorary Doctorate of Humane Letters from Jarvis Christian College. The Django star, a native of Texas, received his honorary doctorate from the historically black university in Hawkins for his activism and community service.
"Out of all the awards, this is the most special, to see your faces and where you're about to go," he said to the graduating class.
After the ceremony, Foxx shared why it was so special for him to receive an honorary doctorate degree.
"Wow, there getting ready to take off and live their life in an incredible way and I had something to do with it, as far as giving them something encouraging to hold on to," Jamie said.
The actor/singer/comedian stressed how important it is to not forget where you came from, telling the students coming back home was a privlege.
"With everything that's we're going through and things like that," Foxx said. "If you can go back and stamp your flag of positivity, especially here at home, ain't nothing like Texas."
Congrats Jamie!
You can catch Jamie and his daughter Corinne Fox host season 2 of "Beat Shazam," set to premiere May 29th at 8/7c on FOX.
Another graduation that went down...
Proud dad moment!
Actor/comedian Martin Lawrence was beaming with joy after his eldest, Jasmin Lawrence, graduated cum laude at Duke University over the weekend. "Congrats to my 1st born. I'm so proud of you Jasmin. Keep doin your thing. I love you so much! #Dukeuniversity #cumlaude," Martin gushed on Instagram about his daughter, who is a member of Delta Sigma Theta Sorority, Inc.
Martin, who's engaged to be married to his longtime partner Roberta Moradfar, shares his daughter Jasmine with Pat Smith, who's currently married to Dallas Cowboys Hall of Famer Emmitt Smith. It was a total blended family affair as Pat and Emmitt were also in attendance to show support.
Aww! Congrats Jasmin!
Photos: Getty/Instagram