Jay Z has 99 problems and this SEC probe aint gonna be one, at least, that's what his lawyers are making sure of. Get the latest, plus deets on J. Cole's "KOD" Tour with Young Thug inside...
Jay Z's lawyers are working overtime after a federal judge ordered him to to explain why he's been M.I.A. after he was served two subpoenas in a fraud case against Iconix. He's being accused of "dodging" two subpoenas related to a Securities and Exchange Commission investigation of a company that bought his Rocawear clothing line in the last six months.
Hov's lawyers feel like the SEC is now on "celebrity hunt," demanding the rapper answer an unlimited amount of questions beginning Friday about a company he sold his Rocawear apparel business to more than a decade ago.
The Hip Hop mogul, real name Shawn Carter, responded to the judge's orders with an 18-page opposition brief drafted by his attorneys at Quinn Emanuel. His lawyers are calling the SEC probe a "celebrity hunt." They explained the SEC's "instant request is unreasonably and unnecessarily burdensome and is driven more by governmental fascination with celebrity and headlines than by any proper investigative purpose."
U.S. District Judge Paul G. Gardelphe ordered Hov to appear in court today to try and convince him why he shouldn't have to deliver a testimony in the fraud cause against Iconix. If he fails to convince the judge that he shouldn't have to testify, then he will be forced to give his testimony before the SEC in Washington on May 11th. It's reported he will be required to answer questions for as many days as it takes.
However, Jay said he's not doing it. He agreed to testify for a day, but anything over that.  He and his wife Beyonce do have their "On The Run II" tour coming up.
Testifying for more than a day "will impair the work of many individuals and entities who are preparing for the tour and will hinder my own work in preparation for the tour."
They're not investigating Hov, but they need his testimony in the case. The SEC is investigating "potential violations" of federal financial disclosure laws by Iconix when the company reported financial results, including about its Rocawear-related assets. In 2007, the Grammy Award winner sold Rocawear to Iconix for $204 million.
Jay Z's rep said he had no role in Iconix's financial reporting or its actions as a public company.
In other rapper news...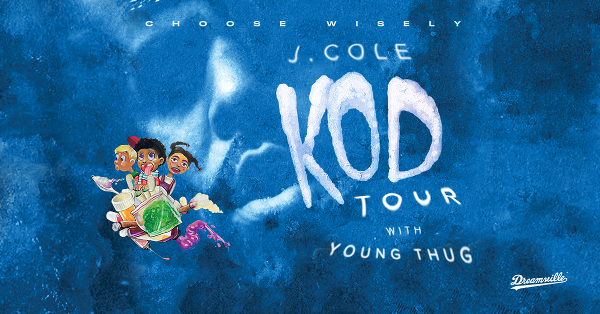 A little over two weeks after dropping his banger of an album KOD, J. Cole will embark on a 34-date tour with special guest Young Thug.
Produced by Live Nation, the tour will kick off in Miami, FL on August 9th and make stops across North America including Atlanta, Chicago, New York, Los Angeles and more, before wrapping in Boston, MA on October 10th.
KOD debuted at the No.1 spot on the Billboard 200, which marks the rapper's fifth consecutive #1 on the chart. Nice! The album also earned the third-biggest streaming week for an album in all of chart history. Yes, he's making history with his highly-praised album.
Tickets for the KOD tour go on sale to the general public beginning Saturday, May 12th at 10 a.m. local time at www.dreamville.com and LiveNation.com. American Express® Card Members can purchase tickets before the general public beginning Tuesday, May 8th at 10 a.m. through Friday, May 11th at 10 p.m.
Spotify and fan pre-sale kicks off Friday, May 11 at 10 a.m. local time.
Photos: Getty