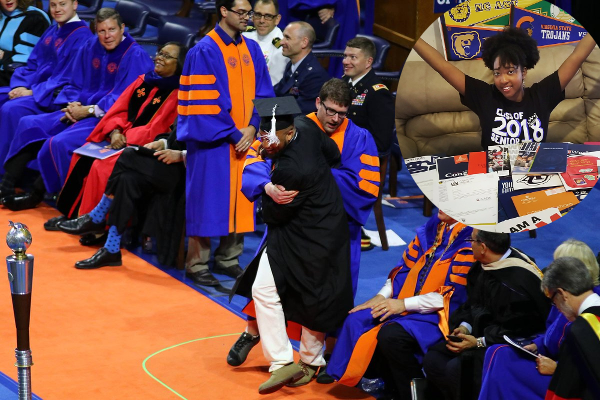 The University of Florida has issued an apology to the graduating students who were dragged off stage during their commencement ceremony. Find out why, plus learn about North Carolina teen Jasmine Harrison slaying the pre-college game inside...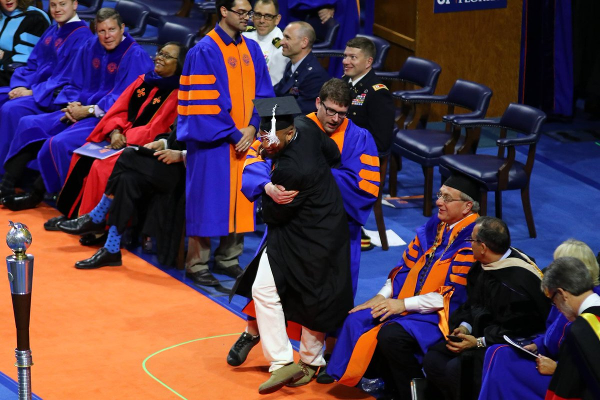 The University of Florida has come under fire after black students spoke out about how they were manhandled as they celebrated receiving their college degree. Literally, every time a black student hit the stage and did anything other than walk a straight line, a white faculuty member grabbed them and dragged them off stage.
The students explained they were celebrating their big feat by strolling, a tradition among black fraternities and sororities. Once video of the usher manhandling the students hit the internet, it became a trending topic on social media platforms.
UF student Oliver Telusma, who is receiving his bachelor's in political science and a member of the Beta Sigma chapter of Alpha Phi Alpha fraternity, talked to the Gainesville Sun about how humilating it was for him:
"I had just started … and he picked me up and turned me around, which I thought was kind of embarrassing and degrading to be handled in that manner," he said. "It was just really uncalled for, especially for anyone not martially trained to do that."
We agree. Why is he even touching them in the first place?
UF student Christopher Garcia-Wilde, who graduated Saturday with a bachelor's degree in microbiology, noticed when some students took longer than usual, they were rushed, but when black students took too long, they were pushed aggressively.
"Both of my friends wanted to celebrate by strolling, which is a cultural tradition in historically black fraternities and sororities," he said. ".... It's a tradition to stroll at graduation if you choose to, and people have been doing this for years." After seeing how his friends were being handled, he decided not to stroll and just held up his fist instead:

"I was actually too afraid because I saw him shove other people," he said. "But my two friends who graduated with me really wanted to do it, so they tried. They both were pushed and one of them got an entire bear hug."
Chile...
Peep clips from all angles below:
University of Florida apologizes after graduates aggressively dragged off stage while receiving diplomas. @VictorOquendo has the latest: https://t.co/gabCMLBnWnpic.twitter.com/TGHOMlwNM6

— Good Morning America (@GMA) May 7, 2018
UF Twitter

Somebody please find out this employee's name!! Every time a Black student took more than TWO seconds, he aggressively pushed them. Watch it for yourself. #ItsGreatUFpic.twitter.com/zMee1nMbUZ

— Chris (@ChicoFreedom) May 5, 2018
And from another angle... pic.twitter.com/iR2ZirCR2Y

— hailey (@yeliah_) May 6, 2018
Almost fell when he pushed me pic.twitter.com/98meStYalY

— thugger (@mythuggin) May 5, 2018
Really, sir? Was all of this necessary?! We could see if they were up there flipping the bird, but they were simply celebrating all of the hard work they put in over the last 4+ years to graduate.
Now, University President W. Kent Fuchs is apologizing for the staffer's "inappropriately aggressive" conduct and he said he's personally reaching out to the students who were pulled off stage:
During one of this weekend's commencement ceremonies, we were inappropriately aggressive in rushing students across the stage. I personally apologize, and am reaching out to the students involved. (1/2)

— W. Kent Fuchs (@PresidentFuchs) May 6, 2018
The practice has been halted for all future ceremonies, and we will work to make sure all graduating students know we are proud of their achievements and celebrate with them their graduation. (2/2)

— W. Kent Fuchs (@PresidentFuchs) May 6, 2018
However, this apology isn't enough for some folks. People have been pulling receipts of President Fuchs laughing as the students were being pulled off stage:
You saw what was going on and said nothing pic.twitter.com/yroAGNAUZa

— Wallace (@iWaleMazon) May 6, 2018
This is funny President Fuchs? @PresidentFuchspic.twitter.com/aB2AmmBG8z

— Chris (@ChicoFreedom) May 5, 2018
One student put the faculty member on FULL blast: 
I'll be waiting for my apology CLAS 2pm May 5th. This man right here. I'll take it from the aggressor not his employer pic.twitter.com/FeHHCZN8lg

— J (@tafari363) May 6, 2018
Oop!
We wonder how the President plans to "make it up" to the students.
In good news...
This young lady is #BlackGirlMagic personified!
17-year-old Jasmine Harrison, a high school senior from Greensboro, North Carolina, has been accetped into 113 colleges and universites! CONGRATS!
The college bound student, who's expected to graduate with a 4.0 GPA, has also been awarded more than $4.5 million in merit-based scholarships to boot. YASSSS! Get ALL the coins!
"It was overwhelming at first because there were so many options," she told the New York Times."I could go anywhere, and discover who I am."
However, this young, black and fabulous student will experience higher learning at a historically black college!  Jasmine will be attending Bennett College in Greensboro on a full scholarship to study biology. We guess she said y'all can keep those Ivy League schools!
Applying to over 113 schools can be very costly, but Jasmine was able to apply to them all for just $135 with help from mom and her school, The Academy at Smith. Another example that anything is possible if you do the work, and when family & school do their jobs too.
Congrats Jasmine!!!
Photos: @iWaleMazon/ Bravena Michelle Armstrong via NY Times