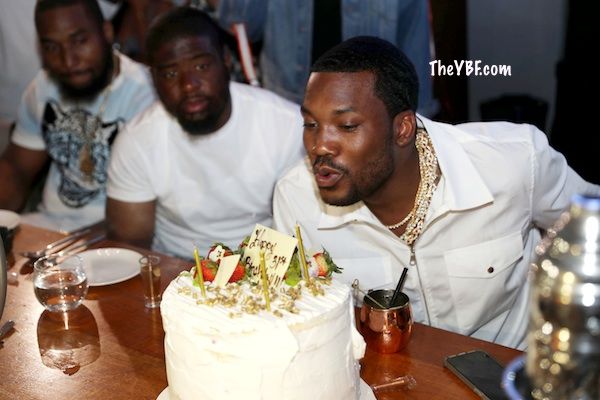 Meek Mill is living his best life since being released from jail almost two weeks ago. See flicks of the rapper celebrating his birthday in Miami, plus get the deets on his new Amazon docuseries about criminal justice reform inside...
Over the last few years or so, Meek Mill has been catching "Ls" left and right. However, he's winning right now.
After being released from jail almost two weeks ago, the MMG rapper is enjoying being a free man. Luckily for him, he was released from jail weeks before his 31st birthday, so he got the chance to party it up with his homies verses exchanging commissary in jail.
After Meek Mill's lawyers appealed to the Philadelphia supreme court to get his case to qualify for bail status, Meek became a free man until his probation violation case is heard in full.
The Court overruled Judge Genece Brinkley, saying "the alleged corrupt police officer who served as a "critical witness" in Meek's original gun and drugs case as a crucial point in their decision to order his bail." Since prosecutors were not opposed to him being released, they granted Meek's team's wishes. He was released as he appeals his decade old conviction and probation violations.
Last night, the "Dreams & Nightmares" rapper celebrated his 31st birthday with his homies at Komodo in Miami.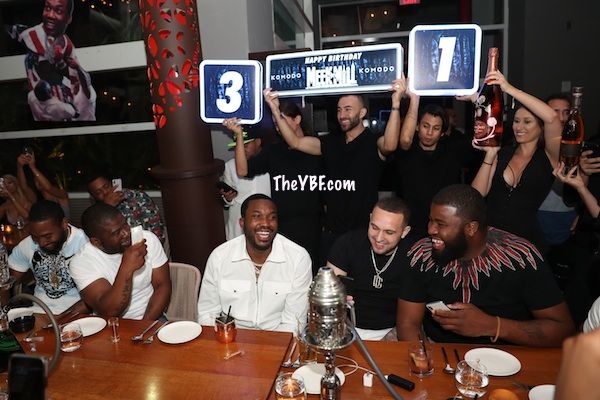 And, as you can see, he was super geeked during the celebration.
Before his release, celebs were very vocal about supporting Meek and his "unjust" jail stint. Since being released, Meek has somehow became the poster child for criminal justice reform. And since he's the new face of the movement, it's only right he gets his own series.
The Philly rapper has teamed up with Amazon Prime Video for a six-part documentary series that will follow his fight for exoneration while exposing flaws in the criminal justice system, according to Deadline.
The site reports:
The untitled docuseries will put the spotlight on Meek's life, giving unprecedented access to the star's life, career, and criminal justice odyssey, while demonstrating the negative effects long tail probation is having on urban communities of color. The series is expected to premiere in 2019 exclusively on Prime Video.

Each hour-long episode will chronicle Meek and his supporters as they attempt to uncover the different facets of corruption that kept him under the thumb of Philadelphia's criminal justice system for over a decade while revealing his life post-incarceration. The series will also explore his childhood trauma that led to his career as a musician.
No surprise here...Jay Z will be executive producing alongside Eli Holzman, Aaron Saidman, Paul and Isaac Solotaroff. Hov spoke out several times during Meek's incarceration to shed light on the injustices black men face with the criminal justice system.
Also...
Meek Mill sat down with Dateline's Lester Holt for his first post-prison interview where he talked about his new intentions as a free man.
"I feel like God put me in a position to be a voice for the voiceless. This is way more bigger than me," Meek told Lester.
The special shed light on Meek's upbringing and his struggle with the criminal justice system since he was a teenager. It takes viewers inside his emotional journey to freedom while talking to his family and legal experts about what the contentious case could mean for criminal justice reform in the United States.
Peep the full special here.
Photos: Startraks