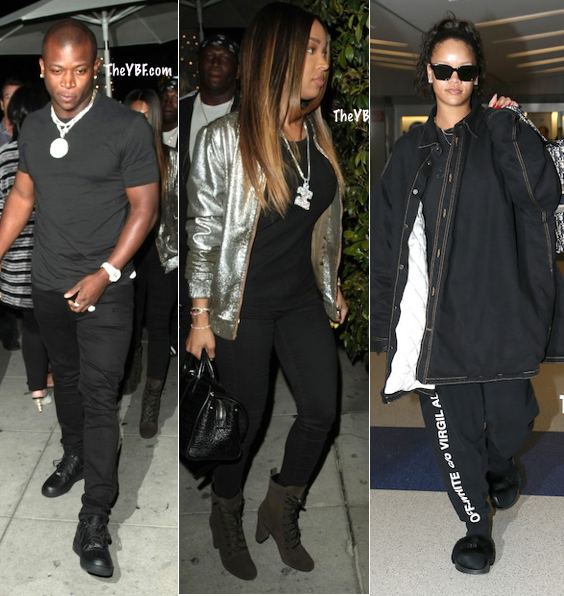 O.T. Genasis and his girlfriend Malika Haqq were spotted on a romantic dinner date in Beverly Hills, Meanwhile, we spotted a few celebs out in these streets, including Rihana serving up 90s vibes, Willow Smith taking stroll in a crop top, Tracee Ellis Ross looking pretty in pink and more. Get it all inside…
Matching 'fits and good eats!
Rapper O.T. Genasis and his reality star/actress girlfriend Malika Haqq are still going strong. And he's still wining and dining his lady to keep a smile on her face.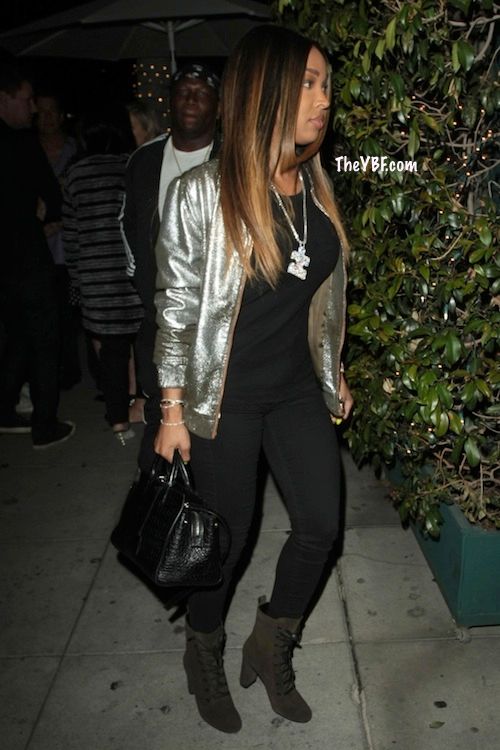 Decked out in all black outfits, the couple was spotted leaving Mr. Chow in Beverly Hills after a romantic dinner. It was rumored the two had called it quits late December, but got back together in February. Looks like they're back on track.
They appear to be really feeling one another and they aren't afraid to show it on social media.
Peep some of their lovey dovey posts below:
Looks like they're totally over their exes, "Basketball Wives" star Malaysia Pargo and  "Jersey Shore" star Ronnie Ortiz-Magro.
In the life of a pop superstar...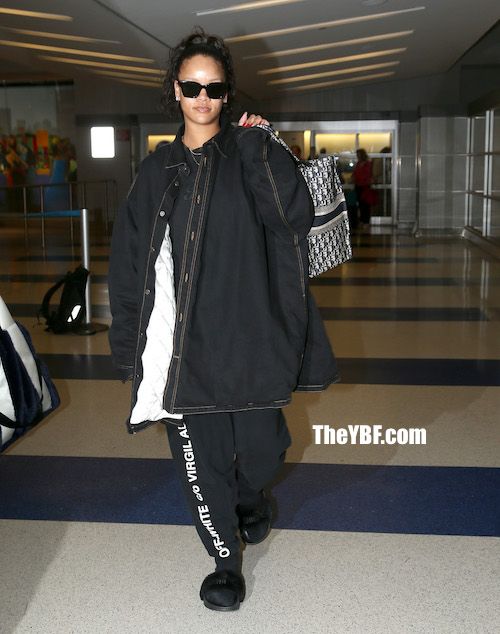 Rihanna stays on the run!
The Bajan beauty, who covers the June 2018 issue of VOGUE magazine, touched down at JFK airport from London dressed in her usual 90s threads rocking an oversized denim jacket, Off White sweat pants, her FENTY x PUMA slippers and a Dolce & Gabbana bag.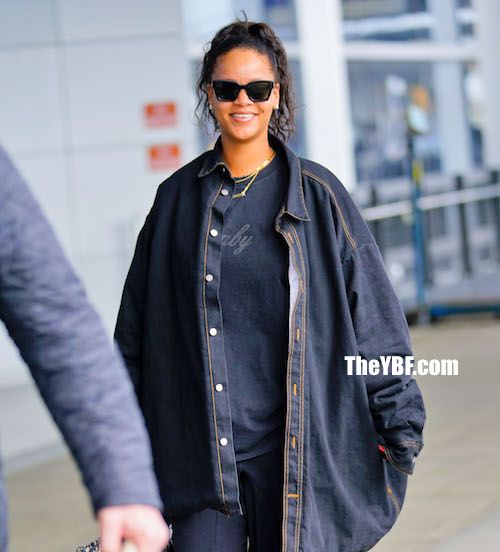 In the VOGUE cover story, the "Work" singer opened up about why she and her former homie-lover-friend Drake are no longer friends. She also dished on motherhood, her Saudi billionaire boyfriend and she gave us a bomb makeup tutorial. Oh, and her spread was H.O.T.! 
Catch up HERE.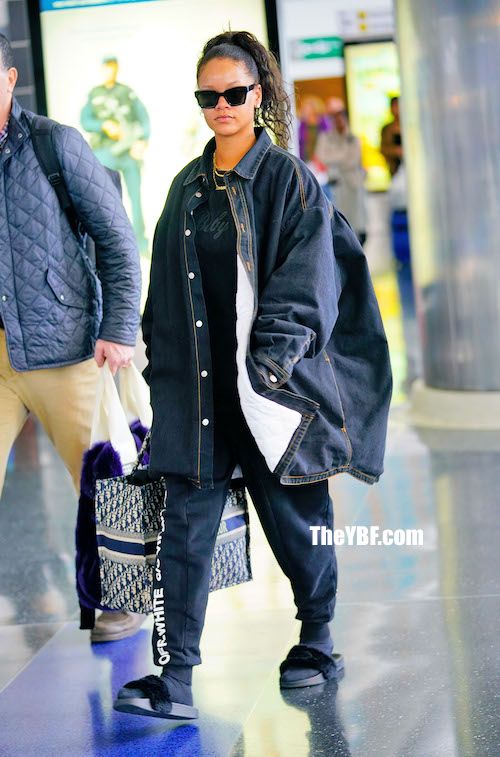 Coming down the pipeline, Rih will be releasing her Fenty lingerie line, dubbed Savage x Fenty, on May 11th. Have your coins ready ladies. Y'all know it's going to sell out fast.
Another YBF star out and about...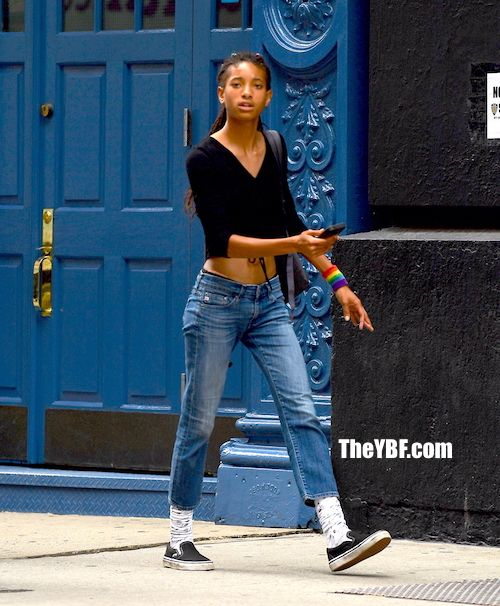 With temperatures heating up a bit, Willow Smith took advantage of the warmer weather in NYC. The singer/actress was spotted in a black crop top walking through SoHo Friday afternoon headed to the Apple Store with a friend.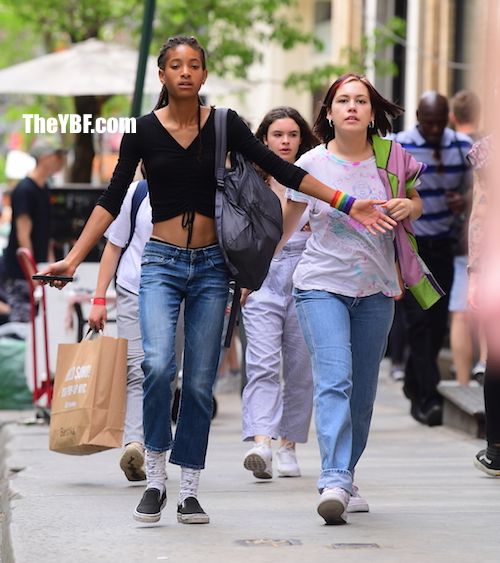 The 17-year-old hit the streets following her mother Jada Pinkett Smith's candid interview with Vulture about her upcoming Facebook Watch Show, "Red Table Talk." The show also features Willow and Jada's mother, Adrienne Banfield-Norris.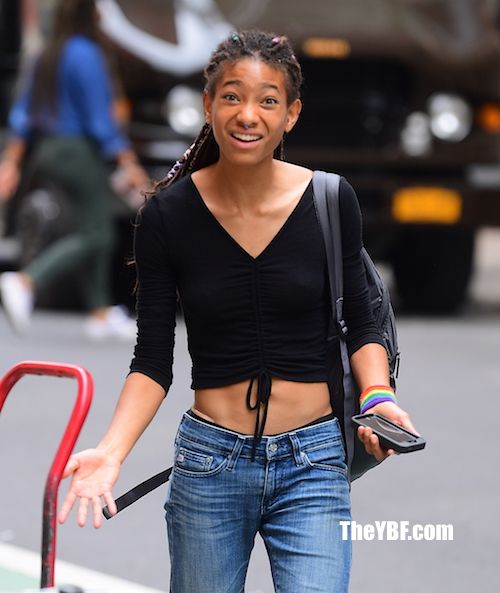 The Hollywood actress, who recently joined Instagram, said she was shocked to learn Willow's first expose to sex was when she accidently walked in on her and her husband Will Smith. And neither of them knew.
"I realized she walked in on Will and I. We were doing the sex show, I was like, 'What was your introduction to sex?'" Jada told Vulture. "She was like, 'Well, you know, me walking in on you and Dad.' I had no idea!" she screamed.

"How did that happen?! I was like, 'Lord have mercy, what did you see? Thank God I have some therapy fund put aside for you.' It wasn't funny in the moment." Luckily, there was still some mystery intact. "I had never heard that, and she said that what she got from that was that she walked into a private space. She was like, 'That's private time.' She said she didn't really see anything. But she knew she had just walked in on a very private moment."
Lordt.
Also in the Big Apple...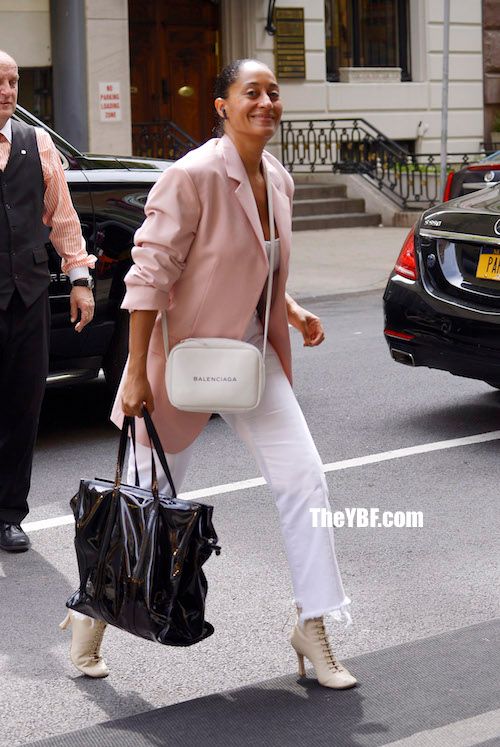 Tracee Ellis Ross is a working woman on the run. And she's making her rounds in a fashionable way. Of course.
The Golden Globe winner served up springtime fresh in all white topped with a pink blazer, nude booties, and a crossbody Balenciaga bag as she made her way inside of her NYC hotel.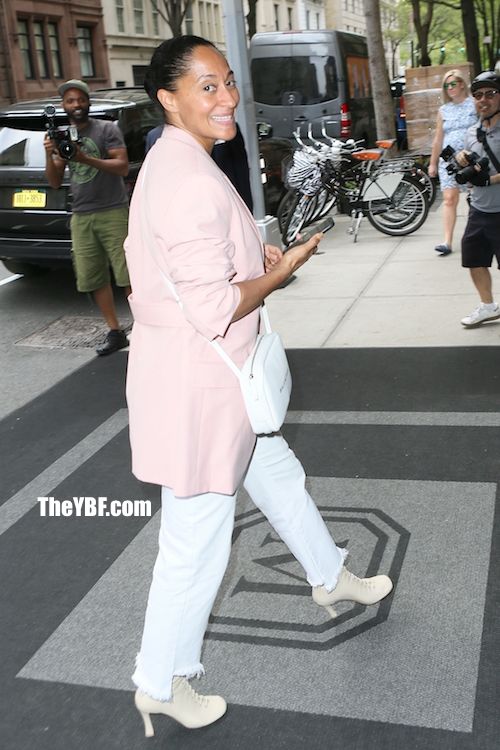 Natural beauty.
The "black-ish" star is making moves in the Big Apple before the interview of a lifetime.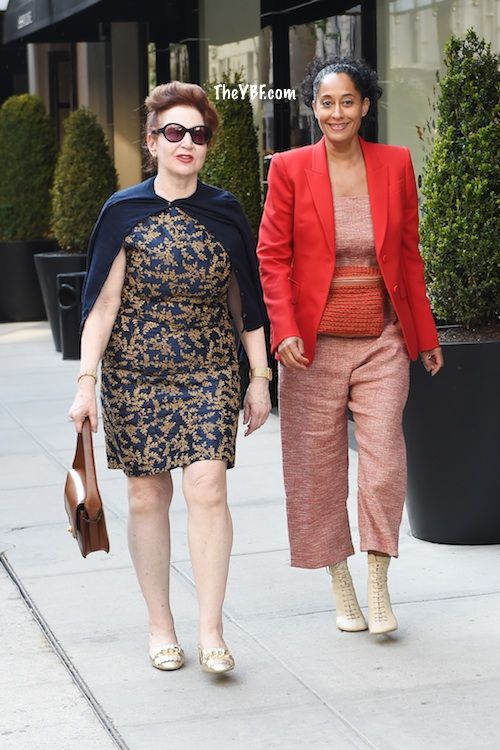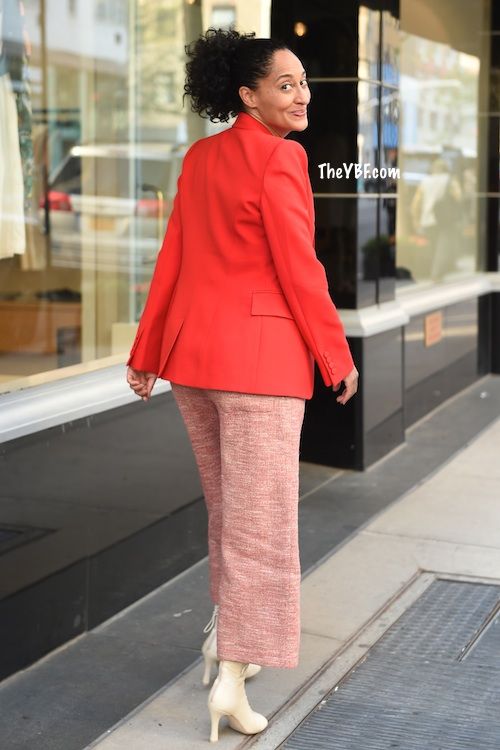 It's reported Tracee will interview forever First Lady Michelle Obama today in Los Angeles as part of the United State of Women Summit.
The conference will bring together a number of women leaders to discuss political and social issues, including former Teen Vogue editor Elaine Welteroth moderating a conversation with actress Yara Shahidi; the co-founder of police reform organization Campaign Zero, Brittany Packnett; and Sen. Kamala D. Harris (D-Calif.).
#BlackGirlMagic!
Another FAB chick in these streets...
"NCIS: Los Angeles" star Nia Long kicked off her YBF week with a nice dinner at Delilah in West Hollywood. Photogs caught her waiting for the valet on her way home.
Elsewhere...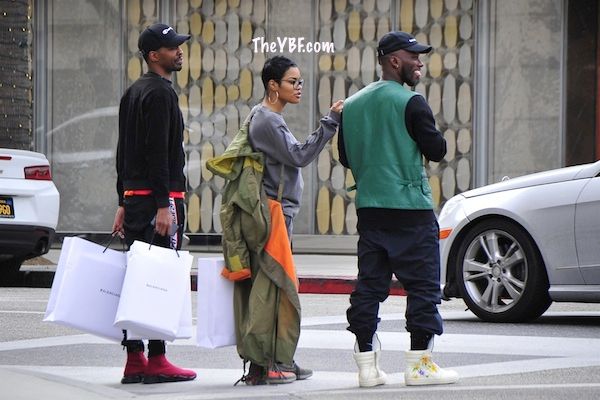 Teyana Taylor enjoyed a retail run with a few of her friends on Rodeo Drive in Beverly Hills recently. Nothing like a quick shopping spree with the homies.
Keep up with the triple threat and her family on their VH1 show "Teyana & Iman" on Mondays at 9pm EST.
On the east coast...
Actress Tessa Thompson is on the set of Ryan Coogler's CREED 2 to reprise her role as s Bianca - the girlfriend of Michael B. Jordan's character Adonis Creed.
She was spotted coming and going from her trailer trying to keep dry in the rain while filming in Philly.
CREED 2 is expected to hit theaters November 21, 2018.
Looks who's hot on the promo trail...
From "Atlanta" to the Marvel Universe!
Zazie Beetz is currently making press rounds to promote her new movie Deadpool 2, set to hit theaters May 18th.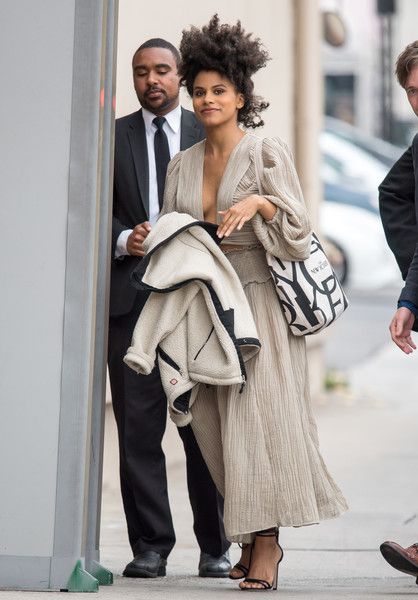 The "Atlanta" star was spotted outside of the "Jimmy Kimmel Live!" studio before an appearance.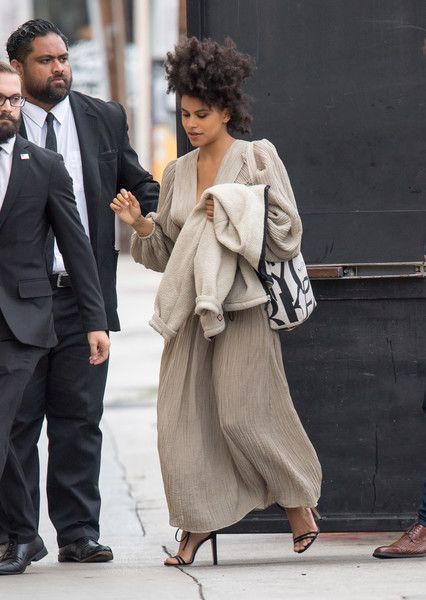 The YBF actress plays Domino with an unusual super power. Apparently, her super power is "luck" and there are jokes about whether its a "real superpower" or an "imaginary" one.
"She's lucky," Zazie told Jimmy Kimmel during her recent late night appearance. He asked her if her super power is the best power to have and here's what she said: "It is," she said. "I think it serves you kind of in all ways. You're just kind of in a way better at everything, everything just works better [...] I never really get like hurt cause I'm just sort of, it just works out."
Peep her interview below:
Deadpool 2 hits theaters May 18th.
Photos: Splash/Backgrid/Getty