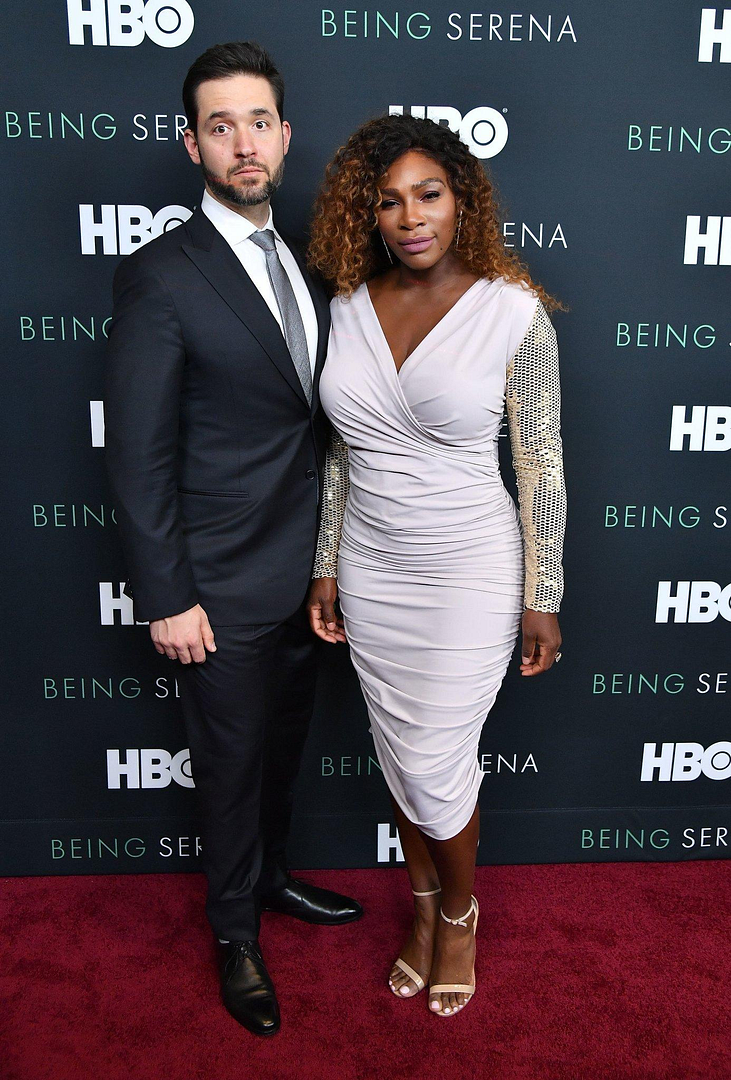 Find out why Serena Williams chose to marry a white man and what Loni Love has to say about it inside…
When Serena Williams revealed she was getting married to Reddit co-creator Alexis Ohanian she received mixed reactions from the black community. Some congratulated the tennis superstar, who has dated both black and white men in the past, on finally finding love, while others bashed her for "settling" with a white man.
Whether black or white, the new mom told the NY Times she wanted to be with someone who would love her unconditionally and she found that in Alexis.
"Ultimately I wanted to be with someone who treated me nice, someone who was able to laugh with me and someone who understood my life and someone that loved me," she said.
The 36-year-old athlete said she never imagined marrying a white man, but love has no color and she wouldn't trade him in for the world.
"Oh my God," she said. "Literally all I tell Alexis is, 'well, you know, there's such a difference between white people and black people.' He always gets to hear about the injustices that happen; that wouldn't happen if I were white. It's interesting. I never thought I would have married a white guy, either, so it just goes to show you that love truly has no color, and it just really goes to show me the importance of what love is. Alexis is the one I connected with, and I wouldn't have it any other way."
Then she added, "And my dad absolutely loves Alexis."
Aww! We're happy she's happy. It's hard out here trying to find the "one," especially when you're a successful, black woman.
Comedian/"The Real" co-host Loni Love knows how hard it is trying to find love during this day and age. And made sure she spoke up to defend Serena for the negative backlash she has received, especially since black male athletes don't receive as much hate for marrying outside their race.
Amazing how many black male athletes FOR YEARS have married outside of their race but there are no explanations of why they chose... Live your life Serena https://t.co/33R6muiuUQ

— Loni Love (@LoniLove) May 1, 2018
In the first episode of Serena's five-party HBO documentary "Being Serena" (which debuted this week), fans saw the 23-time Grand Slam winner leaving the hospital with the baby and her hubby after undergoing a C-section. She gave birth to their daughter Alexis Olympia Ohanian Jr. in September 2017.
However, Rena suffered major complications after her C-section that almost took her life.
"I think we should have another baby," Rena said to Alexis as they get into the car. He responded, "Can we at least get home with the first one?" In the interview with the NY Times, she said she didn't remember saying that until she saw the video.
"I must have been crazy," she said, laughing."I was clearly on something."  She was likely still feeling some of the affects of the medications she was given in the hospital. Nearly eight months later she acknowledges that the desire for more children still remains strong. "Oh yeah, if I wasn't wanting to play tennis," she said,"I definitely would have talked Alexis into having a baby already."
Doesn't sound like baby #2 is ruled out completely. You can read her full interview here.
Tune in to "Being Serena" on Wednesday nights at 10pm EST on HBO.
Photo: Getty