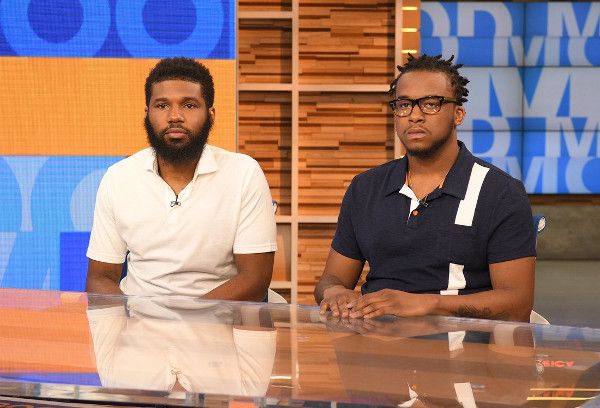 We've got updates about the two black men who were wrongfully arrested inside Starbucks and Waffle House hero James Shaw Jr. Also, NFLer Eric Reid is following in Colin Kaepernick's footsteps by filing a lawsuit against the NFL. Deets inside…
The two black men who were wrongfully arrested inside a Philadelphia Starbucks as they waited to conduct a real estate meeting have settled with the city. And we're not mad at this one, but, we do have a few questions.
Instead of suing the city, Rashon Nelson and Donte Robinson decided to settle for a $1 each, according to The Washington Post. Then, they asked for the city to fund $200,000 for a grant program for high school students aspiring to become entrepreneurs. The men wanted to join forces with the city "to make something positive come of this."
"This was an incident that evoked a lot of pain in our city, pain that would've resurfaced over and over again in protracted litigation, which presents significant legal risks and high financial and emotional costs for everyone involved," Philadelphia Mayor Jim Kenney said in a statement.
Rashon, Donte and the city of Philly will reportedly work together on developing a committee to award the grants to students. They'll also get to submit thoughts and recommendations to the city solicitor on other ways of promoting equality in public places, including restaurants and retail establishments.
When asked whether the grant will focus on helping young entrepreneurs of color, Mike Dunn - a spokesmans for the city of Philadelphia - said, "We are still working out those details."
We love this idea, but we can't help but wonder, is it enough?
What if they create this program and end up excluding BLACK students from receiving the benefits? We're not being negative Nancy's here, but we all know how the dice can be rolled sometimes. We just hope this program will actually HELP underprivileged students who are really trying to make something of themselves.
As you may know, Starbucks will be closing 8,000 stores on May 29th for racial bias training and they hired a team of black leaders, including former Attorney General Eric Holder, to come up with the curriculum.
Do you think this is enough? Sound off in the comments.
In more good news...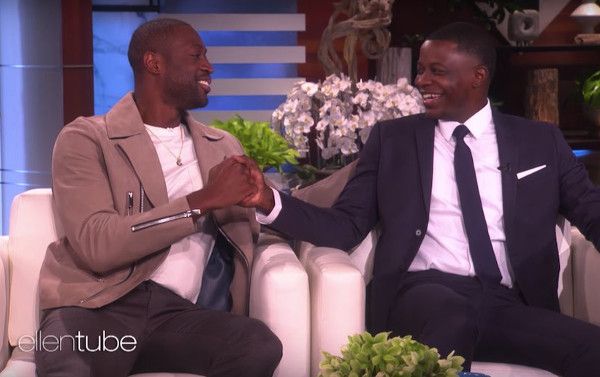 That time Miami Heat baller Dwyane Wade got to meet his idol…
Waffle House hero James Shaw Jr. was gifted a major surprise during his appearance on the "Ellen DeGeneres Show." James is the brave man who wrestled an AR-15 assault rifle from a white terrorist who shot and killed four people inside a Waffle House in Tennessee. The shooter was caughtand is currently sitting behind bars.
While chatting with Ellen, he shared D. Wade is his favorite NBA baller because he likes the way he carries himself outside of the court. Next thing you know, D. Wade comes from backstage as a huge surprise. The NBA baller said he wouldn't miss a chance to meet James because he is HIS hero.
It's not every day that you get to meet a hero. Yesterday was that day for me. Thank you, @TheEllenShow for making it happen. https://t.co/dS7eV0SbYZ

— DWade (@DwyaneWade) May 2, 2018
"I know you don't want be called a hero, but I look at you as an American hero," Wade said to James. "When I sit down with my kids, and I sit down and talk to them about role models, who I want them to look up to, I'd tell them to go look up James Shaw Jr."
D. Wade also gifted James a $20,000 check. Nice! 
Check it below:
While James continues to shy away from the hero label, we can't help but to call him that because even AFTER he saved several lives (while putting his own at risk), he's STILL doing things to help. The Waffle House hero started a GoFundMe account to help pay for the funerals of the four people who were shot and killed inside the Waffle House that day, including DeEbony Groves, Akilah DaSilva, Joe R. Perez, and Taurean C. Sanderlin.
"My name is James Shaw Jr. I am creating this page to help the families of the victims from the Shooting that took place at Waffle House in Antioch, TN. Please take the time to donate as all of the proceeds will be given to the families. Thank you again for your generosity and blessings!," he writes on the page.
His initial goal was $15,000, but he has surpassed that several times over.  As of the time of this post, James has raised $219,528! WOW!
You can donate here.
By the way, there is a GoFundMe that was created for James which has raised over $214,297 at the time of this post. You can donate to that one here.
Also, Shutterfly gifted James $20,000 to add to the amount raised on GoFundMe. Loves it.
Listen to James explain in detail how he took down the shooter below: 
Is James married or in a relationship? Asking for a friend...
In other news...
Eric Reid, the first player to kneel down with Colin Kaepernick when he launched his peaceful, non-violent protest in 2016, is now suing the NFL. Following behind Colin Kaepernick, the free agent is filing a collusion grievance against the league while his free agency status drags out after the draft.
Yep, sounds like they're trying to blackball him as well. In October 2016, Colin filed a grievance against the league under the latest collective bargaining agreement against NFL owners for collusion.
What's crazy is the 26-year-old does not have a job in the NFL as of yet, however, he was the 49ers' third-leading tackler last season. Hmph. Well, he has called up Colin's legal team, high powered attorney Mark Geragos, because he's tired of sitting around waiting for the NFL to make a decision.
ESPN reports:
Reid's grievance is a system arbitrator case that will be adjudicated under the terms of the NFL's collective bargaining agreement. The claims in Reid's grievance are similar to those of Kaepernick's, the source told ESPN.

"Our union is aware that Eric Reid and his legal representatives filed a collusion claim, which will be heard through the arbitration process as spelled out in our collective bargaining agreement," the NFL Players Association said in a statement Wednesday. "Our union supports Eric and we are considering other legal options to pursue."

Reid, 26, remains unsigned after becoming a free agent in March when his rookie contract with the 49ers expired. He was one of the first players to join Kaepernick two years ago in kneeling during the national anthem to protest police brutality and racial inequality.
Definitely looks like a trend here. Thoughts?
Photos: ABC/Ellen Show