"Black Ink Crew: Chicago" just got a premiere date. Find out when the new season debuts, plus see Drake get involved in a shouting match with Cleveland Cavaliers baller Kendrick Perkins inside…
"Black Ink Crew: Chicago" fans get excited.
Season 4 of the hit reality series is about to premiere and the gang will be back for another round of shenanigans at 9 Mag and abroad.
Last season ended qyuite emotionally when Kat Tat decided she will no longer be working at Ryan's 9 Mag studio. She got caught up in love triangle with Ryan and his baby mother Rachel. In the end, Ryan chose Rachel, so Kat decided to jump ship. And it doesn't look like she'll be returning this season while doing her own thing since her name was not included in the press release about the new season. Nor is she in the official season 4 promo poster.
However, everyone else is coming back.
Lordt. We can't wait to see what happens between married couple Don and Ashley. Back in February (after the last season already wrapped up), Don hopped on Instagram to reveal …wait for it…he CHEATED AGAIN. Shocker? Nope. He has been doing this since the show aired and Ashley still married his behind and got knocked up again. After his public confession/apology, Ashley removed Don's last name from her social media accounts and announced they were "separated."
In the upcoming season, Don and Ashley are going to try to work things out...AGAIN.
As for the rest of the crew, this season we'll see Ryan try and rebuild trust and morale amongst the crew, Van will be stepping up as a leader by opening a retail shop, Charmaine will juggle her radio career while managing the shop, Lily will be embracing the single life, Danielle is gearing up to trek down the aisle and Phor is unsure of his role at 9 Mag as she continues to focus on his music career. No word on Junior, who joined the cast last season.
"Black Ink Crew: Chicago" returns Wednesday, May 30th at 8pm EST on VH1. You ready?
In sports news...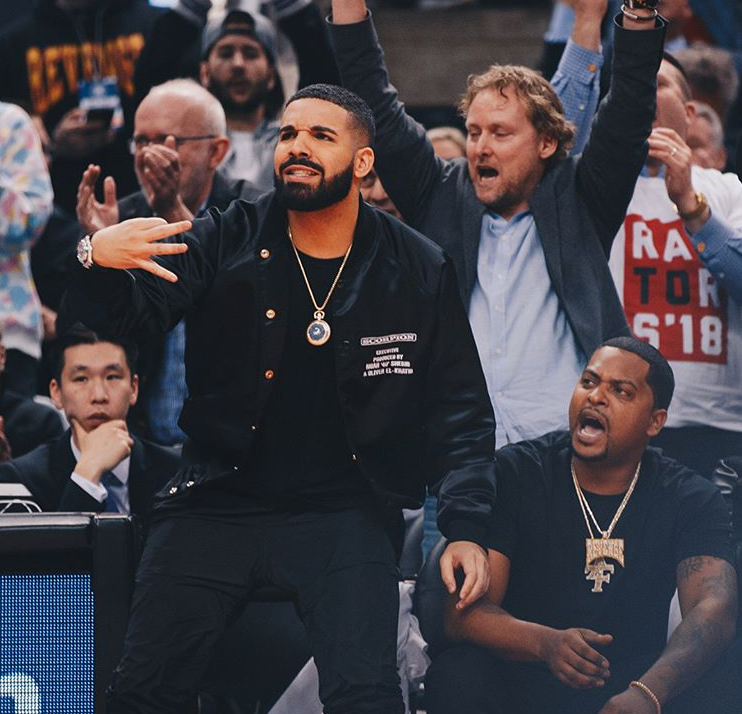 We all know Drake is the captain of the Toronto Raptors fan club.  And he's not afraid to challenge anybody who's up against his hometown team.
Last night, the Cleveland Cavaliers and the Toronto Raptors went head-to-head for the first game in the 2nd round of the 2018 NBA playoffs. And the Raptors' ambassador was courtside looking like a whole snack. The Raptors were up the entire game up until overtime and that's when ish really got intense.
Drizzy and Cavs center Kendrick Perkins got into shouting match courtside. From what we gather, the Young Money rapper apparently overheard Kendrick trash talking his former teammate Raptors baller Serge Ibaka
"I was f*ckin' with Serge, my old teammate. I wasn't talking to [Drake]," Perkins explained to ESPN after the game. "[I was] telling him, 'We about to win this game,' and Drake butted in talking sh*t to me. So I said something back to him. He said something slick, so I said something back: 'Sit your a– down and watch the game.' "
Oop!
Fans caught video of Drizzy and Kendrick yelling at each other before Kendrick walked away. Check it below:
Drake vs. Kendrick Perkins? Who ya got? pic.twitter.com/tVCdyB6HmG

— Yahoo Sports NBA (@YahooSportsNBA) May 2, 2018
Then, after the game, they got into it again! Peep the clip below:
Drake and Kendrick Perkins exchanged more words postgame pic.twitter.com/Z0rdXDe1uL

— Dave McMenamin (@mcten) May 2, 2018
Damn y'all!
ESPN reported that security asked Kendrick if he wanted to be escorted back to the Cavs' bus.  He replied with a laugh, "I'm fine. What's he going to do?" Bloop!
After it was all said and done, Drizzy was still on his trolling game:
Ha!
Photos: VH1/_@kishanmistry