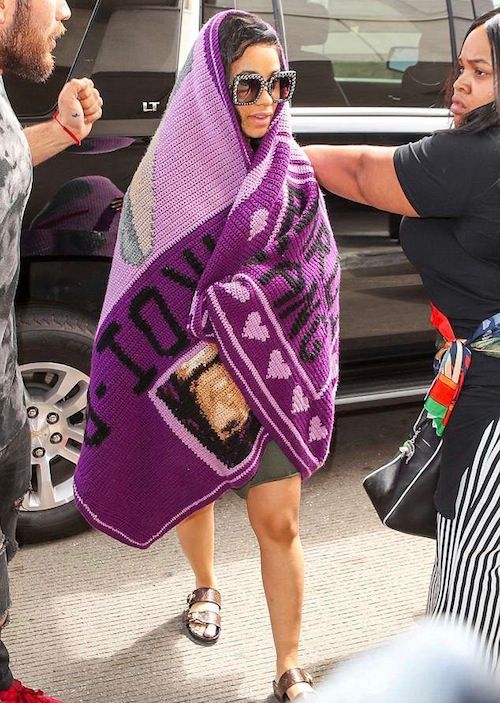 Cardi B is being dragged to court after her former manager pulled the trigger on a $10 million lawsuit. Find out why her ex-manager is after he bag and more about her canceling upcoming tour dates inside…
The late Notorious B.I.G. said it best, "mo' money, mo problems." And Cardi B is learning that the hard way.
According to reports, Bardi's former manager, Shaft, is suing her for MILLIONS. Why? Well, he feels like the "Bodak Yellow" rapper has left him out of her success after he claims he was the one to discover her in the first place.
Shaft (real name Klenord Raphael) makes several claims as to why she should pay him $10 million. Apparently, he discovered her, nabbed her the "Love & Hip Hop" deal, AND he (and his team) supposedly wrote and produced her hit single, "Bodak Yellow." He claims she sought him out in 2015 to help catapult her career from Instagram star to rap superstar.
TMZ http://www.tmz.com/2018/04/26/cardi-b-sued-ex-manager/ ">reports:
Shaft goes on to allege her monster hit allowed her to secure major record and publishing deals worth millions.

He's also claiming she defamed him by telling her fiance, Offset, and others he robbed her blind. Shaft says last December, Offset texted him and said, "[U] better stop play acting like u don't know u taking her sh** from her u a snake. U can't hide from me N**** and u not bout to play my WIFE."

Shaft blames Cardi's makeup artist/publicist for poisoning her against him.

Shaft's rep tells TMZ, "Since discovering Cardi B in 2015, Shaft has played an integral role in developing her music career and public image. While he is proud of their successful collaborations as she evolved from Instagram influencer to music megastar, Shaft is disappointed by her actions to freeze him out of her career, which are detailed in the complaint."

The rep continues, "Shaft is confident that his lawsuit will validate his conduct and substantiate his legal claims."

He's suing for $10 million.
Sheesh! Guess he will have to make a case in court to get those coins.
Cardi B walking through LAX (above) with that purple blanket over her head and her sunglasses on to hide her eyes is a whole mood. She's likely making her way on the east coast before she hits the stage for the 2018 Broccoli City Festival in Washington, D.C. this weekend.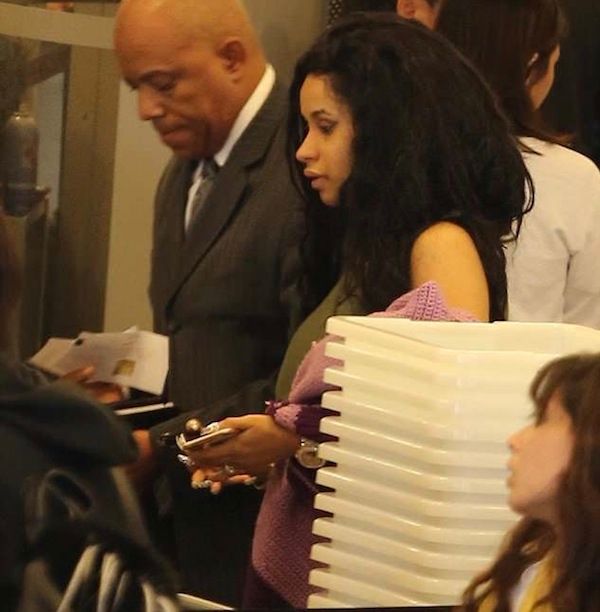 However, this will be her last performance until she has her baby! The soon-to-be first-time mom posted a video on her Instagram page announcing the cancellation of some upcoming tour dates due to her pregnancy. Check it
"Shawty keep growin'," she said."I be looking like I be moving and everything but in reality, a b*tch barely can breathe!"
The "Get Up 10" rapper has canceled shows in Texas (Young Thug has replaced her for JMBLYA Music Festival in Houston), Florida, Norway, Ireland and NYC's Panorama Festival.
Cardi and her fiance Offset are expecting to welcome their new bundle of joy in July. We still don't know if they're having a boy or a girl, but they've already come up with a name for the baby. They either know the sex and aren't telling or chose a unisex name. After she welcomes the baby and gets in some quality bonding time, she'll be ready to return to the stage with Bruno Mars for his upcoming "24K Magic Tour" in September.
Broccoli City Festival attendees need not to worry whether Cardi will bring her same energy to the stage. Last night, she performed a free concert at UMass Amherst:
And she can still serve up a mean twerk session:
Gotta love it.
Also...
Bardi posted and deleted a message about social media's evil nature messing celebs up. Can you guess who she's talking about?
Photos: MEGA/Splash