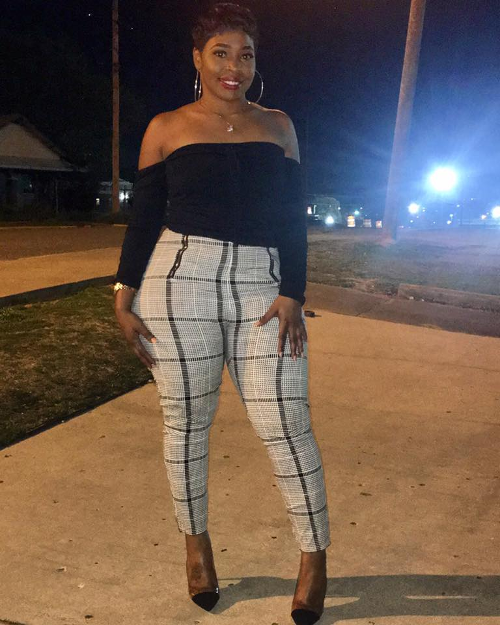 This isn't Waffle House's week, bruh. A black woman, named Chikesia Clemons, was brutally arrested by police inside an Alabama Waffle House. And the video of the police man handling her has gone viral. However, folks want to know why there hasn't been more coverage. Find out what Waffle House has to say about the Alabama incident, plus how they're helping the slain Nashville victims inside….
This has been a TOUGH week for Waffle House, as well as its patrons of color.
After a white gunman took four lives at a Nashville Waffle House, a black woman was assaulted by police inside a Waffle House in Saraland, Alabama. And it was caught on video.
According to reports, 25-year-old Chikesia Clemons (above) got into a verbal altercation with a Waffle House employee after she was charged for extra plastic utensils. It's reported Chikesia asked the employee for the phone number to the company's corporate office so she could talk to someone about her experience at the location. A friend of hers has stated she wasn't charged the day before when she patronized the restaurant and received the utensils.
Ish hit the fan real quick when one of the employees called the police on Chikesia and her friends.
That's when the video starts. In the clip, you see one officer restraining Chikesia as she sits in a chair trying to explain what happened. Before you know it, she's on the ground and there are three white police officers holding her down. At one point one of the officers puts his hands around her neck and she's threatened to have her arm broken if she didn't let them arrest her while exposing her breasts.
People have also pointed out the unnecessary tugging of her clothes by the cops.
Peep the video uploaded by Chikesia's friend, Canita Adams, below:
Here's a clip from the store surveillance camera:
Chikesia was eventually charged with disorderly conduct and resisting arrest. The friends she had with her aren't facing any charges. Once the video hit the Internet, it instantly went viral with people up in arms that police had NO regard for this black woman's safety as they tried to arrest her. Did they do the Nashville Waffle House shooter like this? We wonder.
Now, the Saraland Police Department is speaking out and they are supporting the actions of the police officers in the video. And so is Waffle House:
— Waffle House News (@WaffleHouseNews) April 23, 2018
The company tweeted, "We are still obtaining and reviewing information. However, the information we have received at this point differs significantly from what has reportedly been attributed to Ms. Clemons. After reviewing our security video of the incident and eye witness accounts, police intervention was appropriate. The Saraland Police Department is conducting its own investigation. We take this matter very seriously and think it is important for all those involved or interested in the matter to exercise caution until the facts are developed."
The police department said the arrest didn't have anything to do with the plastic utensils. In fact, it was reportedly over the alcoholic beverages Chikesia and her friends allegedly tried to bring inside the establishment.
According to the Huffington Post, a Waffle House employee asked Chikesia and her two friends to leave the restaurant after they realized the group brought in outside beverages. Instead of leaving, Chikesia allegedly started "being loud and using profanity." She reportedly got into a verbal altercation with the staff and hurled threats at the workers behind the counter, alluding she had a gun.
Witnesses inside the Waffle House told officers that Chikesia allegedly said things like, "I'll come over this counter and beat your fucking ass" and"B*tch, you don't know what I've got going on. ... I may have a gun, I may have anything, I can come back and shoot this place up if I need to."
Saraland Detective Collette Little said Chikesia "appeared to be intoxicated" at the time of the incident and was sick later.
Peep the police department's press conference below:
After the incident, Chikesia's friend Canita gave an update:

She has since started a GoFundMe account to help raise money for Chikeisa's lawyer and legal fees: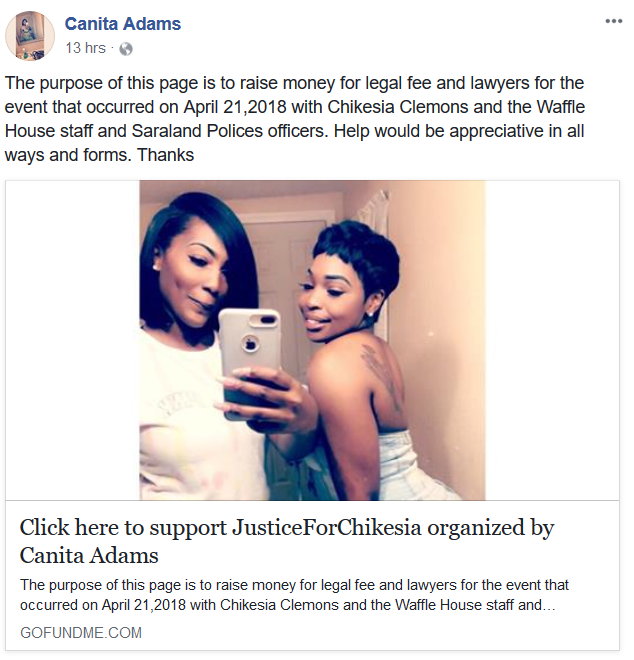 You can donate here. As of the time of this post, they have raised over $1,600 with a goal of $10,000.
Chikesia's mother Chiquitta Clemons-Howard spoke during the NAACP meeting in Alabama following the incident:
I do apologize. The name of the victim is Chikesia Clemons. This is her mother speaking at the NAACP meeting I just attended pic.twitter.com/jGrtYdBws2

— Hey how you doin lil mama? Lemme whisper in ya wig (@DrTGIF) April 22, 2018
Also...
People launched protests at the Saraland Waffle House, but apparently black people don't have the right to free speech or the right to peaceably assemble. Look how they arrested one black protester above.
As for the other Waffle House situation...
Local residents are telling me they believe the Waffle House gunman targeted victims of color on purpose and that it was a hate crime.

The victims—Akilah Dasilva, DeEbony Groves, Joe Perez & Taurean Sanderlin—have not even been mentioned by Trump - just like in Austin. pic.twitter.com/PKKDxIJ54z

— Shaun King (@ShaunKing) April 23, 2018
Waffle House has offered to pay for the funerals of the four innocent people killed: Taurean C. Sanderlin, 29; Joe R. Perez, 20; DeEbony Groves, 21; and Akilah Dasilva, 23. They have also offered to cover all of the medical expenses of those injured.
One day after the massacre, police caught suspect 29-year-old Travis Reinking who opened fire with an AR-15 assault rifle. Thankfully, American hero James Shaw Jr. was able to disarm the gunman before he killed or injured more people.
Photos: Chikesia's FB