Yara Shahidi's light just keeps on shining where she's educating the masses unbeknownst to themselves. Read this bizarre story about how this bomb mural of the actress came about, plus what fashion model Winnie Harlow said about diversity being a "trend" in fashion in the new issue of Harper's Bazaar Singapore inside…
Being a celebrity, you might find your face plastered across t-shirts and walls that was never brought to your attention before it made it out into the world. But, that pretty much comes with the territory when it comes to fame.
The "Grown-ish" actress' symmetrical face is now the highlight of an alley in northwest London after artist Richard Wilson painted the mural beautifully. And get this, when he created the masterpiece he had no idea who Yara Shahidi even is! He said he saw her face in Drake's new "Nice For What" video and was inspired to create something.
"This is pretty crazy, a couple days ago i saw a still from a Drake video, i liked the colours and this girls look (hoops and curls u GOT ME lol) and needed to paint something on a wall cos its been a minute." He shared in an Instagram post. "So I found a little spot and painted. I wanted to know who it was so asked on here and was told its Yara Shahidi."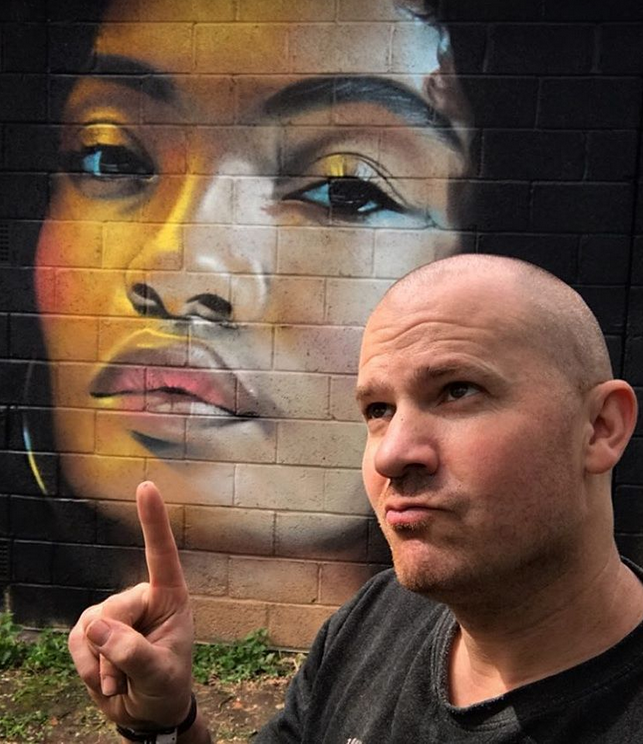 Once he did some research, he realized he was painting #BlackExcellence. He said had he known who she was before he painted the mural he would have selected another location, but he said he learned a valuable lesson: "Content is key."
"So since then I find out shes an amazing role model for young women in particular and has a huge following," he continued." Its really cool cos this wall is pretty random, the path its on is used by Parents taking their kids to school, cyclists, some alcoholics and dog walkers. Definitely not a place i'd have painted Yara if I knew. Excuse my ignorance not knowing who she was, but i learnt a lesson that you dont always need to go big, its been a fixation for me lately tbh to find BIG walls only, but maybe the content is the key, just like everything always Thanks Yara for the lesson, and inspiration too! Thanks for the love and comments about it"
He captured her beautifully. And she likes it just as much as we do:
Nice!
In other "Yara" news, the 18-year-old will join fashion designer Tory Burch for the designer's inaugural Embrace Ambition Summit held at the Lincoln Center's Alice Tully Hall in NYC. She also recently founded Eighteenx18, an organization dedicated to registering and educating first-time voters. What can't this YBF Teen do?!
On the magazine front...
She's more than just a pretty face. Winnie Harlow is a model with brains and beauty and she highlights them both on several covers for Harper's Bazaar Singapore's May 2018 issue. And she totally taps into her inner Grace Jones for the photoshoot. You cansee the resemblance in the editorials are so clear.
Inside, the cover girl applauds the fashion industry for making strides towards inclusion, however, she says "it still has a ways to go." You see, the fashion industry seems to be looking at diversity like a trend where it's hot one second and then it's like they go back to the same old thing.
"It's really about people opening their minds, not just for a season, a trend or a show but, like, actually properly diversifying, she explains. "I'm proud of the recent changes being made in the realms of fashion and beauty. It's amazing to be among the wave of rule breakers for diversity. I keep hearing this term 'new norm' but really, this was always the norm; it's just beautiful that it's finally coming to light."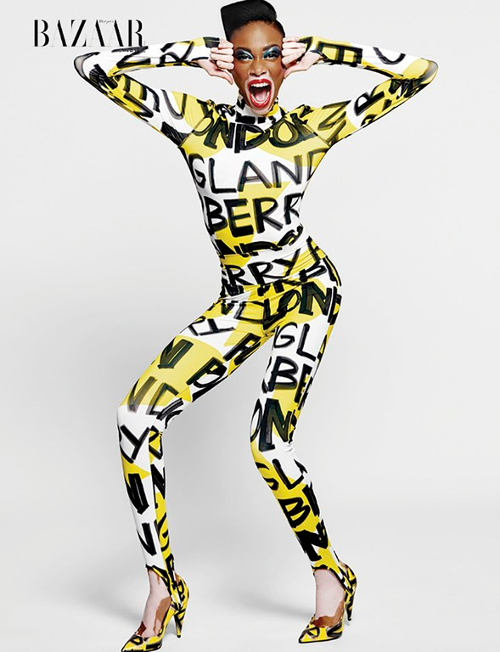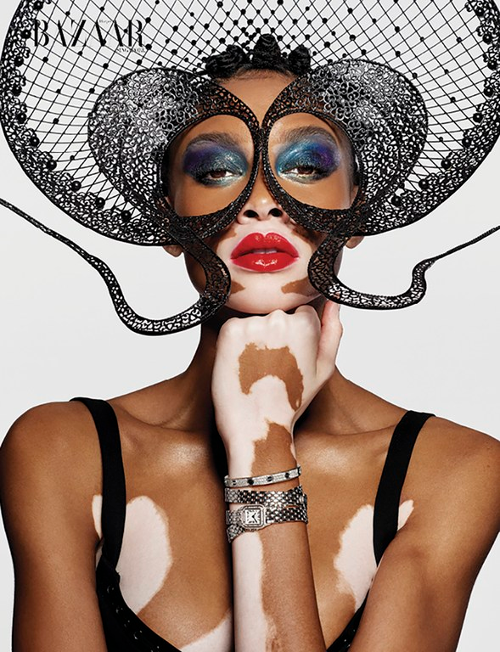 While it may seem we're seeing more people of color on the front of magazines, Winnie points out a report that found the number of people of color on the covers of leading American fashion publications had actually dropped in 2017 compared to 2016.
"How is it reversing rather than growing?" she says incredulously. "I feel like until the number of diverse models that are on covers is equal to the number of white girls on covers every year, we have work to do."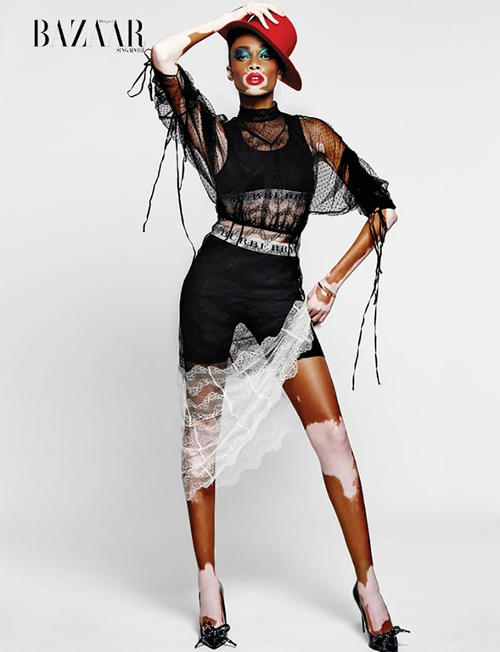 "I find the reason why it sometimes goes forward and then backwards is because people are, like, 'Okay, cool, I'm going to put a whatever model on the cover to make a difference, and then next season it's right back to the same thing', you know? Which isn't diversifying; it's like shock value, or a trend," says the London-based model.
With models like Winnie in the game, we can only hope the fashion industry wakes up FOREAL and really put forth a genuwine effort towards inclusion.
You can read her full interview here. In meantime, peep a behind-the-scenes clip from her shoot below:
Also....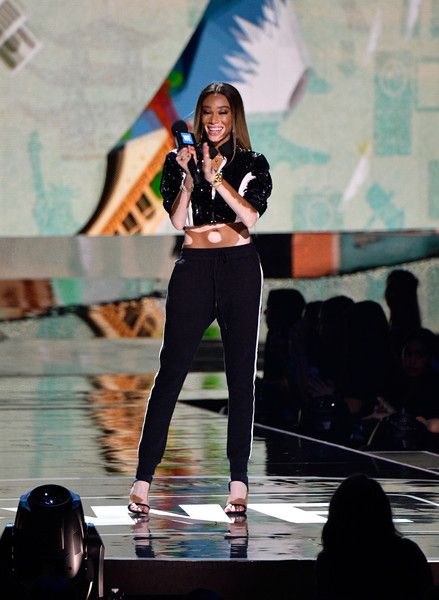 The Canadian model was on hand to participate in all of the WE Day festivities that went down in L.A. recently.
WE Day is a celebration of young people committed to making a difference.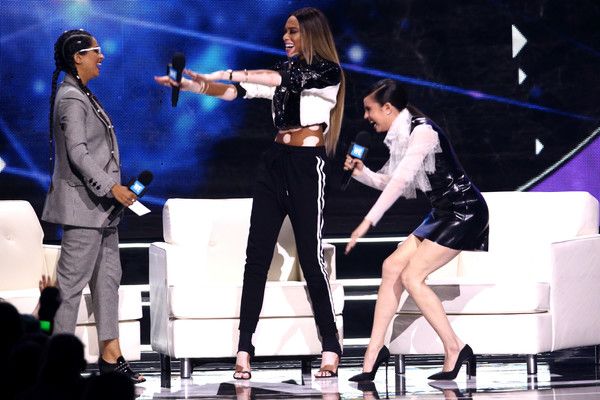 She joined Canadian YouTuber Lilly Singh and singer/actress Sofia Carson onstage at WE Day California held at The Forum to speak on a women's empowerment panel.
Peep a clip below: 
Before hitting the panel, she posed it up on the blue carpet in a striped skirt suit.
The 23-year-old then whipped out a pair of snakeskin pants to hit up "Party with a Purpose x PacSun WE Day" pre-party at The Peppermint Club.
After the WE Day events...
Chick changed her top to something a lot more revealing and made her way to Delilah nightclub in West Hollywood for the turn up.
Photos: Richard's IG/ Yu Tsai via Harper's Bazaar Singapore/Getty/Splash