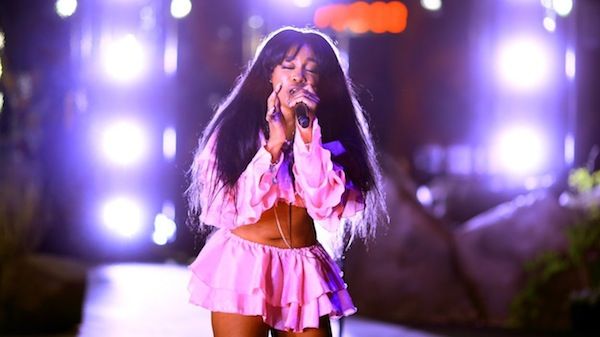 SZA explains what went wrong with her Coachella debut. Meanwhile, Beyonce's 2nd Coachella performance will not be streamed, but one real-life YBF teen has us covered. More inside...
The night SZA was set to rock out on the biggest stage of her career up until that point, but it didn't go anything like she had planned. Literally, everything went wrong. Last weekend was SZA's debut at Coachella Valley Music and Arts Festival and it was a disaster.
Life has a way of humbling us at the worse times.
Everything went wrong with the "Love Galore" singer's set and fans didn't have any problems gathering her life on social media. She had technical difficulties, her friends bailed on her AND she lost her voice! Yeah, the universe totally hated her at that moment.
"Last week kicked my ass," SZA wrote on Instagram. "Every technical difficulty that could've went wrong did . Every "friend" I asked to come out bailed on me. Lost my voice completely. Didn't even get a chance to play the weekend. Couldn't believe it was all happening on my biggest stage to date."
However, she didn't let the experience bring her spirits all the way down. She assured her fans she would kill it for her next Coachella appearance (last night). And she even threw in a Cardi B lyric for encouragement.
"I LOVE AND ACCEPT ALL CHALLENGES !! THANK U GOD FOR EVERY GROWTH OPPORTUNITY TO STEP INTO BIGGER DRAWS . I AM BIGGER THAN MY ADVERSITY . DOWN 9 TIMES BUT I GET UP 10!! This Friday is MINE"
Here's some flicks and videos from her performance last night--where she brought out Khalid-- below:
.@thegreatkhalid joined @sza on stage to sing "Young Dumb & Broke" #coachella18pic.twitter.com/mHgYc9YvFN

— Nate Nickolai (@natenickolai) April 21, 2018
SZA brought Khalid out! #Coachellapic.twitter.com/Jh1T885715

— DAILY SZA (@CampSZA) April 21, 2018
SZA performing The Weekend + The Funk Wav Remix. #Coachellapic.twitter.com/vVQ3GC170Z

— DAILY SZA (@CampSZA) April 21, 2018
She also brought out Isaiah Rashad to perform "Pretty Little Birds":
Speaking of Coachella performances...
Sorry, Beyhive!
Beyonce's 2nd Coachella performance will not be streamed on the festival's official YouTube live stream tonight. UGH! Who made this decision? We hear her 2nd performance will be different from her first and we're big mad they will not have her performance readily available. However…
This YBF teen has got you covered. Chick done learned the choreography from Bey's historic performance last weekend. And she totally NAILS every last move. Check it:
Get it!
Also, round up your coins ladies! Bey just released some new merch. You have a little over a month to shop the Beychella Collection - which includes sweatshirts, jackets, t-shirts and more - here.
Photos: Getty/@meldcole/Beyonce.com