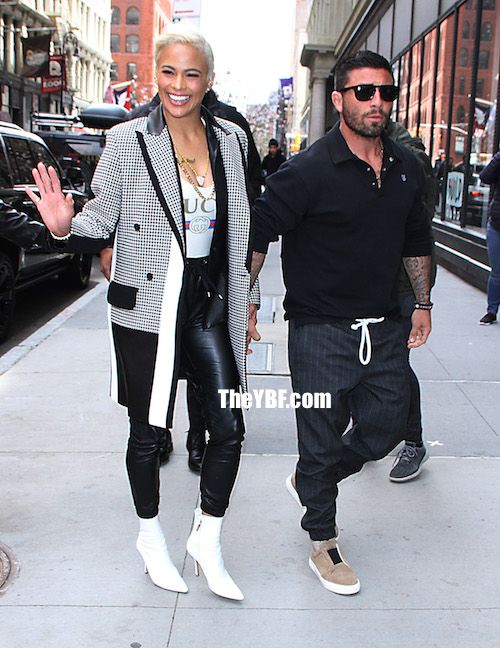 Now wait a whole minute.  Just hours after Paula Patton's new boyfriend was accused of being married and not separated, he's saying they are technically separated.  Paula also wasted no time bringing her man on TV with her! Deets inside...
Well, somebody's lying.
42-year-old Paula Patton's new 30-year-old man Zachary Quittman is refuting reports that he's still all the way married to his wife of 20 years.  He allegedly completely blindsided her when he and Paula went public yesterday.
While a source close to his wife spilled all the tea saying he hadn't even moved his things out of the house yet, Zachary's saying they're separated.  And they're only married "by law."
This is quite the different notion the source was telling.  The person said yesterday:
They're married, they're not even legally separated," a source exclusively told Page Six of Zachary Quittman, the man the actress recently gushed about in an interview while promoting her new movie"Traffik."

"He doesn't even have his stuff out of the house," the source said Tuesday.
The source also said the wife was blindsided and completely distraught:
"[His wife's] on the floor, [but] she's so worried about the safety of the kids," the source said. "She just doesn't want to rock the boat."
Chile, a mess.
Zachary wasted no time hitting up the press in response, and he tells RadarOnline:
"Well technically by law I'm married. But I'm separated.  And have been for a while now."
He insist he was separated "long before" he started dating Paula last month.  But, the two have known each other for a long while as their children are on the same basketball team.  Paula's supposedly even cool with his wife since they're in the same mommy circle!
Today on "Live with Kelly and Ryan," Paula gushed even more about her new bae. The video is above.
She told the hosts:
"He's an amazing human. He makes me so happy. And I'm in love. The first boyfriend since I got divorced. When you know you know. im 42 years old and now I know. Trust me."
The hosts put the camera on Zachary, who was standing right next tot he cameramen watching, and he looked more than happy to be seen.
It was likely pre-recorded, so we'll give her the benefit of the doubt she wasn't thins bold to bring this man on TV even if there was a possibility he's been lying. 
Photo: InSTAR