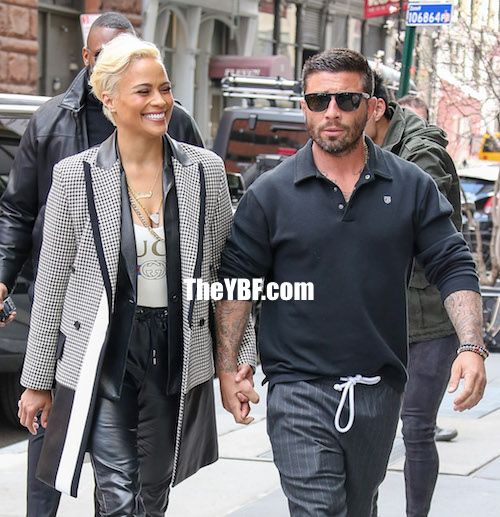 Just as we were all celebrating Paula Patton getting her groove back, a source alleges Paula's new man is VERY MARRIED. His wife is reportedly distraught over being blindsided. The super messy story inside...
Just hours after Paula Patton was spotted making her public debut today holding hands with her new bae, all the tea was spilled on the mystery man. And we mean ALL the tea.
Paula kept his name and identity a secret while talking to Extra TV today, but admitted she's in a new relationship:
"I have a boyfriend now. I haven't called anybody a boyfriend. He's my boyfriend!"

Paula and her new beau have been dating for "a month." She added, "But when you know, you know. I love him."
But get this, a source spilled to Page Six everything about him.  Paula's new man has been identified as Zachary Quittman, and he's allegedly very married.  With kids.  And he's allegedly already moved in with her.
They're married, they're not even legally separated," a source exclusively told Page Six of Zachary Quittman, the man the actress recently gushed about in an interview while promoting her new movie "Traffik."

"He doesn't even have his stuff out of the house," the source said Tuesday.
Moved a man into your home after a month? Oh, ok girl. We guess you do "just know." But did you know he's supposeldy married? That's the real question.
Paula also gave a hypothetical  on Extra- which is seemingly not so hypothetical afterall - about meeting someone new saying,
"If you have a kid and you have a basketball game, look at the daddies... It's kind of a suburban romance. He's got kids, I got a kid. It's one of those!"
We're pretty sure this is how they met if the other tea we just learned is true. Apparently, Zachary "coaches a lot of kids sports [teams], so he's known by a lot of families." This according to the same source who claims he's married.
Hmph.
Page Six told the source about Paula's "Extra" interview, and the source is "disgusted" Paula would even speak about how she and Zachary met. Apparently, the wife is even more livid her husband would blindside her and their kids like this.
"I'm just kind of disgusted that [Paula] is being that callous to talk about the basketball game when we come from a very small town and everybody knows about this."

"[His wife's] on the floor, [but] she's so worried about the safety of the kids," the source said. "She just doesn't want to rock the boat."
To make matters worse, Paula allegedly knows Zachary's wife quite well as they run in the same mom-social circle:
Quittman's now-estranged wife, who "thought [Patton] was nice," having spent time with her in social settings with other moms, "has just been shocked."
The source dragged Zachary about being obsessed with his body and selling his own image, basically to make up for the fact he's a trust fund kid who never really made anything of himself.
"He's like a trust fund kid, his mom is like no. 1 in real estate, he's a good salesperson, so I'm sure he's selling himself … he hasn't really made anything of himself in his life and being in the spotlight is great for him," adding, "he's all about what he looks like, his body, his tattoos, he's a very selfish man."
Remember when Paula accused her now ex-husand Robin Thicke of cheating on her with his current girlfriend April Love Geary? Well, so does the source.
"[Patton] paints herself as the jilted woman who was left for another woman, but she's doing the same f–king s–t, she's a hypocrite," the source said.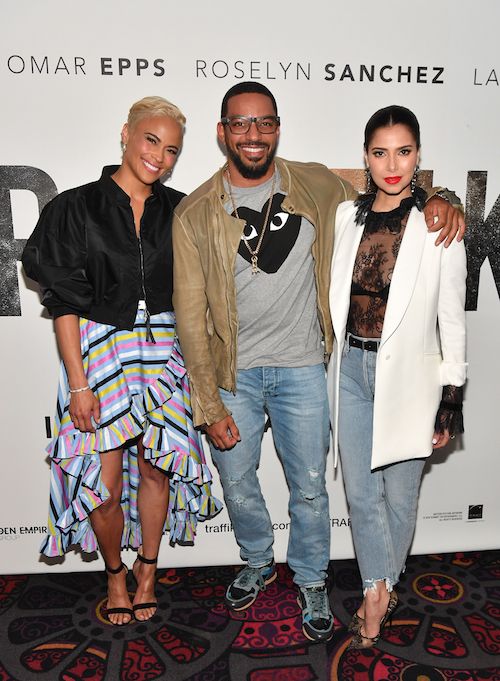 Zachary is supposedly scheduled to travel to London with Paula (pictured above at this week's Atlanta screening) next month as the next stop on her Traffik press tour. If even the smallest drip of this tea is true, that would be a bold move on Paula's part.
Photos: Splash/Paras Griffin