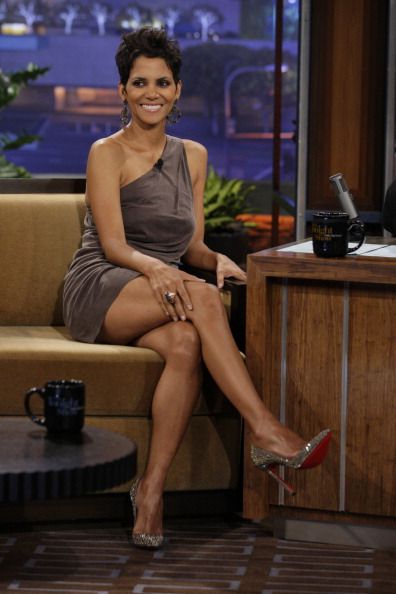 Halle Berry and Tyler Perry both made the talk show rounds yesterday to promote their latest flicks. Find out what Halle said to Jay Leno about smoking pot with Tom Hanks and what Tyler revealed about his private island.
Halle Berry, looking insanely fabulous in a sexy one shoulder grey dress by Helmut Lang and sparkling Louboutin Pigalle pumps, chatted it up with Jay Leno about her latest film Cloud Atlas.  She talked about dishing out Halloween candy to Nahla and said she's dressing as a mummy for the evening. She also jokingly talked about her character smoking pot with Tom Hanks in the film. But looking at her body language, it may be safe to assume they really went in for the scene.
And....Halle found out that she is related to Sarah Palin.  She wasn't excited about it.
Watch Halle's segments here:
Also on tv last night.......
Tyler Perry stopped by "Chelsea Lately" to promote his newest flick Alex Cross, and she asked him about his private island. He wouldn't reveal where it was or how much it cost (but we know it's in the Bahamas and worth several million dollars), but he said he likes to jet ski and lay on the beach naked. Oh?
Watch it above....