Honestly, we're speechless. But in the spirit of Beyoncé, we'll put our magical black girl wizard-ry in motion and talk about all this unapologetic feminist blackness that just went down.  Sis was all the way in her bag y'all, doing the Lord's work of informing the white masses of black greatness.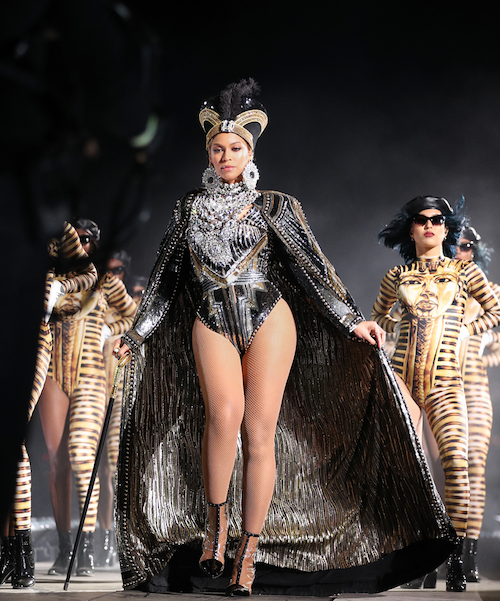 Drum major Beyoncé revealed she dreamed up this epic Coachella performance while pregnant with the twins. If there's a pill instead that'll make us this much of a creative genius, we'll take it!
THIS is how you top yourself when it seems you, yourself, can't be topped.  Before you try to shade Mrs. Knowles Carter, yes, she had almost an entirely fresh new set.  With flawless vocals, we might add. Chick even found a fresh way to slay the decade old "Crazy In Love."  Because, genius.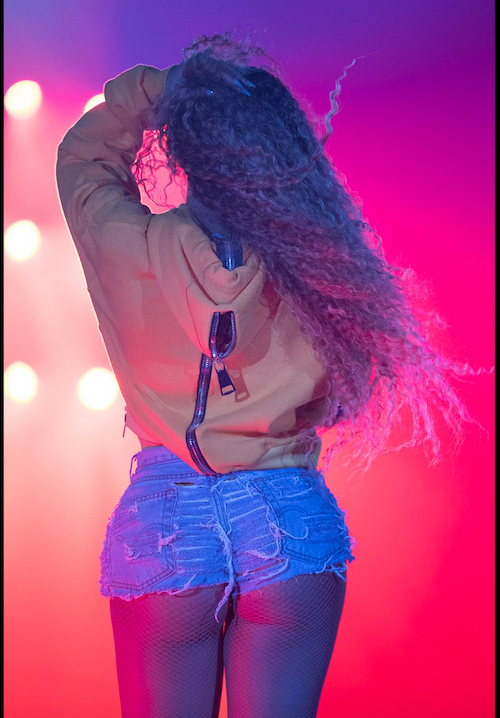 Beychella was filled with never ending surprises, body snatchery on 1000 (thanks to Balmain's custom looks) and the blackest HBCU inspired theme complete with a co-ed marching 100 band, Les Twins and her female dancers who've been with her over the last decade.  Basically, Bey & her squad slayed a 2 hour bleacher & halftime routine for the Gawds.
Miss Third Ward debuted her own fictitious greek lettered fraternity, complete with letters that look like they'd get snatched if you don't know Beyonce AND Destiny's Child history. Her father, Mathew Knowles, is a member of Omega Psi Phi, and she's seemingly a black movie buff, so she knew how to nail the School Daze inspired theme.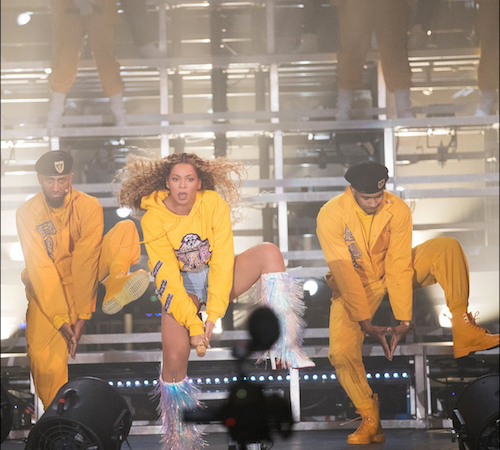 We know folks have think pieces in the works about that "Suck on my balls" break down and calling her new "line Bugaboos" (also the name of D-Child's earlier classics).  The way it was done, actual BGLOs (Black Greek Letter Organizations) could never.  Like, EVER. And certainly not without getting fined into submission and possibly suspended. 
The level of twerkin', finessin' and I'm That B*tch' steez…somebody would have tried to call Nationals on Bey.  But that fine would have been well worth it.
 
What we loved, besides that Destiny's Child reunion that still has us shook and cameos from Jay-Z & Solange:
Chick reclaimed what is traditionally the whitest of white spaces, showing them where our culture that they love - and love to vulture - stems from. She showed how it's supposed to be done, when it has roots and is not watered down or objectified. Chick reverse gentrified that mug. Queen behavior. This performance was hot sauce in the form of New Orleans, Caribbean & African dance music for them to take home and sprinkle on their unseasoned greens. Thank her later.
She flawlessly took us from the great Fela Kuti to ratchet poet OT Genesis' new strip club anthem. *cries, because greatness*
She also served up some shade to Coachella for just now having a black woman headline their almost 20-year festival.  "Aint that bout a b*tch," she said after pointing out she's making history as the first. She's also only the second woman to headline there ever. Destiny's Child also officially became the first girl group to ever play Coachella.
Bey gave us epic dance breaks from Texas-fied choreo to "Everybody Mad" to the reggae anthem No No No to Juve's "Back That Azz Up" to her own Get Me Bodied. She served up unapologetic feminism with Malcolm X's excerpt stating the black woman is the most disrespected woman in America to "Blood on the Leaves."
And it all made perfect sense. *We're not worthy.*
 
It's no surprise her jaw dropping performance seemed to be over the packed crowd's heads.  Good.  They'll google it all later - from her infusing the black National Anthem into a her own remixed-with-New Orleans-beats songs to the fictional probate she put on. 
So New Orleans with it (her mama is Louisiana, afterall). So HBCU with it. So black pride with it.  Beyoncé don't owe us a damn thing after that performance.  Not.A.Thing.
 
Watch Destiny's Child reunite, Solange & Bey kill their dance break and Jay-Z make his cameo here.
Check out her full Coachella performance & more pics below:
Photos: Beyonce.com