Tamar Braxton's alleged domestic disputes with her WASband fight nights with her husband Vincent Herbert just cost her another job.  This time, with her own sister!  Deets inside...
This weekend, Vincent Herbert was reportedly removed from his estranged wife Tamar Braxton's apartment in L.A.  Sources say they were fighting, again, and once things got far too loud, building security stepped in.
Now, Vince is allegedly BANNED from her building!  TMZ reports:
Sources familiar with the matter tell us, Tamar and Vincent Herbert got into a heated argument Tuesday night that got so out of hand, security at her Bev Hills condo escorted him out and told him he's no longer allowed in the building.
Tamar moved into her luxury hi-rise apartment when she filed for divorce from Vince late last year.   As for what they were fighting about, it's not clear.  But it could be over anything knowing those two.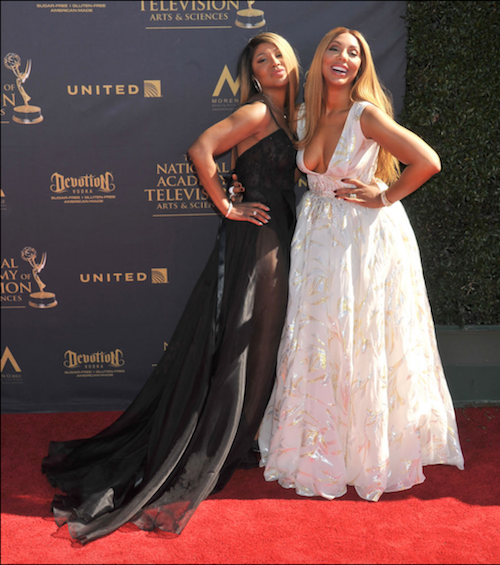 On this season of "Braxton Family Values," we see Tamar's sisters Trina, Towanda and Traci looking into filing a lawsuit against Vince over the publishing of the show's theme song.  The sisters learned he basically cut them out of any ownership (and therefore, money) without them knowing, and the song is only credited to himself and Tamar.  He's still managing Tamar, by the way.  Hence, the sticky situation.
Once Toni got wind of Traci going the legal route with Vince, she allegedly, according to our sources, dropped Traci from her upcoming tour.   Now, we're learning Tamar has been dropped as well.  Toni clearly isn't here for the drama.  Sources report:
We're now told promoters also don't want to deal with Tamar's divorce drama -- so they dropped her from the tour, too. Important to note, Vince is still Tamar's manager.

As of now, we're told there's no replacement yet to open for Toni. The clock's ticking ... we're told the tour will kick off May 22.
Chile, this is one big family mess.  We knew things would get sticky with Tamar and Vince still spending time together and him still managing her.  Something tells us things may get even uglier before they get better.
 
Photos: Wireimage