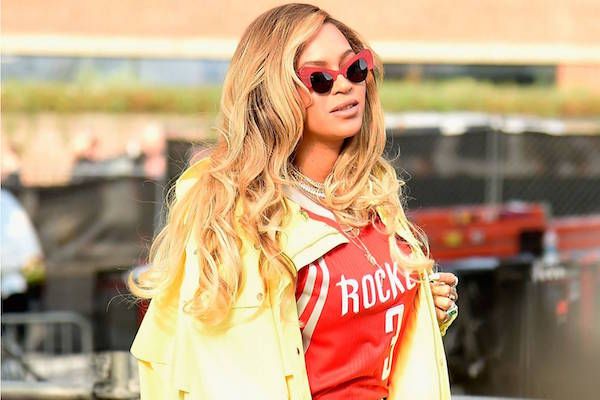 We're LIVE STREAMING Beyonce's Coachella performance tonight (11p PST/2a EST) right here on TheYBF.com! But first, we've got everything you need to know about her performance, the wild rumors and the drama.
Page Six reports that a reunion is totally happening, thanks to Bey wanting to make up for pulling out as a headliner last year.
"Beyoncé and Destiny's Child are reuniting," claims the source. "It was teased, rumored, squashed, so nothing much else was said . . . But it's happening."

The insider said the added surprise is "to make up for the fact she was unable to perform last year," when pregnant.

"The girls really wanted it and felt they owed it to the fans."
And we're not just talking about the D3 version of Destiny's Child.
It's rumored she's bringing back to the original 4 - including Latavia, LeToya, and Kelly. We wouldn't be surprised if Michelle popped up to, though. A couple of days ago, Latavia Roberson posted up a video singing Beyonce's "Countdown" and said, "Let the countdown begin." S
Sure, she could be just counting down to watching Bey perform and extra excited like the rest of us, but that red wiggery.  It's telling.  LaTavia rocked this same color and style back in her D-Child days.
We also hear Bey's team is back on their image control steez and sending out preemptive warnings notices to certain news outlets.  Apparently, they're being told to refrain from publishing fan pics and stick to the approved official pics.
Like last time, when Bey's team shut down folks from posting unflattering pics of her 2013 Super Bowl performance, we doubt follks will take heed.  Get stung if ya want to.
As for what to expect from Bey's set: We know there will be less dancers than she usually has.  Because, reportedly, she fired about 20 of them recently.
TMZ reports:
Our Coachella sources tell us Beyonce fired about 20 of her backup dancers earlier this week. It's unclear why Bey axed the dancers -- as we told you, she's got plenty to spare -- but we're told about a dozen or so hit up Cardi's team to get into her highly-anticipated Sunday show.
At first, it was said Cardi B., who performs Sunday night, picked up those dancers at the last minute:
Our Cardi sources tell us she already had about 16 backup dancers when the new crew came calling. We're told Cardi mulled it over, and liked the idea of making her act even more grandiose. The plan is now to hire 4 to 5 of Bey's ex-dancers, and confidence is high they'll be able to nail the choreography in time.

Cardi called bullsh*t on it (Nicki Minaj already told the world chick took the Barb's hairstylist, let her live!) and TMZ basically said "nevermind" in an update.
Bey has something special in store, and she did one of the rarest things and spoke directly to her fans earlier today:
And her stepdad Richard Lawson reminded folks she's still the biggest star.  Here's what happened when a paparazzo had the audacity to question it:
We know this performance is about to be fire AF.  Mainly because Bey has been on grind mode, and we all know what that results in.  Reports from TMZ revealed:
She started getting serious about practicing for her show Tuesday, scheduling 11-hour days in a high-profile L.A. studio that's been booked solely for her and her dancers, choreographers, technicians and other members of her crew.
Yesssss.  Our wigs are secured.  We're RET.
Check back here at TheYBF.com at 11p PST/2a EST for Beyoncé's LIVE STREAM from Coachella!
Photos: Getty/Beyonce.com