Since Bow Wow said this is his last radio interview ever, he's setting the record straight! Go inside to him admit to stealing that private jet flick, how he fell out with Chris Brown, having suicidal thoughts and more. Get it all inside…
When doesn't Bow Wow have something going on? He stays pulling some type of stunt.
Now, he claims he's not doing anymore radio interviews after sitting down with Power 105's "The Breakfast Club." Umm, yeah. We totally believe you Bow. Just like when he said he was retiring from rap.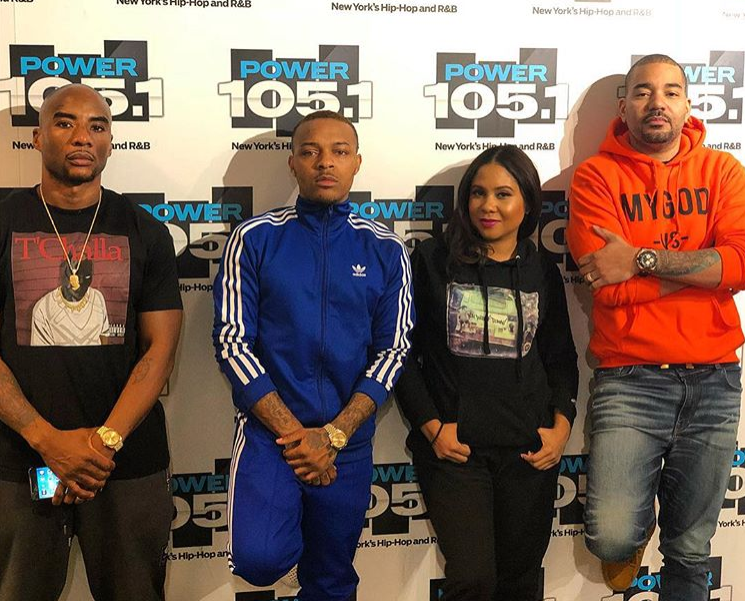 The 31-year-old sat in the hot seat to answer/respond to all of the rumors and headlines about him. You'll recall, Mr. Shad Moss was DRAGGED on social media when it was discovered he was fronting HARD for the 'Gram. He posted a picture of a private jet with the caption, "Travel day. NYC press run for Growing Up Hip Hop. Lets goo." However, he wasn't flying on no private jet. He was on a plane like the rest of us (although he pointed out he was in first class).
As the dragging ensued, the #BowWowChallenge hashtag was created and folks started sharing pictures they Google'd with captions pretending its theirs. When asked to address the #BowWowChallenge foolishness, Shad admitted to stealing the picture to front on social media.
"Playas f*ck up," he said
"Just admit you we're lying," Charlamagne said.
"I just said it," Bow Wow said. "I like the picture, Imma throw it up. Shit, I am flying to New York, but I like this picture better."
He said by the time he got to New York, his mom called him and asked if he did something about a plane. Then, he said his homies called him to ask him about all the social media backlash.
Once he saw how people were responding to it, he decided to come up with a way to get a check out of it. He said Mona Scott hit him up and asked if he thought of doing a #BowWowChallenge show. She presented him an idea for a show where he would go around and catch people who are fronting for the 'Gram.
It just got picked up and he'll start filming the show next month.
Peep the clip below:
"Playas f**k up." @smoss explains why he lied about having a private jet #BowWowChallenge
Full interview here: https://t.co/CBllwSVdPEpic.twitter.com/0IbsBpsFPN

— The Breakfast Club (@breakfastclubam) April 12, 2018
A video of Bow Wow getting http://theybf.com/2018/03/14/is-bow-wow-pulling-pr-stunts-there%E2%80%99... ">sucker punched and knocked to the ground went viral and had folks clowning him for days. It was reported a rapper named Cheeks punched Bow Wow backstage at a Jay Z concert because Bow was supposedly talking ish about rapper Future. However, Shad said the whole situation was a miscommunication. He made sure to clear the air that he has no beef with Future.
"It was just a miscommunication. Real sh*t. No. 1, I never got hit in the face. No. 2, things that occurred after that point, because I was with people, as far as knocked out…I'm little. If you come from way on the right side with all your force I'm supposed to be down. As far as what it's about to me, it's a miscommunication."
He called the situation "fake news."
Peep the clip below:
.@smoss addresses the "fake news" and speaks on the video of him getting knocked out.
Full interview here: https://t.co/CBllwSVdPEpic.twitter.com/Mrwnoh42Wi

— The Breakfast Club (@breakfastclubam) April 12, 2018
Speaking of beef, Bow Wow opened up about how he and his former bestie Chris Brown fell out. You'll recall, Bow Wow recently released a new track titled "Drunk Off Ciroc"where he fired shots at Breezy.
"There is no issue. There is no problem. We grew up together. We made a lot of money together. Throughout the game, we grow and we end up going separate ways sometimes. Even with that record 'Drunk Off Ciroc' [where he dissed Breezy], it was more of a question. like damn you just look up and be like 'Damn, me and the homie not even tight like how we used to be. My daughter never met his daughter."
He flew to D.C. and sat in the courthouse all day for Breezy when the singer was going through his legal issues. There's a line in the song "Drunk Off Ciroc" where he said he skipped a show to see Breezy—that's what that lyric was about. That's why it's such a touchy subject for him. He said they haven't spoken since he released the track.
Check it:
.@smoss explains how his friendship with Chris Brown fell apart and how he was in the courthouse during Brown's Rihanna assault case.

Full interview here: https://t.co/CBllwSDCr4pic.twitter.com/PxgpMT1jcn

— The Breakfast Club (@breakfastclubam) April 12, 2018
Switching gears, the "CSI: Cyber" actor got vulnerable while talking about dealing with suicidal thoughts. Not too long ago, Bow posted the word suicide on Instagram spelled backwards and had folks in a frenzy. It ended up being he title of his album. However, he does battle with suicidal thoughts.
"Nah, it's because how I was really feeling," he said.
"You really wanted to kill yourself?," asked Charlamgane.
"Yeah. There's been times like, years ago. I been saying I don't want to be here. I done lapped the world 8 times. And it's like me coming into the game young, and seeing so much and doing so much, Sometimes I just question life, like what is there left for me to do? I've done everything that I really wanted to do. Now, it's like what's next?"
Peep the clip below:
.@smoss opens up about having suicidal thoughts.

Full interview here: https://t.co/CBllwSVdPEpic.twitter.com/lNOKamU5C8

— The Breakfast Club (@breakfastclubam) April 12, 2018
Damn Shad. Maybe he should consider talking to someone, in addition to radio hosts.
He also talked about being an original member of Dogg Pound, why he doesn't rock with his half sisters and more.
Check out the full interview below:
Do we really think this is Bow Wow's last radio interview?
Photos: Bow Wow's IG