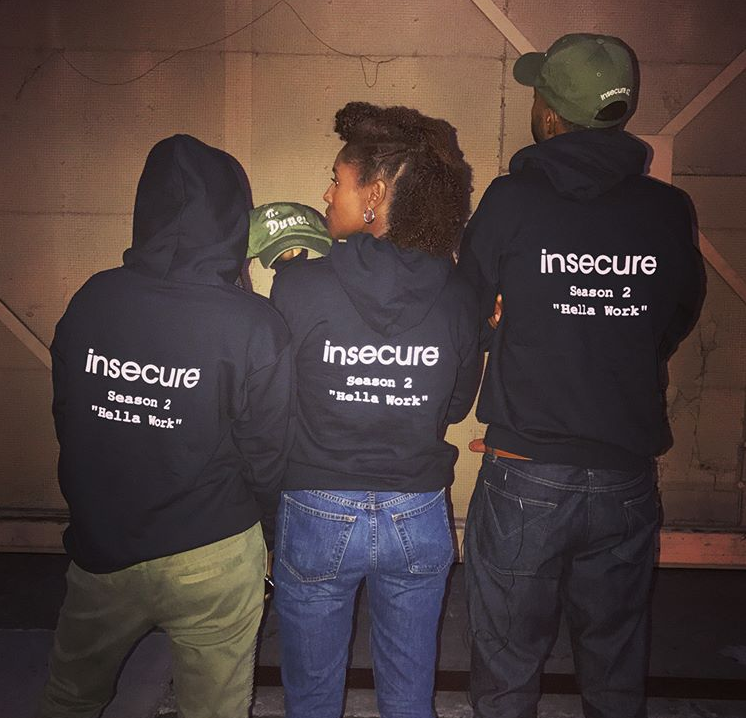 "Insecure" is up for the prestigious Peabody Award. Speaking of "Insecure," the show's creator Issa Rae lands one of five covers for Marie Claire, along with Yara Shahidi. Peep their covers and find out the colorism talk from Yara inside…
"Insecure" just nabbed a new nomination to add under its growing list of nominations.
The incredibly talented cast and crew of the hit HBO show has been nominated for a Peabody Award in the Entertainment category for the 77th annual ceremony. Woot!
The Grady College of Journalism and Mass Communication at the University of Georgia announced this year's nominees, which include 60 projects, who will be in the running for the prestigious awards.
Other shows nominated include "Maya Angelou: And Still I Rise" and "Strong Island" (directed by and starring Yance Ford), both nominated in the Documentary category. The nominees will be cut down to 30 winners when the 77th Annual Peabody Awards go down on May 19th, hosted by "Daily Show" correspondent Hasan Minhaj, in New York.
We're not surprised "Insecure" made the list. It's witty, funny and SO relatable. You don't get good storytelling like that all the time, especially for US. We just need more episodes in a season! OK, Issa? or HBO?
Speaking of Issa…
The 33-year-old two-time Golden Globe nominee, wearing Burberry and Jennifer Fisher, graces one of five covers for Marie Claire's May 2018 Fresh Faces issues. Inside, she offered up the perfect response as to why she likes to keep her private life OUT of the limelight.
"I get so much feedback about everything. The one thing I don't need feedback on is who I'm sleeping with."
Isn't that the truth.
Also nabbing one of the covers…
"Grown-ish" starlet Yara Shahidi also blesses the magazine circuit with her beauty. The ever so intelligent and "woke" actress dished to the magazine how she hopes her activism eventually opens doors for the generation behind her.
"I'm in no way trying to be the face of blackness," she said. "The goal is to open doors, role by role, and be drowning in a sea of people who look like me, or like someone else, so anyone can see themselves reflected on screen."
Speaking of race...
Yara also did an interview with ESSENCE magazine recently where she talked about colorism in the black community. The 18-year-old has been getting backlash from people about how her "light skin" and curly hair allowed her to enter the spaces she has been in and how being "racially ambiguous" is a privilege.
"[I began to see that] people have constantly had to deal with things that slowly chip away at their identity," Yara said. "These microaggressions make you feel like you're never enough. I realized that if I still experience it on a level of being socioeconomically privileged, then I'm not even experiencing half of it."
However, Yara doesn't see herself as having light skin. She feels she's more brown complected.
"I'm brown-skinned. I personally don't view myself as light-skinned," she said. "I also understand I'm not dark-skinned. I don't know how to classify myself, but when you see me, unless you hear my name, no one's like, 'That's a young Iranian girl.'"
Oddly, ESSENCE erased the interview from their site.
Hmm...thoughts?
Photos: Issa's IG/Marie Claire