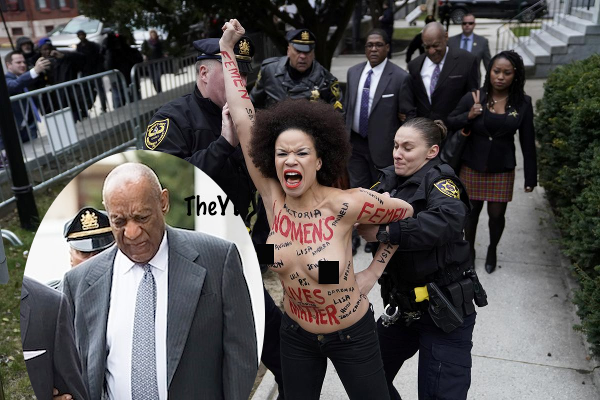 A topless woman tried to ambush Bill Cosby as he made his way inside the courtroom ahead of his sexual assault retrial. Peep a clip of the woman getting man handled by police, plus deets on Ohio State snatching Cosby's honorary degree inside…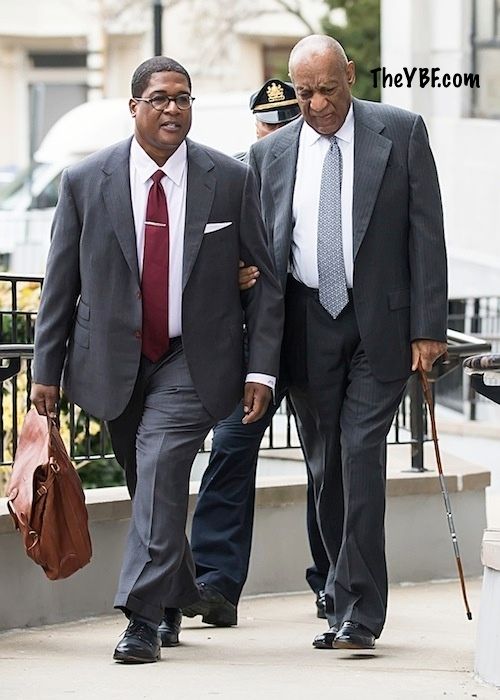 Here's one way to kick off a Monday morning!
A topless protester was arrested by police after she tried to ambush Bill Cosby outside of his sexual assault trial at the Montgomery County Courthouse in Norristown, Pa. today. The woman stood outside until she saw Cosby. That's when she whipped her shirt off and started running towards Cosby.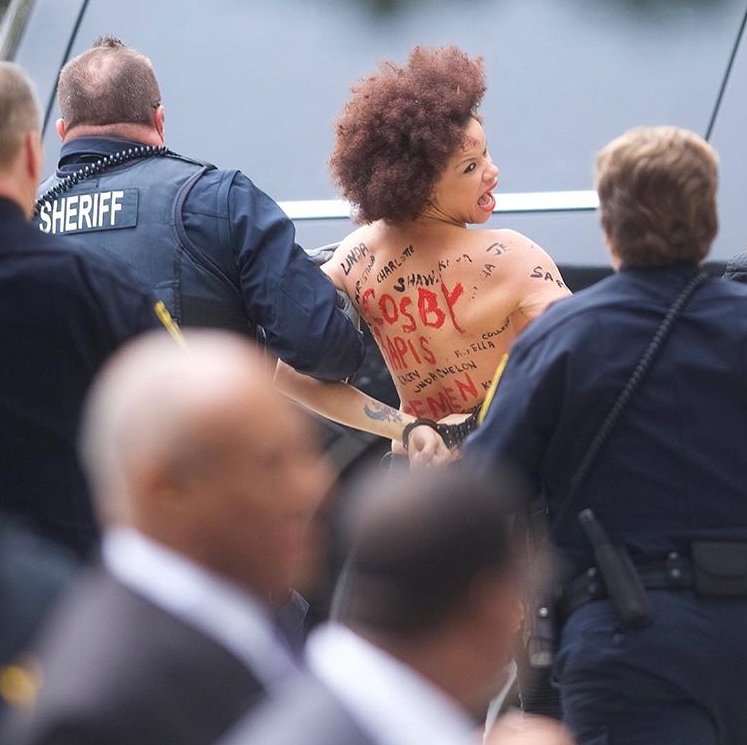 The unidentified woman had "Women's Lives Matter" and the names of numerous Cosby accusers written across her body in red and black paint. She jumped a barricade to get to Cosby, but police were able to get to her before she got to Cosby. She was one of about six people chanting in support of former Temple University athletic department staffer Andrea Constand, who claims the comedian drugged and raped her at his home in 2004.
Check it:
Guess she put her boobs where her mouth is.
The original trial went down in June 2017, but ended in a hung jury. Opening arguments for the retrial began this morning.
Also....
Ohio State University has snatched Cosby's honorary degree that he was awarded when he spoke at commencement in 2001. The news comes right before the 80-year-old is set to go on trial again for sexual assault. According to the NY Daily News, Cosby violated the university's principles and values by his own admission.
This is the first time the school has revoked an honorary degree, but it's not the first for Cosby ever since sexual assault allegations from a bevy of women came to light.
Photos: MEGA/Getty/Reuters