South African icon of the struggle, Winnie Mandela, has died.  Full story inside...
The icon, activist, famous, infamous and Nelson Mandela's second wife, Winnie Mandela, has died at age 81.
The African National Congress in the South African Parliament confirmed her death via Twitter today saying:
It is with great sadness to announce the passing of Cde Nomzamo Winnie Madikizela-Mandela today, 02 April 2018. A struggle icon has fallen. #RIPMamaWinniepic.twitter.com/xIJKDDVOkQ

— ANC Parliament (@ANCParliament) April 2, 2018
As a staunch anti-apartheid supporter, Winnie stayed by her then-husband Nelson Mandela's side as he was imprisoned for 27 years on Robben Island. She campaigned for his release and for the rights of her black countrymen throughout that time, and wrecked havoc - in both good and questionable ways - upon his release.
After his release and the start of the shift in equality and justice in South Africa, Winnie was known as the "Mother of The Nation"
NBC News described her post apartheid actions as heroic, yet arguably in contrast often times with any progress made.
But while she was hailed as mother of the "new" South Africa by some, Madikizela-Mandela's legacy as an anti-apartheid heroine was tarnished by her actions after Nelson Mandela was released.

Her uncompromising methods and refusal to forgive contrasted sharply with the reconciliation espoused by her husband as he worked to forge a stable, pluralistic democracy from the racial division and oppression of apartheid.

The contradiction helped kill their marriage and destroyed the esteem in which she was held by many South Africans, although the firebrand activist retained the support of radical black nationalists to the end.
Winnie spent Easter Sunday yesterday at a church in Soweto, Bishop Gary Rivas said at a press conference shortly after her death was announced.
Her family put out a statement saying she died peacefully after a long illness:
"She succumbed peacefully in the early hours of Monday afternoon surrounded by her family and loved ones," the statement said.

"The Mandela family are deeply grateful for the gift of her life and even as our hearts break at her passing, we urge all those who loved her to celebrate this most remarkable woman."

"She dedicated most of her adult life to the cause of the people and for this was known far and wide as the Mother Of The Nation," the family's statement added.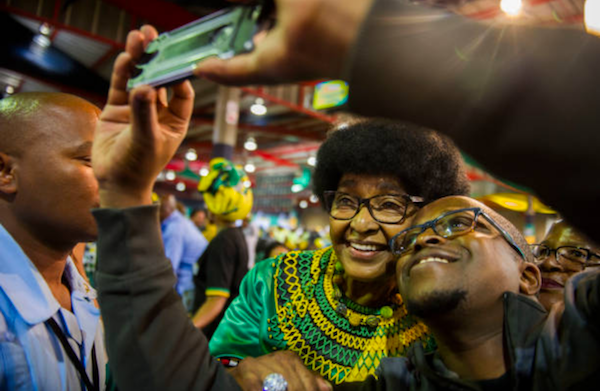 While the end of apartheid marked the start of a string of legal and political troubles for Winnie, she once said, "I would do everything I did again if I had to. Everything."
R.I.P. Winnie Mandela.
Photos: Getty