The most ridiculous game of Blues Clues has been going down on social media since yesterday.  Tiffany Haddish caused a social media frenzy when she revealed an actress bit Beyonce in the face at a party. Now, the Beyhive is on a witch hunt. Get it all inside…
Tiffany Haddish has the Beyhive in overdrive after she shared the most bizarre Beyonce story ever in the April 2018 issue of GQ magazine. The Girls Trip star revealed an actress allegedly on drugs walked up and bit Beyonce on the face! That's what she said. Get the full deets HERE.
Now, the Beyhive is acting out because…well it's the Hive.
First, they were in Tiffany's comments bashing her for telling a private tale both Bey & Jay Z likely wouldn't have wanted out there.
"The Last O.G." actress had to hop on social media to remind everyone she's part of the Beyhive and that she would do anything for the Queen. Check it:
The Hive didn't stop there...
Y'all are funny. Under no circumstances did I bite Beyonce and if I did it would've been a love bite

— Sanaa Lathan (@justsanaa) March 26, 2018
Members went into detective mode and allegedly found the guest list to the afterparty and narrowed it down to two actresses being the culprit: Sanaa Lathan and Sara Foster.
After the Hive invaded her social media handles, the Love & Basketball actress spoke out to address the rumors. Nope. It's not her.
It's not actress Sara Foster either…according to Sara.
Pregnant Chrissy Teigen originally had an idea about who bit Beyonce's face. However, when she found out who actually did it, she was SHOCKED. Peep her tweets (read from the bottom up):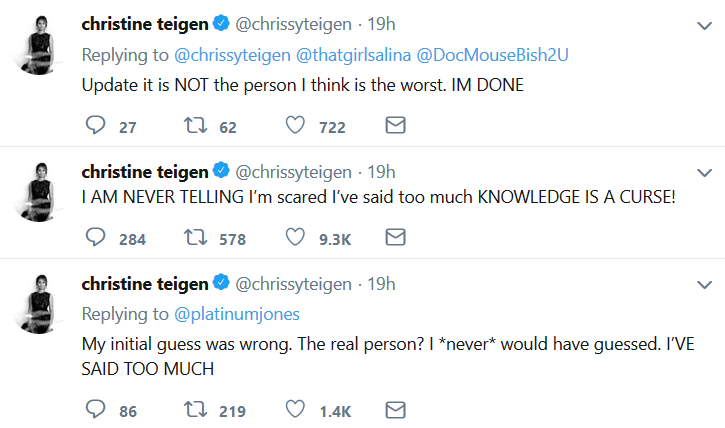 Producer/actor Chris Spencer tried his best to get the mystery actress' name from Tiff. Here's what she said:
Who committed this act of savagery against the Queen?
Photo: Beyonce's IG