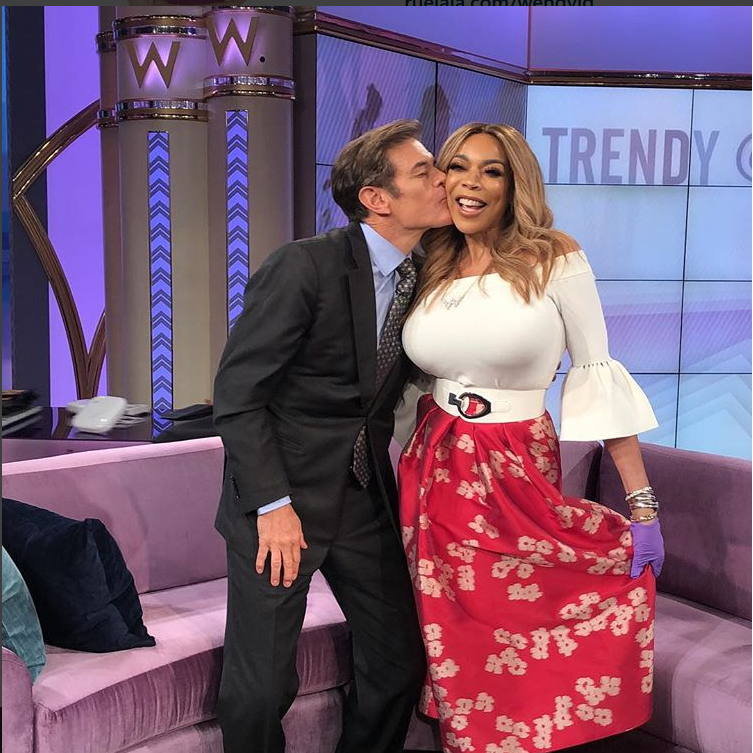 Guess who's bizzack?! Yep, it's Wendy Williams. Find out how the daytime talk show host is doing after her 3-week hiatus inside…
Wendy Williams has been taking a break from bringing the morning tea for the last three weeks. She;'s never missed a taping of the show, until now. Unfortunately for her, the media queen had to take three weeks from taping her show after falling ill. After her much needed, break, she's feeling a lot better.
She returned this morning to host (above, all smiles alonside Dr. Oz), following her friend Jerry O'Connell filling in for her. Would have been nice to have had a black woman fill her seat, but she likely wasn't trying to give the powers that be any ammunition to replace her. 
As expected, chick broke down crying thanking her staff and her co-hosts - the audience - for riding with her.
During Wendy's last taping before her break, she announced that she had Graves' disease, which is described as the overproduction of thyroid hormones. Not only that, the 53-year-old also suffers from hyperthyroidism, a condition caused by an overactive thyroid.
In a new interview with "Good Morning America" that aired right before today' show, she revealed she had skipped a few appointments with her endocrinologist due to nervousness
"I'm functioning OK. I feel a little weird, but I'll get through it," she told "Good Morning America."
The daytime talk show host was NOT feeling having to miss so much time from work, but it ended up being the "best prescription ever" She said she's going to start putting her self first and looking after her health.
"We as women, particularly if we have families. We're taking care of children, husbands, homes. We take care of everybody but ourselves. I'm not doing that anymore Amy. Wendy first!"
Oh, and she has a special request for her Wendy Watchers when you see her out in these streets:
"If there is one thing I could request from my Wendy Watchers, please don't ask me how I feel. When I see you in the grocery store, when I see you in the streets, please don't ask me how I feel with the woo woo woo and the puppy eyes. Because then I'm going to snap, 'How do you feel?' Come on now, I'm not that girl."
She said she wants her fans to ask her "How you doin'?" so she can respond, "Alright." Ha!
Peep the full interview below:
Welcome back, Wendy!
Photos: Wendy's IG