This Khia VS. TS Madison beef could be the demise of "The Queens Court." Deets inside…
Khia and TS Madison's "Queens Court" web series took the Internet by storm when the ladies decided to hop in front of the camera on Monday nights to dish on everything that's happening in the celebrity/entertainment world. The ladies' raw and uncut commentary had viewers tuning in every week to see what outlandish shade would be thrown. But now, it seems the "Queens Court" is DUNZO!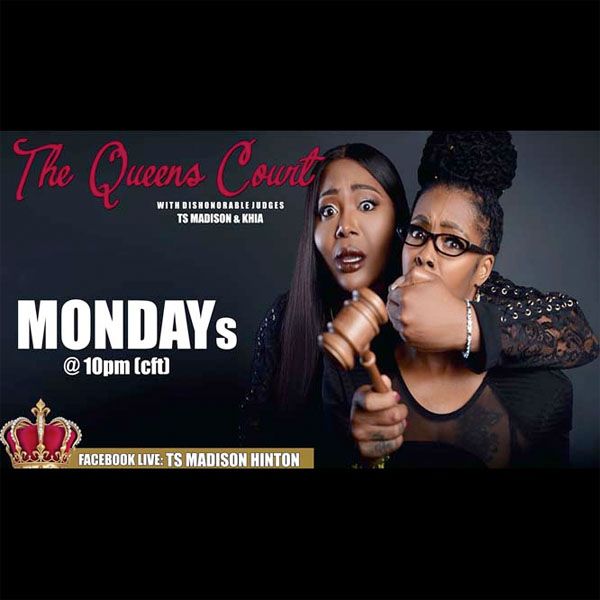 So what happened?
Well, a few weeks ago, Khia and TS Madison were scheduled to interview comedian/actress Mo'Nique, but they were having extreme technical issues. It got so bad that Khia walked OUT as they were trying to get everything situated for the interview. And viewers got to see it all play out since Mo had her Periscope live streaming during the meltdown. Maddy even started crying.
Check it:
Following the failed interview, there was obviously tension between the co-hosts, but they still appeared for a live event together to do the "Queens Court" in Washington, D.C. Since then, things have been going downhill and the ladies have been making online videos to tell their side of what really went down between them.
Khia decided to start filming her own show, dubbed, "Gag Order," where she's essentially doing the same type of commentary she did with Maddy. However, during a recent segment, the "My Neck, My Back" rapper went IN on her former co-host. Now, she had gone in a little bit on Maddy when she started the new series, but took it THERE during the last roast.
Khia said she brought TS Madison up on the docket because she received over 30 emails from black women that are accusing him of "bullying them for doing the same thing that you do." The rapper didn't sugar coat anything while roasting TS Madison, questioning why he hasn't fully transformed into a woman since he has so much money and wants to be a woman so bad, she doesn't understand why he didn't spend that money on getting his name changed and getting some new identification. Since his paperwork says "Timothy Hinton," she's going to call him a "he."
Check it:
Here's the full clip if you're interested:
Following Khia's roast, Maddy responded with SHADE, but has seemingly ended her beef with the rapper and said she's on to bigger things: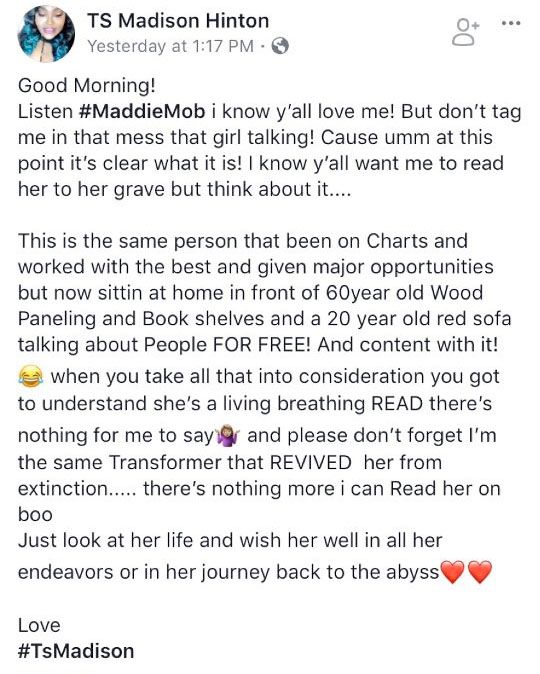 Bloop!
When Khia first came after TS Madison after their falling out, Maddy hopped on YouTube to explain how she elevated Khia and the "Queens Court" brand. She made it clear she didn't STEAL anything like Khia has been accusing her. She said she's the one who tied up all the loose business ends, therefore, there's no way she stole anything that she paid for with HER money. The gag? She said Khia declined to put up ANY money to go towards the business. Oh?
Peep the clip below:
Yeah, so if you were a fan of "The Queens Court," it appears it's OVER!  Especially because they both have been promoting solo shows:
Photos: Adrian Shelby, Facebook