Yep, the white racist chick who violated her black roommate in the nastiest ways possible dodged jail time! Get those deets, plus the latest drama Odell Beckham Jr. has gotten himself into inside…
If you're shocked the former University of Hartford student who literally tortured her black roommate for no reason, don't be. She's white!
18-year-old Brianna Brochu was brought up on charges when she literally tortured her roommate, Chennel "Jazzy" Rowe for over a month and a half unbeknownst to her. Brianna was expelled after Jazzy revealed her roommate was spitting in her coconut oil, putting moldy clam dip in her lotions, rubbing used tampons on her backpack, and putting her toothbrush "where the sun don't shine." UGH!
The NAACP demanded Brianna be brought up on hate crime charges, but that didn't happen. Surprised? Nope. The West Hartford police ended up charging her with breach of peace and criminal mischief. She previously pleaded not guilty.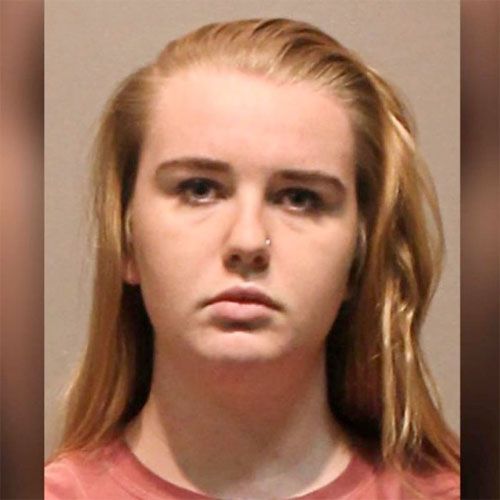 Brianna received a special form of probation that will allow her to avoid a criminal record.
The audacity.
Jazzy appeared in Superior Court in Harford today for Brianna's hearing where she spoke to Judge Omar Williams, letting him know that she did not oppose Brianna's request for accelerated rehabilitation.
In fact, Jazzy forgave her former roommate. Despite having nightmares, an inability to trust others and other difficulties that have caused her to delay her educational goals due to the situation, Jazzy still wished her well.
"By giving her this second chance, I hope she will change her ways and finds love for all mankind no matter what race," Jazzy said.
According to reports:
Brianna will have to perform 200 hours of community service — including 50 at a literacy organization in Greater Hartford and 50 at a social services group. If she completes those requirements and stays out of trouble, the charges of breach of peace and criminal mischief will be dismissed after two years.
We call BS. Y'all KNOW had this been a black woman who did this to a white woman she would have been in jail from the moment the police were alerted and would have been sentenced with jail time with the quickness. But when Becky does it, the law gets bent to make sure her criminal record stays squeaky clean. Just over it!
As for some other controversy...
New York Giants player Odell Beckham Jr. is back in the headlines and it's not because of his on-field abilities.
There's a video that has gone viral that features the wide receiver surrounded by a few people in a hotel room that has sparked rumors and gossip. In the clip, it appears Odell is holding a brown looking "cigarette" in his hand while he's conversing about having sex with a woman. Right at the very beginning, it looks like a woman is cutting up a white substance, which some believe to be cocaine.
The woman in the video, an aspiring French model named Laura Cuenca, spoke to the NY Daily News to CONFIRM OBJ did not do any drugs that night. And she claims he was holding "a piece of pizza" in his hand. Well, we can clearly see it wasn't a slice of pizza in his hand in the clip. Check it above.
"No. He did not take any drugs!," she told the publication.
While she said Odell didn't do any drugs, she didn't confirm or deny that the white powdery substance seen in the video was cocaine when asked directly.
This video allegedly was recorded while the 25-year-old was in Paris attending Paris Fashion Week events.
The Daily News reports:
Cuenca, who was first identified by her Instagram handle @ellcnc by Black Sports Online, said she met Beckham at Le Queen nightclub in Paris, France and recorded the video via Snapchat on Thursday at 6 a.m. local time. Cuenca sent The News a screenshot of the video's timestamp.

Cuenca said she did not know the man she met was Beckham until after she had already uploaded the video. She said Beckham then informed her who he was and asked her to take it down.

While the short clip didn't begin to circulate and go viral until Friday evening, Beckham may have been alluding to its validity when he posted to Twitter Friday morning, "Old news still makes a good story....I guess. #CatchUpWereIn18"
Old news still makes a good story....I guess. #CatchUpWereIn18'

— Odell Beckham Jr (@OBJ_3) March 9, 2018
Sighs…
The Giants have been made aware of the video, but has chosen not to comment it on it at this time.
Get it together OBJ!
Photos: Patrick Raycraft / Hartford Courant/West Hartford County