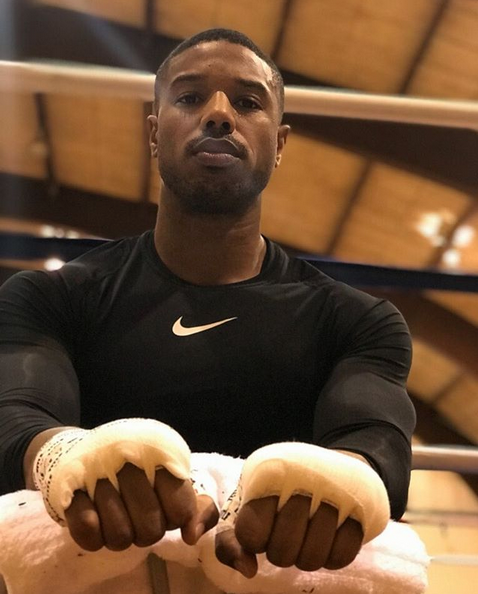 Michael B. Jordan is stepping up in the name of inclusion. Get the deets on the actor adopting inclusion riders, plus find out how Will and Jaden Smith are helping out residents in Flint during the water crisis inside…
Michael B. Jordan continues to prove why he's BAE For LIFE.
You may recall during the Oscars Frances McDormand promoted the use of inclusion riders during her Best Actress acceptance speech. An inclusion rider is a contract clause where actors would require filmmakers to reach diversity benchmarks in their cast and crew.
No one has publicly come forward about implementing the idea since Frances' speech until now.
The Black Panther villain, who's currently filming CREED 2, announced his company Outlier Society Productions would adopt the rider for its projects.
"In support of the women & men who are leading this fight, I will be adopting the Inclusion Rider for all projects produced by my company Outlier Society," Michael wrote on Instagram."I've been privileged to work with powerful woman & persons of color throughout my career & it's Outlier's mission to continue to create for talented individuals going forward."
This man just keeps giving us reasons to stan for him.
While his production company will adopt the inclusion rider, it's unclear if Michael will adopt them for projects he's starring in.
Right now, Michael "BAE" Jordan is getting (even more) CUT UP to reprise his role Adonis Creed. His body was already banging in Black Panther, however his trainer Corey Calliet said in a recent interview that Mike would be going through some intense training to get ever more cut up to play the boxer. So yeah, get ready to see all the blood, sweat and tears when CREED 2 hits theaters November 21st.
In other news about celebs making a change...
Jaden Smith was serious when he said he wanted to change the water game.
The young actor and his father Will Smith are reportedly helping Flint residents by donating water to the city on a monthly basis through their eco-friendly water company, JUST Water, until lead levels in the public schools go down below the federal threshold.
As you know, Flint hasn't had clean water since 2014.
"This just makes sense for us to do," said JUST's CEO Ira Laufer. "Jada Smith has visited Flint and met with the mayor. Flint is very dear to her heart … After reading more about [Flint's] challenges and the mayor objecting to pulling bottled water from the schools, we thought 'Let's help these kids.'"
Apparently, the Smiths were inspired to start sending water by an MLive article and have already sent over 9,200 water bottles to Flint.
Glad the father-son duo stepping up to help out the people in Flint, who have been suffering for a long time.
EXTRAS:
1. Someone is placing bombs on the doorsteps of black and Hispanics homes in Austin, Texas, killing two people and injuring two others. STORY
Photos: Getty/MBJ's IG