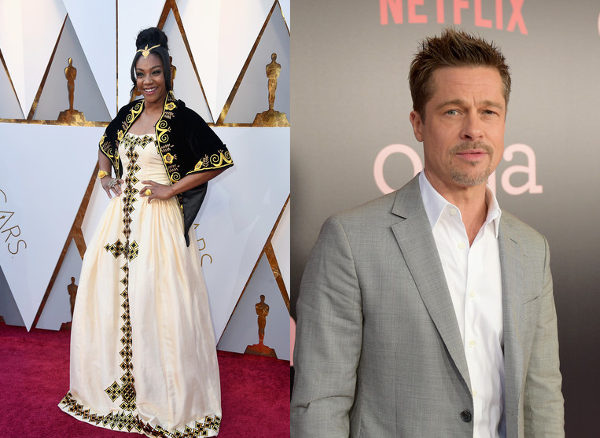 Tiffany Haddish's glow up and comedy style have some folks calling her embarrassing and annoying, but Tiff's got those nice-nasty clapbacks on deck.  See it all inside...
Sunday night at the Oscars, Tiffany Haddish was probably the most interesting part f all the red carpet hoopla.  After she hopped a whole rope to get to Meryl Streep while floating around in a gown fit for an Eritrean queen, she dished that she had met Brad Pitt in an elevator and they made a sex pact.
The actress/comedian chopped it up with Kelly Ripa backstage during the show and revealed Brad told her if they're both still single in a year, they could get it poppin'. 
Oh?!
Yes, Tiff is loud and cray, but she is a comedian.  It seems people forget that and claim to suffer from second hand embarrassment calling her ghetto and the like.  So, she responded on Twitter about the story going viral:
So funny to me, it was a Joke but I Love how serious you all are. I want to be number one in a man's life. he has a lot of kids that would make me what number 8 or at best baby Mama 2. And as much as I would love to chitchat with Angie that is not what I want to be talking about.

— Tiffany Haddish (@TiffanyHaddish) March 7, 2018
The Girls Trip star also had plenty of shade just waiting for other folks who had something to say about her personality.  Swipe below:
Bloop.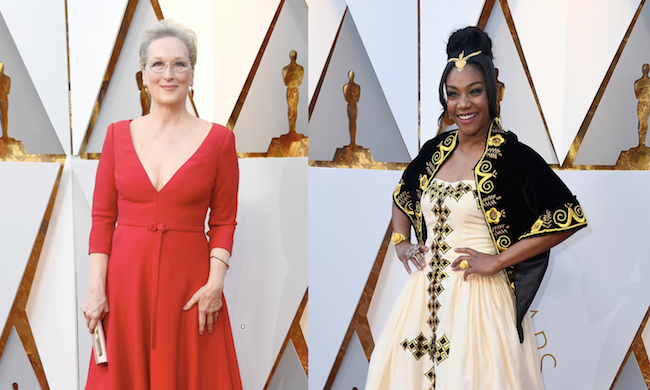 In case you missed her doing everything in her power to get at her idol Meryl Streep Sunday night, who she told everyone that night she needed to meet, check it:
Tiffany Haddish just jumped in front of Meryl Streep on the #Oscars carpet and curtsied pic.twitter.com/uqGTqRGW1b

— Mia Galuppo (@miagaluppo) March 5, 2018
Ha!
As for her look for her first Oscars, we've seen A LOT of prideful, inspired-by-African-countries looks on red carpts these days.  And we love damn near all of them.  This one, though, wasn't our fave.
In case you were wondering, Tiff says the look was a salute to her Eritrean father who recently passed away.  She promised him she would honor him if she ever made it to the Oscars one day.
If you missed her and Maya Rudolph presenting a couple Oscars that night, check it.  You'll see why folks are already starting a quiet campaign to get them to co-host next year's Oscars:
Yes, she was shoeless.  And she wearing that $4,000 Alexander Wang dress (again) she wore to the Girls Trip premiere.  She said she would for sure get as much wear out of it that she could.
Do you boo.
Photos: Getty