The biggest night in Hollywood wasn't the biggest night in television ratings. The ratings for the Oscars are at an all-time low. Get those deets, plus see Mary J. Blige, Common and Andra Day hit the stage. Then, see Common's girlfriend (?) Angela Rye take up for him on CNN inside…
ABC execs are likely NOT happy after receiving this year's ratings for the prestigious Academy Awards ceremony.
According to reports, this year's Oscars suffered the LOWEST television viewing rating in history, falling 19% from last year. A total 26.5 million people tuned in trailing far behind last year's number, where 32.9 million people tuned in. Yikes.
So since many of you missed the show, we've rounded up a few performances…
"Empire" actress Taraji P. Henson hit the stage to introduce her "sister" Mary J. Blige before her performance, pointing out that she's the first person to be an Oscar nominee for both Original Song and Actress in a Supporting Role in the same year. Woot!
Draped in a beautiful Vera Wang gown, the Mudbound actress took center stage to perform "Mighty River," which was nominated for an award. Mary co-wrote the gospel-like track with Raphael Saadiq and Taura Stinson for the gut wrenching film.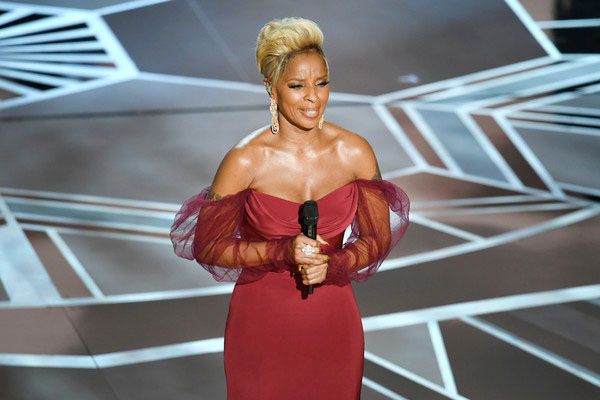 The Queen of Hip Hop Soul offered up yet another performance you can feel in your soul as she dug deep inside to perform the number. Check it below:
Also hitting the stage...
Rapper Common was back at the Oscars in the running for another golden statue. He hit the stage alongside Andra Day to perform their duet "Stand Up For Something," which was nominated for Best Original Song for the 2017 film Marshall.
During the performance, "The Chi" actor/producer took the opportunity to publicly call out the NRA (National Rifle Association) and the Trump administration during his rap intro to kick off the track.
″On Oscar night, this is the dream we tell, a land where dreamers live and freedom dwells," Common rapped. "We put up monuments for the feminists. Tell the NRA they in God's way. And to the people of Parkland, we say ase," he continued. ["Ase" is a West African philosophical concept through which the Yoruba of Nigeria conceive the power to make things happen and produce change.]
"Sentiments of love for the people from Africa, Haiti to Puerto Rico," he concluded.
Common and Andra invited 10 activists to join them on stage while they performed the empowerment anthem, including trans activist Janet Mock, Black Lives Matter co-founder Patrisse Cullors, Nicole Hockley, the mother of a 6-year-old Sandy Hook school shooting victim and a prominent gun violence activist, Tarana Burke, the founder of the #MeToo movement/civil rights activist, who works to fight racial injustice and several more.
Much Love to all the heroes that joined Andra Day + I on stage. pic.twitter.com/k9RIVNhMe5

— COMMON (@common) March 5, 2018
Check out their moving performance below:
#StandUpForSomething Performance during the #Oscars. pic.twitter.com/XMtB2v77gV

— COMMON (@common) March 5, 2018
Meanwhile...
CNN political commentator Angela Rye got super emotional while talking about her boyfriend (?) Common's political message during his Oscar performance.  We're not sure if they're still dating, but she's DEF cutting for him. Peep the clips (swipe left) above.
Photos: Getty