And the winner is….
Will Daniel Kaluuya hear that with his name attached to it? We hope so! But, if he doesn't, he surely made a statement on the carpet before the ceremony....
There's no denying Get Out was the biggest movie of 2017. It's won countless awards all season. .
Will Daniel Kaluuya bring home the Best Actor Award for his role in Get Out? We're keeping our fingers crossed. But he just made sure folks would remember his name after the hoopla dies down.
As he made his way down the carpet, an interviewer said to him,"Get Out ticks a lot of boxes in a way..."
He had to stop them and let them know what's really good.
"Articulating the black experience isn't ticking a box. We're real people with real experiences," Daniel responded.
BOOM! No lies were told.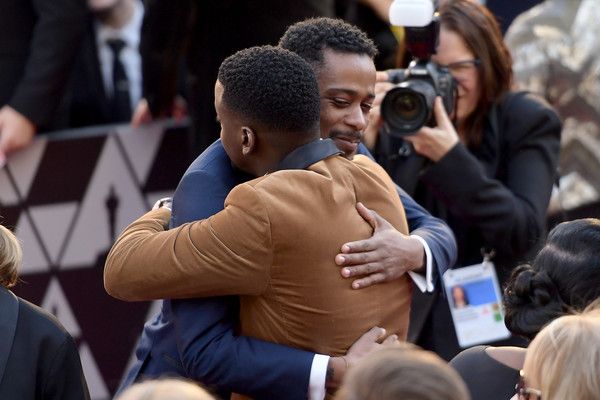 While our British bae, who currently also stars in Black Panther, chatted with Michael Strahan during ABC's red carpet show, the network surprised him with a live feed from an Oscar viewing party going down in London in his honor.  Sweet!
Get Out is up for Best Picture tonight.  Get Out director Jordan Peele is in the running for Best Director and Best Original Screenplay, and co-star LaKeith Stanfield offered up some love to his homie on the carpet (above).
Good luck fellas!
Photos: Getty