Halle Berry was busy turning heads on the pre-Oscar scene. Meanwhile, Alfre Woodard rounded up several melanin beauties for her annual pre-Oscar gala. Get it all inside…
It's that time of year again were celebrities invade Los Angeles ahead of the prestigious Academy Awards that are set to air live this Sunday.
Oscar winner Halle Berry made an appearance at the sixth annual Icon Mann pre-Oscar dinner held at the Beverly Wilshire Four Seasons Hotel and pulled off a number that surely turned heads.
The 51-year-old showed off some skin in a strapless metallic Elena Reva mini dress that served up some futuristic vibes. That plunging neckline is something serious. One small move and a red carpet wardrobe malfunction could happen. But, Halle is a pro. This is what she does. Be sexy and kill it.
Two-time Oscar nominee Ruth E. Carter was also in the mix for the fun. If you didn't know, Ruth is the designer behind all of the costumes in Black Panther. She has been nominated for an Academy Award twice for her work in Amistad and and Malcolm X.
Also at the dinner party...
More veteran beauty hit the carpet. "NCIS: Los Angeles" star Nia Long flashed her perfect smile on the carpet before heading inside. If you didn't know, she will be starring in the upcoming drama Life in a Year, also starring Jaden Smith.
NBA icon Kobe Bryant (who was tapped to introduce Quincy Jones) linked up with funnyman Cedric the Entertainer during the gala.
Music exec Quincy Jones, who recently apologized for all that hot tea he had been spilling lately, had his hands full while chopping it up with Halle. Watch out now Halle before he tries to make you girlfriend No. 23.
Our rap bae/Oscar winner Common made an appearance. 
Former "America's Next Top Model" runway coach Miss Jay is always out and about on the LA scene.
Several YBFers came out to party, including "Undisputed" co-host Shannon Sharpe, Love & Basketball star Dennis Haysbert,Straight Outta ComptonAldis Hodge, actor Roger Guenveur Smith and pianist ELEW (who performed during the event):
Fun times.
At another event...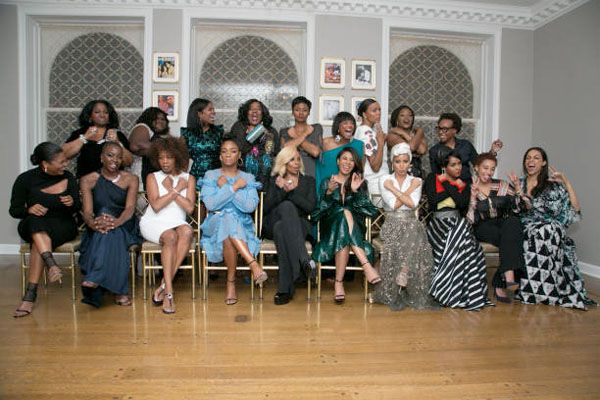 YASSSSSS! Wakanda Forever!
Alfre Woodard's 9th Annual Oscar's Sistahs Soiree was another huge success with several YBF baddies in attendance.
This year's guest list had many of our faves, including LaTanya Richardson, Gabourey Sidibe, Edwina Findley, Loretta Devine, Emayatzy Corinealdi, Margaret Avery, Aisha Tyler, Yolanda Ross, Marianne Jean-Baptiste, Nia Long, Danai Gurira, Tiffany Haddish, Mary J. Blige, Regina Hall, Jada Pinkett Smith, Janelle Monae, Amandla Stenberg and Rosario Dawson, hosted by Morgan Stanley.
Every year, Alfre gathers several melanin beatuties to get together for an intimate dinner to reflect on the year of incredible roles played by an incredible group of people.
Get into all of the melanin magic below:
UGH! To be a fly on the wall!
Photos: Splah/Backgrid/Getty/@elewrockjazz