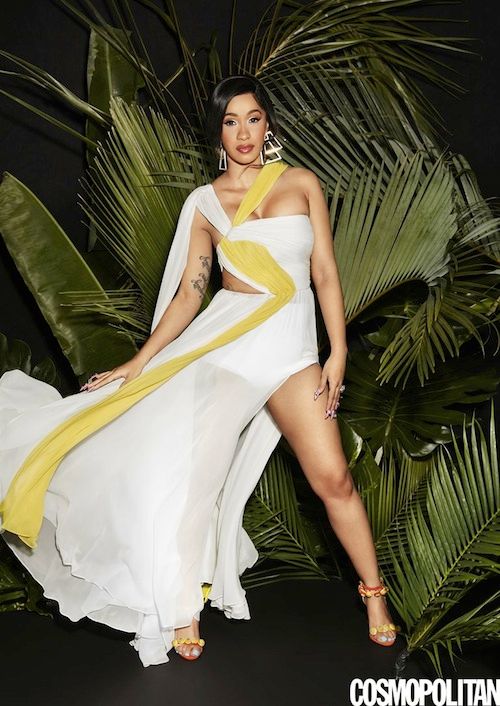 Cardi B explains exactly why she forgave her cheating fiancé Offset in the newest issue of COSMOPOLITAN. Get her whole spill, peep her cover, plus a few candids inside…
Living your life in the spotlight can be rough, but that's what you sign up for when you decide to hop in the entertainment industry.
Cardi B was scrutinized after she took back her fiancé Offset after cheating allegations. Video footage of the Migos rapper laid up in a hotel room with another woman leaked online and the Internet went into a frenzy. Right before it was released to the masses, the "Bodak Yellow" rapper announced she was "single" on her Instagram stories. But, her single situation didn't last long as she came back hours later saying she wasn't single and that she and Offset were back together.
Now, she's explaining WHY she decided to take him back despite people going in on her about accepting his cheating ways.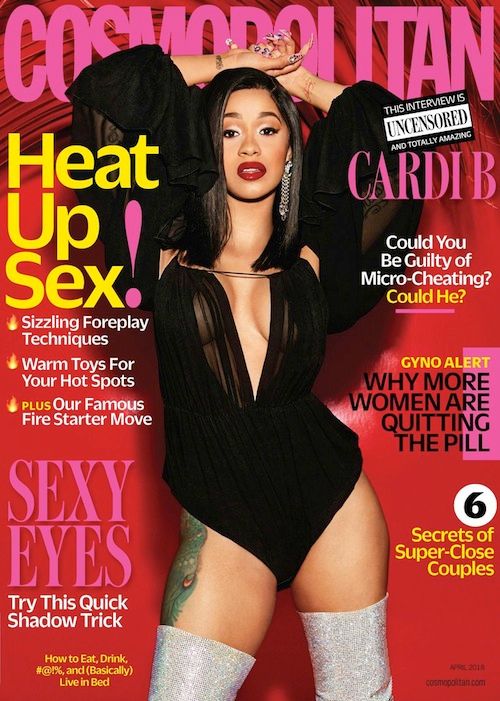 The "Bartier Cardi" rapper covers COSMOPOLITAN's April 2018 issue where she opens up about her self-esteem and reveals she's not an angel by any means.
"It's like everybody is coming down my neck like, 'Why are you not leaving him? You have low self-esteem,.'" she explained. "I don't have low self-esteem … I know I look good. I know I'm rich, I know I'm talented. I know I could get any man I want—any basketball player, football player. But I want to work out my shit with my man, and I don't got to explain why. I'm not your property. This is my life ... I'm going to take my time, and I'm going to decide on my decision … It's not right, what he fucking did — but people don't know what I did, 'cause I ain't no angel."
Drag Queen Naomi Smalls sat down with the NYC raptress where she reveals what's a deal breaker for her in a relationship. Her answer may surprise you. Check it at the 1:48 minute mark:
Oh. OK.
Hate her or love her--she's NEVER going to change:
"Everybody got different beliefs and different religions and were raised differently, yet you also supposed to be careful you don't offend somebody. Everybody gets bothered about everything. Everybody got a fucking opinion about you. If I change myself, then I'm going to lose myself, and I won't be who makes me happy."
Oh, and she's going to KEEP reminding you that she used to be a stripper because you're going to learn to respect her:
"People say, 'Why do you always got to say that you used to be a stripper? We get it.' Because y'all don't respect me because of it, and y'all going to respect these strippers from now on … Just because somebody was a stripper don't mean they don't have no brain."
She has come a long way.
See a behind-the-scenes clip of Cardi for the photoshoot below:
Cardi and Offset, by the way, are seemingly just fine:
In these streets...
Bardi was spotted leaving Mastro's restaurant after dinner with friends in Beverly Hills EARLIER THIS WEEK, dressed down in a black and green tracksuit.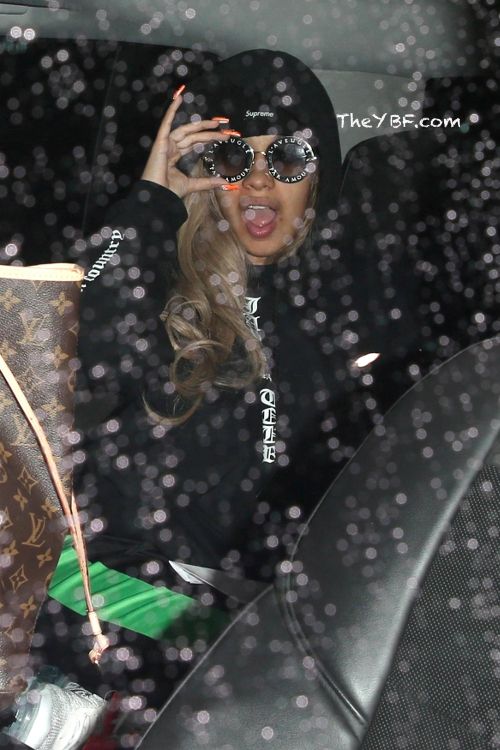 This outfit isn't helping fight those pregnancy rumors chick...
Photos: Kai Z Feng via COSMO/Backgrid