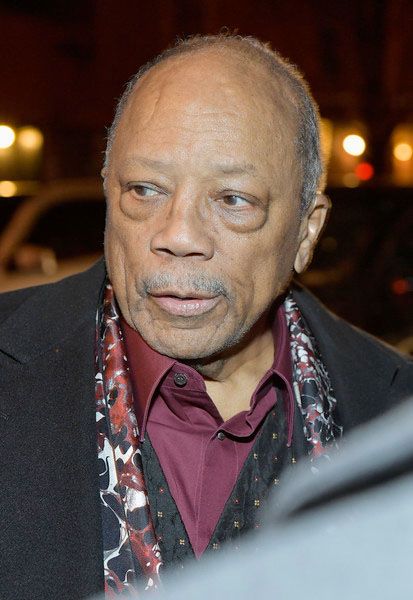 Quincy Jones clearly gives zero f****s because he's spilling some epic tea. Go inside to find out why he bashed Michael Jackson and the young Beatles, what he said about Marvin Gaye and Richard Pryor smashing Marlon Brando, his REAL thoughts about Donald Trump, who he thinks is hot in Hip Hop and more. Get it all inside…
At 84 years old, Quincy Jones is at the point in his life where he's just like f*** it. Forget being politically correct. Forget hurting someone's feelings. Forget beating around the bush. He's spilling this tea straight up, no chaser. NO FILTER. Zero f***s given.
After reflecting on his ho*ish ways and boasting about his 22 girlfriends in a GQ interview, the music mogul has several more stories to share with the masses. And these stories are just as juicy as the others he shared previously.
"All I've ever done is tell the truth," Quincy said while chilling in his Bel Air home. "I've got nothing to be scared of, man."
During a lengthy conversation with Vulture, Quincy shared a side of Pop king Michael Jackson we never heard before. According to the music legend, MJ would steal songs without giving credit. He even called him "greedy." So greedy, Quincy dubbed MJ as "Machiavellian."
Vulture: You worked with Michael Jackson more than anyone he wasn't related to. What's something people don't understand about him?

QJ: I hate to get into this publicly, but Michael stole a lot of stuff. He stole a lot of songs. [Donna Summer's] "State of Independence Originally written by Vangelis and longtime Yes front man Jon Anderson, "State of Independence" was recorded by Donna Summer in 1982. Jones produced Summer's version, Michael Jackson helped out on backing vocals, and the song's central riff does sound awfully similar (albeit faster) to the iconic bass riff on Jackson's hit single "Billie Jean." It should also be noted that, last year, Jones won a lawsuit over a royalties dispute against Jackson's estate. " and "Billie Jean." The notes don't lie, man. He was as Machiavellian as they come.

Vulture: How so?

QJ: Greedy, man. Greedy. "Don't Stop 'Til You Get Enough" — Greg Phillinganes wrote the c section Phillinganes, an in-demand studio keyboardist, played on a handful of Jackson-Jones collaborations, including the 1979 album Off the Wall, from which "Don't Stop 'Til You Get Enough" comes. Michael should've given him 10 percent of the song. Wouldn't do it.

Vulture: What about outside of music? What's misunderstood about Michael?

QJ: I used to kill him about the plastic surgery, man. He'd always justify it and say it was because of some disease he had. Bullshit.
Damn.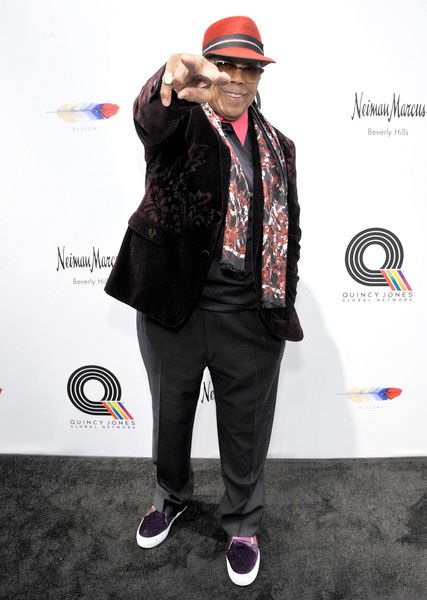 The famed record producer had some more gossip to share. He alluded that his longtime friend/actor Marlon Brando have had sex with comedian Richard Pryor, singer Marvin Gaye and novelist James Baldwin. Whet?!
QJ: "He'd [Marlon] fuck anything. Anything! He'd fuck a mailbox. James Baldwin. Richard Pryor. Marvin Gaye.

Vulture: He slept with them? How do you know that?

QJ: [Frowns.] Come on, man. He did not give a fuck! You like Brazilian music?
Yikes! 
When Quincy first heard the rock band The Beatles, he thought they were the worst musicians he had ever heard.
QJ: That they were the worst musicians in the world. They were no-playing motherfuckers. Paul was the worst bass player I ever heard. And Ringo? Don't even talk about it.
When it came to his longtime friend Bill Cosby and the sexual allegations, he didn't want to talk about it..publicly.
Vulture: But what about the alleged behavior of a friend of yours like Bill Cosby? Is it hard to square what he's been accused of with the person you know?

QJ: It was all of them. Brett Ratner. [Harvey] Weinstein. Weinstein — he's a jive motherfucker. Wouldn't return my five calls. A bully.

Vulture: What about Cosby, though?

QJ: What about it?

Vulture: Were the allegations a surprise to you?

QJ: We can't talk about this in public, man.
While he didn't want to talk about Bill, he had plenty to say about Donald Trump and how he used to date his wife Ivanka back in the day. Oh?
Vulture: What's stirred everything up? Is it all about Trumpism?

QJ: It's Trump and uneducated rednecks. Trump is just telling them what they want to hear. I used to hang out with him. He's a crazy motherfucker. Limited mentally — a megalomaniac, narcissistic. I can't stand him. I used to date Ivanka, you know.

Vulture: Wait, really?

QJ: Yes, sir. Twelve years ago. Tommy Hilfiger, who was working with my daughter Kidada, said, "Ivanka wants to have dinner with you." I said, "No problem. She's a fine motherfucker." She had the most beautiful legs I ever saw in my life. Wrong father, though.
No filter.
Switching gears, Quincy shared who's feeling in Hip Hop right now and who he isn't.
Vulture: Well, who's doing good work?

QJ: Bruno Mars. Chance the Rapper. Kendrick Lamar. I like where Kendrick's mind is. He's grounded. Chance, too. And the Ed Sheeran record is great. Sam Smith — he's so open about being gay. I love it. Mark Ronson is someone who knows how to produce.

Vulture: I'm trying to isolate what you specifically believe the problem with modern pop is. It's the lack of formal musical knowledge on the part of the musicians?

QJ: Yes! And they don't even care they don't have it.

Vulture: Putting aside the quality of contemporary songs, are there any technical or sonic production techniques that feel fresh?

QJ:No. There ain't nothing new. The producers are lazy and greedy.
He also said he knows who really killed 35th U.S. President John F. Kennedy:
Vulture: What's something you wish you didn't know?

QJ:Who killed Kennedy.

Vulture: Who did it?

QJ:[Chicago mobster Sam] Giancana Chicago gangster Sam Giancana is a well-known name among Kennedy conspiracists, both for his alleged help in delivering Illinois votes for Kennedy in the 1960 presidential election and the 1963 assassination of the president. The latter theory largely stems from Giancana's murder in 1975, not long before he was supposed to testify before a Senate committee investigating collusion between the mob and the CIA. The connection was there between Sinatra and the Mafia and Kennedy. Joe Kennedy — he was a bad man — he came to Frank to have him talk to Giancana about getting votes.

Vulture: I've heard this theory before, that the mob helped win Illinois for Kennedy in 1960.

QJ: We shouldn't talk about this publicly. Where you from?
Chile, there's so much more Uncle Jones spilled in the lengthy interview. You can read it all here.
What are your thoughts of Quincy Jones and his newfound openess to share all these secrets he has been holding in for years? Do you all think he's spitting facts or what?
Photos: Getty