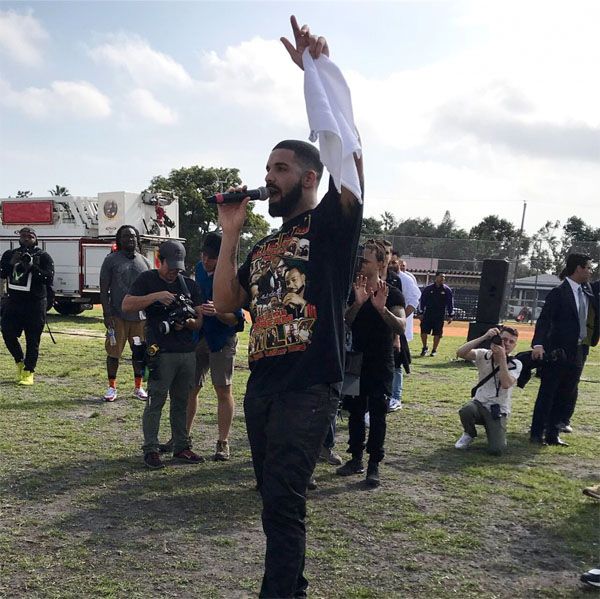 Drake is out in Miami blessing people left and right. Find out all the details from his philanthropic work inside…
Drake is taking his single "God's Plan" to a new level. And he's putting smiles on people's faces in the midst of it all.
The Young Money rapper jetted to Miami to shoot the video treatment for his single "God's Plan" at Miami Senior High School. While there, he was inspired to go on a giving spree and, in true Drizzy fashion, he went ALL out.
First, he donated $25,000 to the high school while giving the students a few words of encouragement. Then, he announced he would make sure they all received brand new uniforms. Nice!
Best Day Ever! The REAL Drake was at the High today! Thanks for giving back to the community! @Drakepic.twitter.com/9PqaUoerqt

— Miami Senior High (@miamiseniorhigh) February 5, 2018
Peep the mayhem when he rolled up on the scene and a few behind-the-scenes clips of the video below:
Hehe THE GOAT @miamiseniorhigh@Drakepic.twitter.com/rewORxvVlL

— FLYKID_KEV (@FLYKID_KEV) February 5, 2018
@miamiseniorhigh will be the first high school in the U.S with school uniform made by @Drake@welcomeOVOpic.twitter.com/KFSh0PvRP6

— Coach-Helder Valle (@h2valle) February 5, 2018
@Drake filming "Gods Plan" @miamiseniorhighpic.twitter.com/FMZRF6GLKt

— Coach-Helder Valle (@h2valle) February 5, 2018
He didn't stop there....
The "Hotline Bling" rapper made his way to the University of Miami to surprise one student with one hell of a gift.
Surprising her on what she thought was the set of a PSA video, Drizzy gifted Destiny James with a $50,000 check to go towards her tuition. In an Instagram post, Destiny wrote, "I was contacted this weekend about doing a video speaking about where I come from, things I've been through, and why it is so important for scholarship donors to continue to donate. This was the surprise the whole time. Drake told me that he has read great things about me and appreciates how hard I've worked through so many trials and decided to give me $50K for my tuition."
See her priceless reaction above.
And there's more...
Drake rolled up to the Sabor Tropical Supermarket around 4pm yesterday (February 6th), hopped on a megaphone and announced that he was paying for EVERYONE's groceries. That's right, everyone in the supermarket got their groceries paid for by Drake, reportedly totaling $50,000.
According to customer Guille Deza, some of the footage from the supermarket could end up in his new video "God's Plan."
"No one knew he was coming at all, we just came to do groceries. Cameras were being set up so we were all wondering what was to happen," he told E! News.
Thx for showing Miami Beach some love @Drake! #GodsPlanpic.twitter.com/tvOS7MkYkc

— Ernesto Rodriguez (@ERodriguez782) February 6, 2018
Gotta love it.
Photos: Miami Sr. High's Twitter