From failed relationships…to new love. SWV singer Cheryl "Coko" Clemons and her husband are calling it quits after 15 years of marriage. Meanwhile, Pilar Sanders has found love and J. Prince is her new beau. Everything inside…
It's a new year and singer Cheryl "Coko" Clemons is gearing up to embark on a new stage in her life.
The SWV singer announced she and her husband Mike Clemons decided to divorce after 15 years of marriage. She let everyone in on her and Mike's decision via a post on her personal website.
"We always thought we'd be together forever!," she started off the letter. "Through the good, the bad, the ugly, the ups and the downs...we'd still be married. But, things don't always work out the way we plan or hope."
Despite calling it quits after being together so long, she said she wishes nothing but the best for her soon-to-be ex. She said they simply fell out of love with one another.
"After 15 years of marriage, my husband and I have decided to call it quits. Our fairytale has come to an end. I'll definitely miss him! But life goes on and I have to make the best of it. I wish him all the best in his future. I pray that he will lack nothing! For the sake of our son we will do our best to co-parent. We're not enemies, we're just two people that fell out of love"
However, she's hopeful for the future and knows with her support system behind her, she'll be fine.
"Life after divorce kind of scares me, but I have to be strong for myself and my son. God got me and I'm surrounded by a great group of family and friends that hold me down. My Village!! I am blessed and highly favored!!
"READY FOR MY NEXT!!!"
We wish them both nothing but the best.
In coupledom news...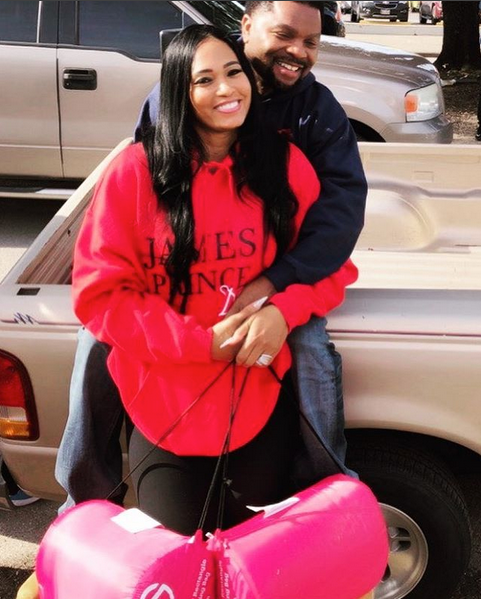 It's been a long time coming, but Pilar Sanders has finally moved on to someone new.
Not to say she hasn't had a man since she spilt with NFL legend Deion Sanders. But, all of the drama she was involved in with Deion had us giving her the side eye.
These days, she's cuddling up with Houston CEO of Rap-a-Lot Records, J. Prince. And she wants everyone to know it. While giving back to the community on "J. Prince Day" in Houston, Pilar shared a flick of herself and her beau all hugged up with the caption, "When you share #love for #helpingothers and #givingback the #joy is indescribable no faking - no fronting all #real "
She even threw a lil' shade at her ex in her comments:

Bloop!
Well alright then.
Photos: Coko's Website/Pilar's IG