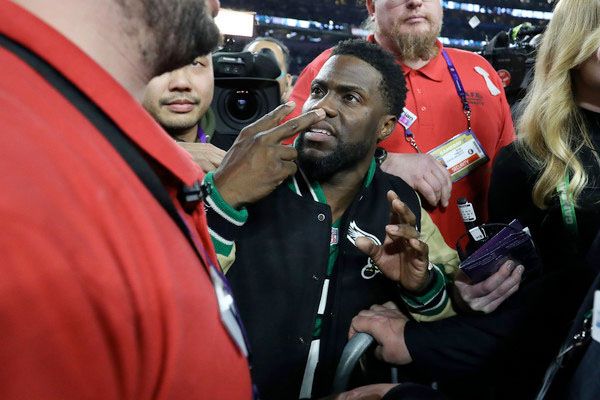 Kevin Hart was so out of pocket after his Philadelphia Eagles won Super Bowl LII. See the comedian's drunk antics, plus reactions from Will Smith, Kobe Bryant, Cardi B and more inside…
It was a historic night for Philadelphia as Nick Foles and the Eagles won their first NFL Championship title after defeating Tom Brady and the New England Patriots, 41-33.
And no one was happier about the win than Philly native Kevin Hart. The 38-year-old comedian was so out of pocket after the win.
The Jumanji star, who admitted he had been drinking, got so excited after the Eagles won, he ran out on the field and tried to rush the podium with some of the team's players while the Lombardi Trophy was presented. However, security wasn't having it and son'd him.
Check it:
And his antics didn't stop there...
The tipsy comedian also hopped up on stage during an interview with defensive tackle Fletcher Cox where he ended up dropping the F-bomb on LIVE television.
"I've been drinkin', I'm on cloud nine," Kevin said. "I started the celebration early. This was supposed to happen."
Peep the moment at the 3:20 mark above.
In the stands...
The Ride Along actor hit some dance moves after the Eagles clenched the win.
Once everything died down, Kevin hopped on Instagram to explain his actions:
"You know, when alcohol is in your system you do dumb stuff," the comedian explained in the video. "Me trying to go onstage with the trophy definitely in the top two stupidest things I've ever done but who cares. The Eagles won the Super Bowl. Yeah, I'm still a little tipsy but the world can kiss my a**."
He said (via hashtags) his wife, Eniko Hart, TOLD him not to rush the tropy stage, but he didn't listen. "#iShouldHaveListenedToMyWife#iWasCaughtUpInTheMoment#iWasSuperDrunk."
Lordt. Peep his full video above.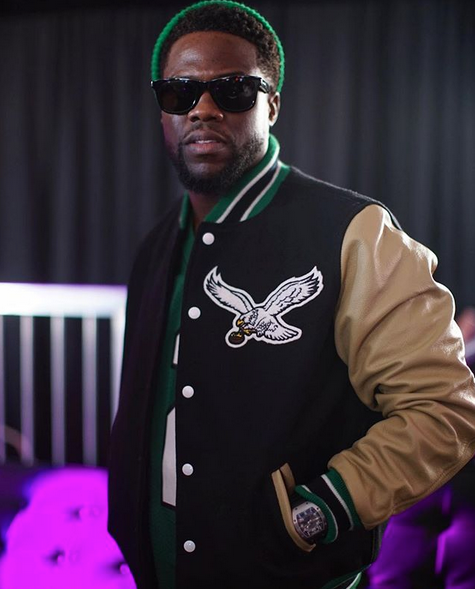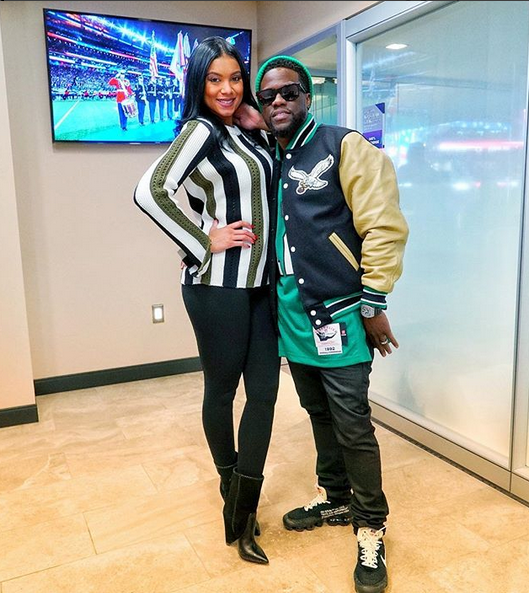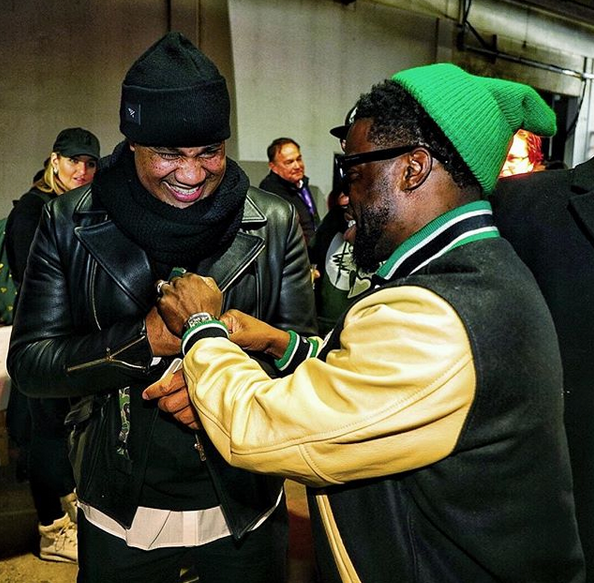 As he made his rounds, Kevin ran into Roc Nation exec Lenny Santigo, where a funny exchanged went down:
ME (Lenny): Kev, 4real... I think you should slow down on the 1942 cause you might do something crazy, bro.

KEV: Lenny, mind ya F'n business, you don't know shit! I got this. I does this! I do this! Flyyyyyy Eagles, Fly!
HA!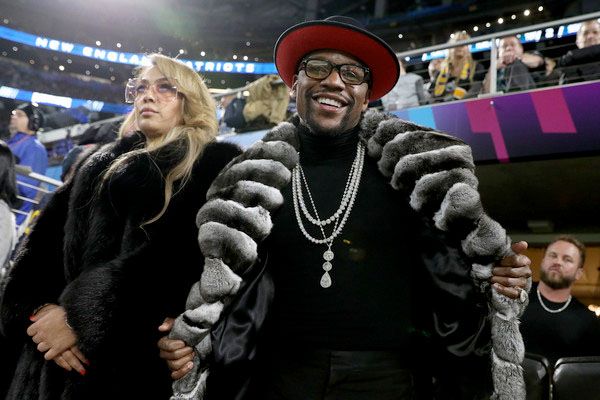 Boxing champ Floyd Mayweather sat inside the U.S. Bank Stadium (that was about 70 degrees in the dome) looking like former drug kingpin Frank Lucas in his floor-length chinchilla when he rolled up to the Muhammad Ali fight in the 70s.
Speaking of fur coats...
Hip Hop mogul Diddy and his son/rapper Christian Combs were also decked out in fur.
Since joining Instagram, Hollywood titant Will Smith has yet to disappoint with a post. And the Eagles playing in the Super Bowl had the Philly native on 1,000. Peep his pre-Super Bowl video above.
NBA icon Kobe Bryant, who grew up in Philly, couldn't contain his excitement (or profanity) while on daddy duty after the Eagles defeated the Patriots. Peep his videos above and below:
HA!
Grammy nominated rapper Cardi B was making her rounds in Minneapolis after the Super Bowl. She was asked if she would ever perform for the halftime show and she said she wouldn't until justice is served for former 49ers QB Colin Kaepernick:
Other celebs in the stands for the Super Bowl included, singer Ciara, Seahawks QB Russell Wilson, Golden State Warriors baller Steph Curry, actress Tiffany Haddish (who starred in a Groupon commercial during the Super Bowl) and comedian/Philly native Michael Blackson:
The night before the Super Bowl...
The only football player I'm checking for this weekend. 'Cause I cannot pretend that everything is okay with this enterprise. #ImWithKappic.twitter.com/ug9LPU12SS

— Ava DuVernay (@ava) February 4, 2018
Directress Ava DuVernay linked up with former NFL QB Colin Kaepernick. She's still standing up and speaking out over his injustice!
And former Eagles QB Michael Vick showed his support of Philly native Meek Mill, who's currently incarcerated. 
EXTRAS:
1.  New Super Bowl champ Malcolm Jenkins and two other Eagles teammates say they won't be at the White House. STORY
Photos: Getty/Kevin's IG/@kodaklens