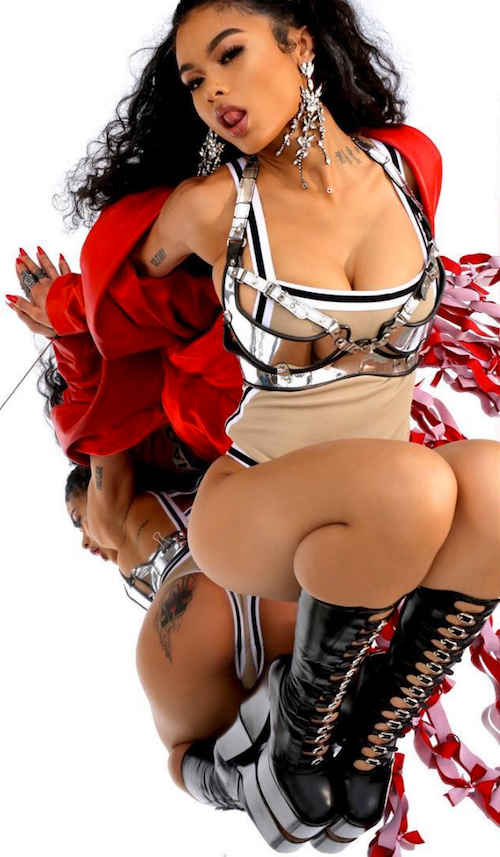 India Love, who you may or may not know from her social media thirst trap comeuppance, is now a rapper.  Let #BlackTwitter tell it, she played herself.  Get into this dragging they just served up inside...
Foolywang material comes in all forms.  And the internets are lighting up reality star/IG model India Love Westbrooks for what they see as foolywang material indeed.
In case you don't know (or don't care) who this chick is, she and her family starred on BET's Kardashianesque-attempt of a reality show "Meet The Westbrooks".  This was after she racked up millions of followers on social media for her T&A-filled thirst trap shots that we now call IG Modeling.
She's also been linked to Rick Ross and a few other folks, so it seems she's ticking off the next box in the Instagram Fame handbook: Become an "artist".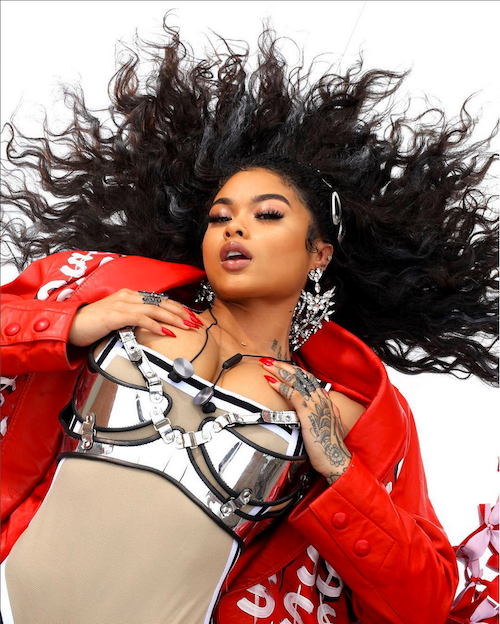 India has said and done some bird-like things that make Twitter twitchy and annoyed, but as usual, folks think tons of followers equate talent.  So, introducing India's rap career.
Chick posted a video to her song "she was playing around with in the studio" called "Loco".  She explained that Will.I.Am, her mentor, is to thank.  We have some questions.  But here it is:
Here's what India had to say about this:
I've never been afraid to try new things .. Never have I been one to be put into just one category Never want to limit myself in being able to express myself In any capacity And , I was told that creativity is simply intelligence at Play ..... Here's a little something that I've been playing around with in the studio Just wanted to share blessed to have someone like @iamwill as my mentor and guide along the way

And for those who didn't know, this was my First song EVER recorded ever in my life.. @iamwill sat me down about a year or so ago from today and told me he wanted me to try something new.. something out of the box and fresh. I didn't hesitate one bit. I remained patient. Trusted his vision and followed his guidance along the way. Thank you so much for believing in me & allowing me to show the world the Visual Artist I really am.
Oh.
So, Black Twitter did their thing:
India Love rapping now? Cardi B really opened up a whole new portal of corny pretty bitches with confidence that think they can rap because they're nice to look at

— EverybodyHatesBdell (@Bdell1014) February 2, 2018
I know very little of India Love besides her looks, but my gawd that might be the worst song I've ever heard. Stop writing these bars for these women cause they look good. Have some dignity you bitch ass niggas

— True God (DAR) (@TrueGodImmortal) February 2, 2018
That India Love song is the worst thing I've ever heard. Baby girl, just focus on posting thirst traps pic.twitter.com/CGiPsykfsO

— rosechocglam (@rosechocglam) February 2, 2018
When I saw India Love trending I thought she was naked again but apparently she's just trying to start a music career pic.twitter.com/81kqEdZnQy

— (@codename_xyaire) February 2, 2018
India love producer was tryna fuck now we all gotta roast her ass bc he ain't wanna tell her the truth

— ☆Cloutmachine19 (@Osamabenthottin) February 2, 2018
Just peeped India Love's song and I gotta ask her one question pic.twitter.com/RGOAyQ7Anb

— Shannon Moorer (@ShannonMoorer) February 2, 2018
When I Heard That India Love Song pic.twitter.com/JTls8LEpaR

— Billy (@INFAMOUSBOUL) February 2, 2018
I would get mad at India Love but the colored hair lean drinkin rappers ain't no better n they poppin...

— Cameron Coffee (@CoffeeCameron) February 2, 2018
somebody called india love Cardi F Minus.

— nay (@issanay) February 2, 2018
India Love: Omg I'm going to be a star just like cardi right? Producer: pic.twitter.com/uhtm8zFeQa

— my name is troy and i have a basketball game tmrrw (@Dantehuncho) February 2, 2018
When you saw India Love trending and thought her tape leaked or something but it's just her dropping music pic.twitter.com/MxFWVJ3IPr

— ahem (@LadyLarkk) February 2, 2018
India Love saw Cardi B preform at the Grammys and was like pic.twitter.com/JJsMjUOHfG

— B L A K E (@BlakeAmazing) February 2, 2018
ain't even mad at India Love trying to rap, bitçhes finna say Cardi B opened up that lane for female rappers but India really can't rap however.... shoutout to NoNeckGotti for helping his shorty rap career lmao, she sounds better than Joseline who didn't stay in her lane

— Stuff. (@AuntieOG_) February 2, 2018
Y'all really shocked at India love rapping but her starting to rap is extremely similar to Cardi b starting to rap lol. If that's what she wants to do, and she wants to put in her "10,000 hours" who's gonna stop her ? She's already getting black twitter attention lmaooooo

— RECLAIM YOUR DIGNITY FELLAS (@SHOTTYIZMS) February 2, 2018
That India Love song ain't even good trash. pic.twitter.com/lzWrZ4Jnsd

— Mont (@Montsmusic) February 2, 2018
Dear Ghost Writer of India Love,

Have some dignity, you jackass. Wtf was that? My God. Stop writing these verses for these trash IG models just because they might be nice to look at. Yuck.

Sincerely,

Management

— Claire Huxtable (@JB_Dior) February 2, 2018
India love is having an identity crisis.

— Mamas (@PrettyylilAri) February 2, 2018
India Love said she off the wall like MJ in Mexico but proceeded to do the swish gesture like she thought her ghost writer meant Michael Jordan lmaoooo pic.twitter.com/mScHt1Xwt5

— Black (@jayblack____) February 2, 2018
We're done with y'all.
Photos: India's Instagram