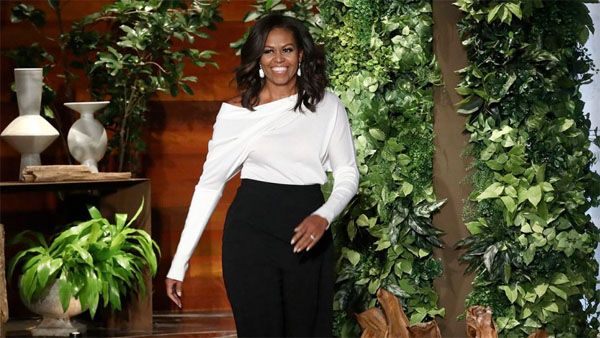 Michelle Obama makes her first TV appearance since leaving the White House on the "Ellen DeGeneres Show" to reveal what Melania Trump gave her during that awkward gift exchange. Meanwhile, the Black Caucus showed up for Trump's State of the Union address with a silent message. Get it all inside…
Our Forever First Lady Michelle Obama will be making her first TV appearance since leaving the White House, hitting up the "Ellen DeGeneres Show" to celebrate Ellen's 60th birthday, which will air on Thursday.
Mrs. O finally reveals what Melania Trump gave her in a big Tiffany's box during that painfully awkward exchange Inauguration Day. We all wanted to know what was in it. Now, we know!
"It was a lovely frame," she revealed in a clip. The moment was so awkward because Mrs. O didn't know what to do with the box and none of the Secret Service came to get it.
"There is all this protocol," she explained. "I mean, this is like a state visit so they tell you you're gonna do this, they're gonna stand here. Never before do you get this gift, so I'm sort of like, 'Okay, where… ? What am I supposed to do with this gift?'"
So maybe that explains her pic side eye.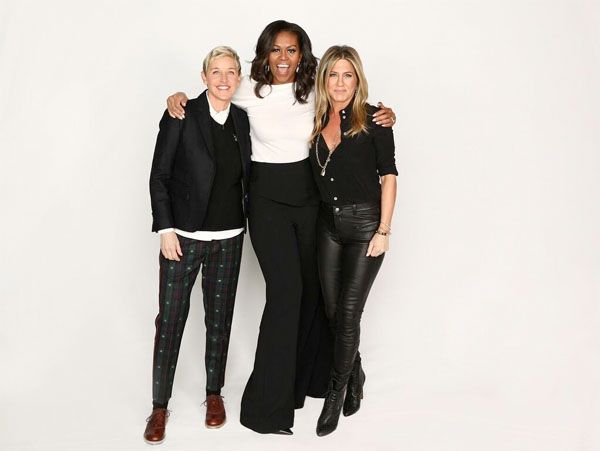 She said everyone cleared out and she had no one to hand the box to until her husband President Barack Obama took over.
"I'm thinking, 'Do we take the picture?' And then my husband saved the day," she said."See? He grabbed the box and took it back inside. But everybody cleared out — no staff, no one. I was like, 'What do you do with the box?'"
Peep the clip below:
Ugh. Love her.
Be sure to tune in to the "Ellen DeGeneres Show" on Thursday for her full interview.
In other political news...
Donald Trump delivered his State of the Union speech last night and the Black Caucus was NOT here for it. As they should. Who wants to sit and listen to a man stand and read a teleprompter filled with lies?
While they likely didn't want to be there, they did show up making a statement. Members of the Black Caucus all draped kente cloth around their necks (and also wore kente printed ties). Show out then!
Many of our members attended the #SOTU to stare racism in the face. Both those who attended & those who didn't wore Kente cloth to protest @realDonaldTrump's "shithole" comments about #Africa& #Haiti& to stand in solidarity w/ Africans & people of African descent worldwide. pic.twitter.com/YodkFhnTKp

— Black Caucus (@OfficialCBC) January 31, 2018
During the SOTU address, Republicans praised Trump like they were at a Beyonce concert. Meanwhile, the Black Caucus never lifted a finger, unless it was to scroll through their cellphones.
Even when Trump boasted about how he has lowered the African-American unemployment rate, they were not impressed. Likely because Trump stays spitting facts that exist, but facts he had nothing to do with.
The black unemployment rate fell from 16.5% to 7.8% from January 2011 –January 2017. Now it's 6.8%. Thank President Obama – not @realDonaldTrump. #ThanksObama#AYearofTrump

— Black Caucus (@OfficialCBC) January 30, 2018
And there are the real facts.
Meanwhile....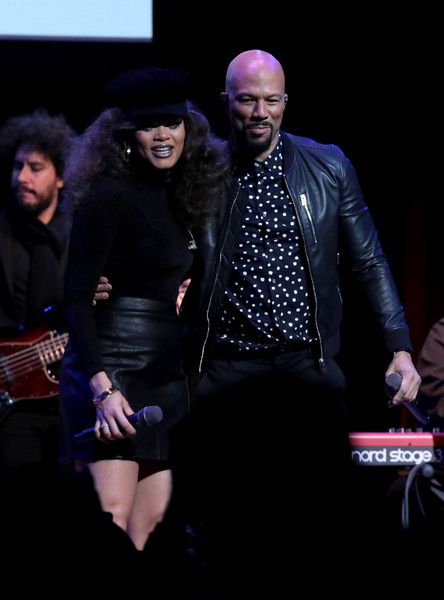 Some folks decided to do their own thing.  Artists Andra Day and Common, dressed in all black, hit the stage to perform at The People's State Of The Union at Townhall in NYC.
EXTRAS:
1. Meghan Markle is marching to the beat of her own drum and is expected to give a speech during her wedding reception. STORY
2. The Baltimore Police Department is currently in court over one of the biggest scandals in the history of American law enforcement. Apparently, cops kept toy guns in their possession in order to plant, just in case they shot an unarmed person. STORY
Photos: Ellen's Twitter/Getty