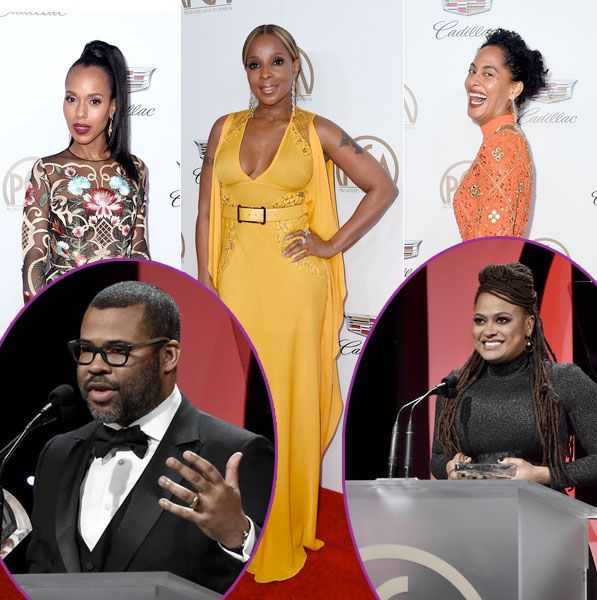 Winners Jordan Peele and Ava DuVernay dropped some gems during their acceptance speeches at the PGA Awards over the weekend. Meanwhile, Kerry Washington, Mary J. Blige, Tracee Ellis Ross and others lit up the red carpet. Get it all inside…
The 29th Annual Producers Guild Awards were held at the Beverly Hilton Hotel to honor the best producers in film and television. And two of our fave producers nabbed awards while offering up some words of wisdom during their acceptance speeches. We didn't think they would offer any less being that they're two of the hottest producers in Hollywood right now.
Filmmaker Jordan Peele took the podium to accept the Stanley Kramer Award for his horror film, Get Out. The Stanley Kramer Award goes to "a production, producer or other individuals whose achievement or contribution illuminates and raises public awareness of important social issues." And Get Out certainly did that.
Jordan, who wrote, produced and directed the film, used his acceptance speech to address those same issues he brought to life in his film, taking on Trump and how we're still in a "sunken place."
"When I set out to do this movie, I had to ask myself, what really scares me? I know what you're thinking, but it's not white people," he said. "It's silence. Get Out is my protest against that. … That's how I came up with the idea for the sunken place… the sunken place is the system that silences the voice of women, minorities, of other people. It's the system … it's where we are relegated to when the screams of police brutality go ignored. The sunken place.. for the dignity and disrespect for Haiti…."
"The sunken place is the President who calls athletes sons of b*tches for expressing their beliefs on the field, and the homeland of our most beautiful immigrants sh*tholes. Every day there was proof that we are in the sunken place."
And we couldn't agree more.
Get Out was nominated for two PGA Awards (the other was for Best Theatrical Motion Picture), which is only creating even more Oscar buzz for the 38-year-old filmmaker.
Fab directress-producer Ava DuVernay was awarded the Visionary Award for the work she has put out to help raise awareness on important social issues. The award recognizes film, TV or new media producers for their unique or uplifting contributions to our culture through inspiring storytelling or performance. Her Oscar nominated documentary 13th got critical acclaim and she also won two EMMY awards for it.
The "Queen Sugar" executive producer used her acceptance speech to talk about inclusion, social awareness and she also showed love to the late Alliosn Shearmur.
"I was excited to come here today because we're gathering on another historic day of the women's march. It's an interesting day because we had the women's march in the midst of a government shutdown," she said. "We have moments where people like me are at an intersection of Black Lives Matter and Me Too and Time's Up. In short, we're in the midst of times that will be long remembered, and I can't help but ask the question of how will we be remembered in these times."

"I just want to take a second to say you don't do it because it's the right thing to do….to pivot from prejudice," she continued. "It's not a trend, it's a reality — a reality that our industry has betrayed in so many ways over the decades. So not to think of diversity as a good thing to do, think of it as an absolute must, something that must be done."
It really does. We've been protesting for inclusion and diversity and yet we're still not anywhere we should be.
"black-ish" starlet Tracee Ellis Ross, Mudbound actress Mary J. Blige and Get Out actor Daniel Kaluuya, "Scandal" actress Kerry Washington and a pregnant Eva Longoria were tapped to present:
On the carpet...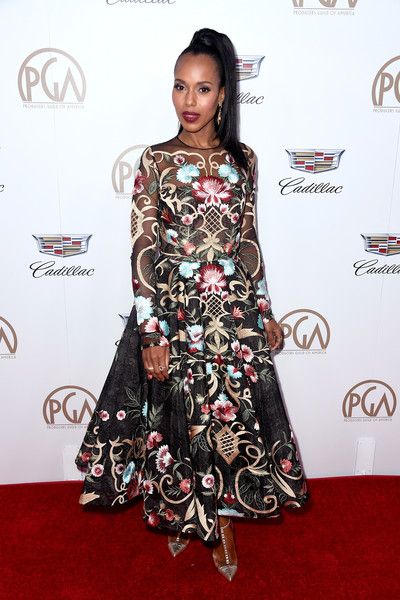 Come thru Mrs. Asomugha!
Kerry Washington stunned in a floral Paolo Sebastian couture dress from the designer's FW16 collection paired with a pair of t-strap Louboutins. 
Chick swept her hair up into a high ponytail to top off her gorgeous look.
A Wrinkle In Time director Ava Duvernay wowed in a black Winonah De Jong gown that featured a high collar. Gorg.
Jordan Peele got dapper in an Ermenegildo Zegna suit before accepting his award.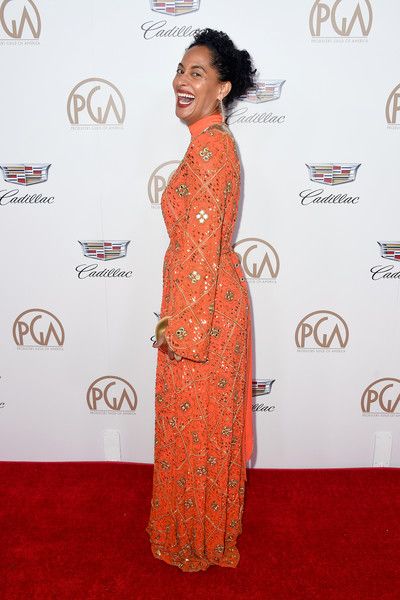 "black-ish" star Tracee Ellis Ross made a bold statement on the carpet in an orange printed Tory Burch gown.
She never disappoints.
The "black-ish" star recently spoke out about the rumor that she was threatening to lessen her time on "black-ish" if they didn't pay her more. While she said she was renegotiating her contract for season 5, the rumor about her lessening her time on "black-ish" was a lie.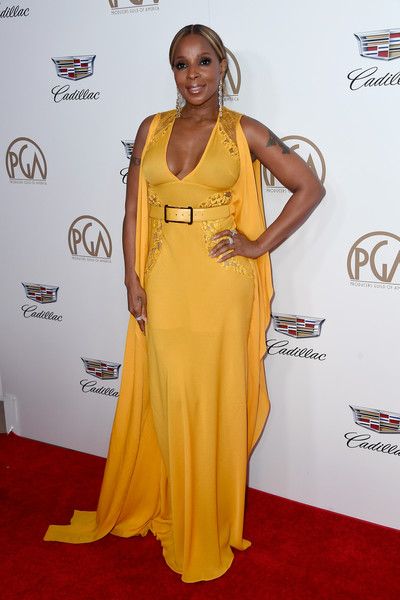 Singer/actress Mary J. Blige glided on the red carpet in a yellow Ellie Saab number and she slayed it.
SELMA actor David Oyelowo had his wife Jessica Oyelowo on his arm for the event.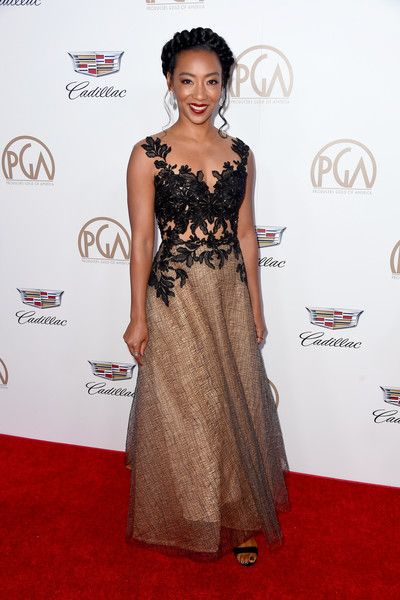 Get Out actress Betty Gabriel looked amazing in a Rhea Costa number as she made her way down the carpet.
Photos: Getty