Ciara was doing a little self-reflection while on vacay with her man and the fam when she decided to share something about relationships.  And it's gotten her plenty of praise, and some major criticism.  Get it all inside...
If you've ever wondered how Ciara went from a super messy engagement to becoming Mrs. Wilson, look no further than her realization that she needed self love and God's love. Before she explained what she meant, her co-sign of Pastor John Gray's sermon to a group of single women rubbed plenty of folks the wrong way:
#LevelUppic.twitter.com/rmS0WMOV1B

— Ciara (@ciara) January 20, 2018
Some people felt the pastor's words about having a "girlfriend spirit" versus a "wife spirit" and Ci's co-sign placed blame solely on women, instead of pointing out men don't always step up to the plate.  In another clip that she didn't share, the pastor did address those men as well.  As many women have said though, that rhetoric isn't shared as much as berating single women for seemingly doing everything wrong.  Even when they are doing everything "right".
It's also important to note that not all single women desire marriage, so the pastor's message may have come off a bit judgmental and over-generalizing to some.
Nobody should settle for less, which seemed to be the gist of Ciara's message.  Lord knows we applaud her for that epic upgrade - she wanted marriage and luckily found a man who actually showed he was serious about wanting the same.  But framing the "don't settle" message can be a tricky one, as Ciara has learned.
Folks - both married and not - took to social media on both sides: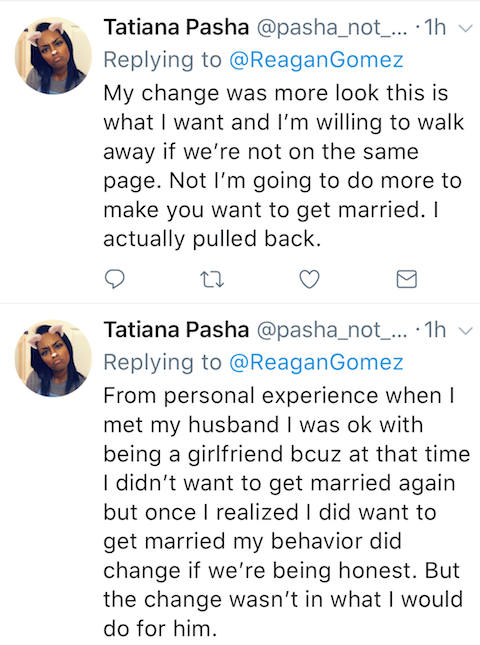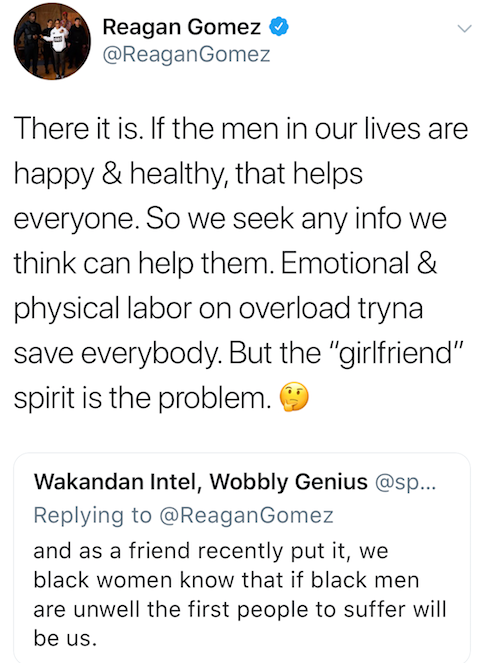 This whole thread is worth the read:
I dislike the video that Ciara posted on her page. A pastor talking about "too many women want to be married but are still walking in the spirit of girlfriend"

— Kelechi Okafor (@kelechnekoff) January 20, 2018
Others interpreted her co-sign differently: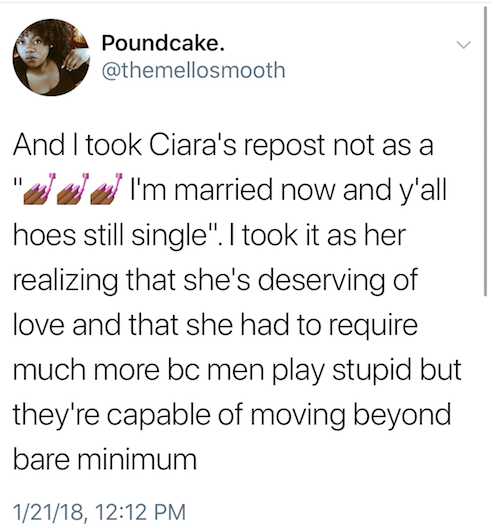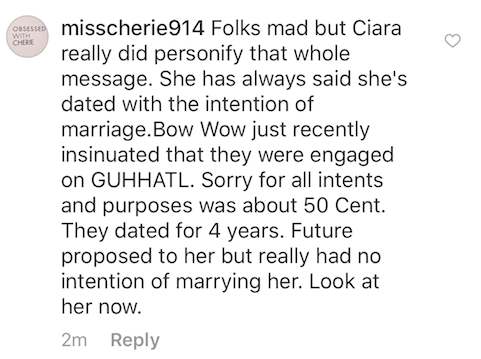 We think this about sums it up:
There are plenty of women who believe they've chosen wisely because men can often present themselves as one thing but turn out to be another.  Ciara admit, though, that she chose incorrectly in the past because she wasn't looking for the right thing. 
After the backlash led her to become a trending topic today, the "Promise" singer wrote a follow up message to clear the air:
— Ciara (@ciara) January 21, 2018
So there you have it.
By the way:
Make sense on social media. Great Job

— FUTURE/FREEBANDZ (@1future) January 22, 2018
Future need not even try it if he was trying to throw subtle shade.
Photos: Ciara's Twitter