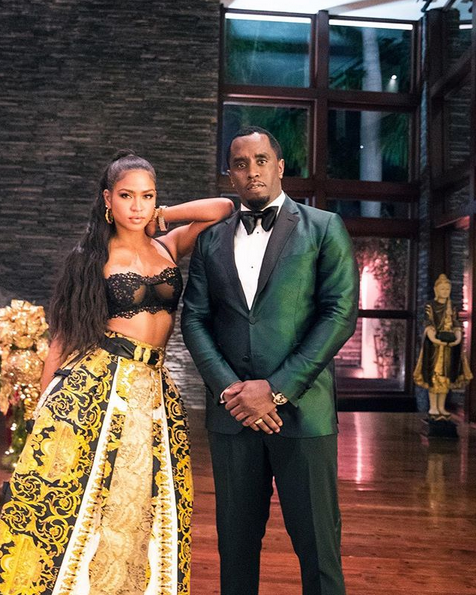 Diddy talks about wanting more kids with Cassie, a 4-hour engagement he was able to get out of and he responds to 50 Cent's shade in a new interview. Get the highlights, plus find out what Lamar Odom said about his ex-wife Khloe Kardashian that pissed off her family inside…
Diddy wants more kids? He sure does and he wants his girlfriend Cassie to have them.
In a new interview with Power 105's "The Breakfast Club," the Hip Hop mogul, who (jokingly) likes to be called 'Love' now, opened up about wanting more kids. The 48-year-old is already a dad to six kids, but he would like to add a few more to his "tribe."
"Without a doubt, I love children," he said. "I could go to eight without a problem. Can't stop, won't stop. Whatever is supposed to happen in the future is going to happen, but that's something that I want."
That means his longtime girlfriend Cassie, 31, will need to push out two kids to satisfy his desire. Wouldn't be a shock if she went that route in a few years, TBH.
"I would only have it with my girl, of course," he confirmed.
However, he's not ready to be a granddad. He said he talked to his son Christian Combs and his girlfriend about how to prevent that from happening. Ha!
During his last interview with "The Breakfast Club," the Sean Jean honcho mentioned his relationship with Cassie was a 70/30 type situation. He definitely received backlash from women. Cassie clearly wasn't having that ish either.
"I tried it, the 70/30. I'm on the 90/10 now. That was a bad day. Something that shouldn't have come out my mouth."
Bloop.
Speaking of relationships, he revealed he was engaged before…for only 4 hours! He said one of his ex-girlfriends proposed to him while they were in Vegas. She had a ring and everything and he said yes. (Where they do that at?!)
So, how did he get out of it? The next day, he just acted as if it never happened. Eventually she brought it up again and he told her they should just wait awhile.
Diddy isn't spilling the tea on who it was though.
"I can't tell y'all which girlfriend but it definitely happened. I'm talking about in the past. This didn't happen right now, you just assumed it was Cassie."
Hmm…who do y'all think it is? We have our guess.........
Being a father of six, having three mothers of his children (Misa Hylton, Kimberly Porter and Sarah Chapman) and a serious girlfriend, it was rocky in the beginning. These days, everyone gets along great. He said he got everyone together for a meeting to hash out all of their issues and didn't happen until this year. That would explain why everybody's been vacaying together lately.
"You have to take care of everybody. If everybody is happy and you taking care of them and you respecting them, you can have a meeting like I had. I had a 'Can we all just get along?' meeting. It'd be better for all of us."
"That probably just happened this year, with everybody, with the whole squad. "You have to start to treat your family like a tribe if you have other mothers of your children. The separatism starts to wear on the family as a whole. We all in it together. So, we might as well figure out how to co-exist, and they get along lovely."
"Everything is good. They're good people and Cassie is a great woman."
So that's how he makes it work.
Switching gears, Diddy also addressed those homophobic comments 50 Cent made about him when he last stopped by the show. Diddy admitted he offered to take 50 shopping because he felt he needed some clothes. He said he's a nice guy and has no beef with Fif. He just wanted to take him to get some new clothes (low key shade).
"I don't have no beef with Fif. He loves me. Y'all can't see it? You know he loves me. I would never say nothing negative about him. That's just not like me."
Also, Diddy cleared up that rumor that he gave the young, black H&M model a $1 million modeling contract: "That wasn't real. It ain't that much modeling in the world. It didn't happen," he said.
Peep his full interview below where he revealed how he and Drake became cool again after their altercation, whether he paid Joe Budden $5 million to join Revolt and more.
In another interview...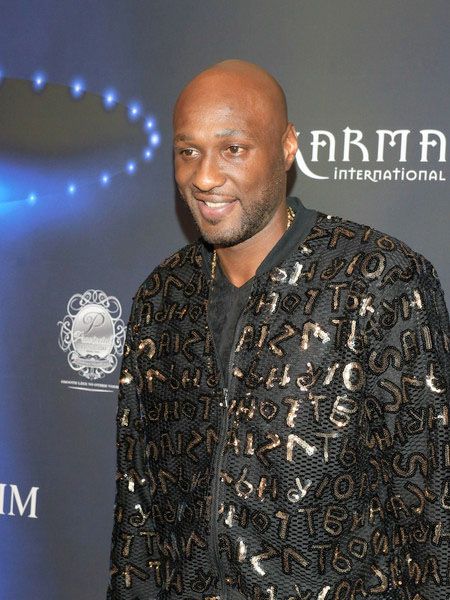 Lamar Odom made some (valid) comments about his ex-wife Khloe Kardashian and has pissed off the Kardashian Klan. Again.
In a sneak peek of his appearance on BET's "Mancave," Lamar addressed his ex-wife's dating life after they called it quits.
"I still got my shawty's name still on me — I mean, her initials still on me," he said about his tattoo of Khloé's initials. "For no reason."

"I understand when it's over, it's over. When she was with her second or third NBA ball player, I could see that."
The m-f'ing SHADE.
Since breaking up with Lamar and before the divorce was finalized, the reality star, who's currently pregnant with her first child, has been romantically linked to NBA baller James Harden, former NBA star Rick Fox (they just went on a date), MLB player Matt Kemp and her current boyfriend/NBA player Tristan Thompson. Not to mention, she was also in a relationship with rapper French Montana.
Well, Khloe's sister Kim Kardashian West, who welcomed herthird child recently, had time and clapped back at Lamar for making it seem like Khloe had a ho-fax: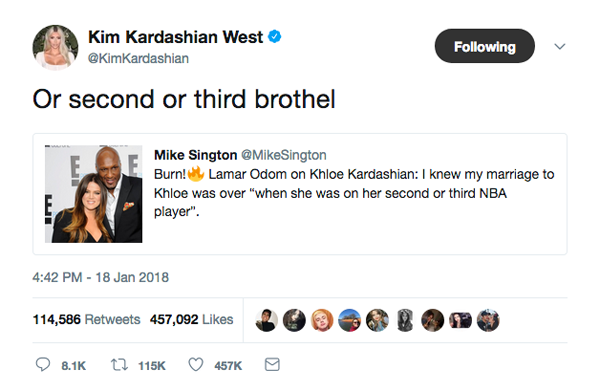 Damn. That was harsh considering he almost died from a drug overdose in a brothel.

But chick told no lies....
Photos: Diddy's IG/Getty