Can you dig it? We can! Trevor Jackson and Jason Mitchell have been tapped to star in the upcoming Superfly remake. In other big screen news, Pam Grier is currently working on her own biopic. Everything inside…
Groovy!
A remake of the classic 1972 hood classic Superfly is in the works and it's starring two YBF actors who are currently killing it in Hollywood.
Trevor Jackson ("Grown-ish," Burning Sands) and Jason Mitchell ("The Chi," Straight Outta Compton) will be the lead stars in the upcoming Supferfly remake that will be helmed by famed music video director Director X.
Trevor will star as Youngblood Priest, a suave New York City drug dealer who wants to do one last drug deal before he gets out of the game. Jason will co-star as Eddie, Priest's reluctant friend.
Lex Scott Davis (who played Toni Braxton in her LIFETIME biopic) will play Georgia, "Narcos" starlet Andrea Londo has been tapped to play Cynthia, "White Famous" star Jacob Ming-Trent will play Fat Freddy, and actor Omar Chapparo will star as Adalberto. It's also reported rapper 21 Savage will join the Superfly remix in some capacity.
"When I went back and watched the original, I was struck by how relevant the themes are," said Director X. "The pursuit of the American Dream is eternal – everyone's always on the hustle, because you've got to be… and Superfly is about pulling off the ultimate hustle to get out of the game. Our goal is to make it modern – to make a movie where the style, the art direction, the camera movements are all part of what makes the movie Superfly. With this film, my goal is to honor the lineage of an iconic title that the community has loved for decades."

He continued, "I want to honor it in a way that shows a new generation how black culture continues to be a catalyst for new trends in every area, from fashion to music. I'm also excited to be working with Future, both on the music and as a producer of the film – the original soundtrack is legendary, and that's an inspiration for the artists that Future is working with to bring a singular modern musical vision to the film."
Soundtracks are just as important as the movie in most cases, and the Superfly reboot has picked up a rapper who is hot in these music streets. Future has signed on to produce alongside Joel Silver. The screenplay will be written by Alex Tse.
Steven R. Shore, son of the original film's producer Sig Shore, will serve as an executive producer alongside Matthew Hirsch, Hal Sadoff and Aaron Auch.
Are you here for it?
Speaking of movies...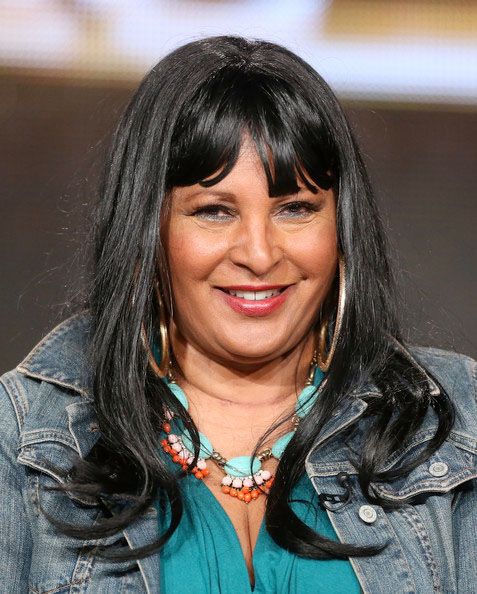 Pam Grier, a screen icon of the 70s, is gearing up to put her live on the big screen.
The Foxy Brown actress has tapped comedian Jay Pharoah to play her ex-boyfriend Richard Pryor in her biopic, tentatively titled Pam.
Pam will shed light on various romantic relationships she had (detailed in her memoir) with comedic icon Richard Pryor, NBA legend Kareem Adbul-Jabbar and actor/comedian Freddie Prinze.
Deadline reports:
Grier met Pharoah when they were recording voices for the video game Infinity Wars. "I watched him and heard his voice and closed my eyes and said, 'It's Richard,'" she recalled. Said Pharoah, the former Saturday Night Live star who just toplined the Showtime series White Famous, "The story is heartbreaking, raw, honest and beautiful, all rolled into one testimony."
Like many Hollywood starlets, Pam also was a victim of sexual assault during her rise to the top. And even before she made it to Hollywood, she was raped as a child and while she was attending college.
As she first revealed in her book, Grier was raped at age 6 by two older boys, and again in college. It nearly happened a third time – she didn't include that assault in the book because her publisher felt it was too much, she said – when "I fought off a 300-pound retired football player, a family friend who was supposed to come out to mentor me. I suffered scratches, abrasions, everything, but I beat the shit out out him with furniture and walked away from it."

There is a disturbing tale in her book about a time she was invited to Sammy Davis Jr's house where, in front of his wife Altovise, the singer became so aggressive in his attempt to bed Grier that she had to enlist Liza Minnelli and her husband Jack Haley Jr to drive her away from the estate while she hid in the back seat. But surprisingly, most of the pain caused by men took place far from Hollywood, and the heightened awareness probably kept her away from meetings scheduled with moguls at hotels, where numerous actresses allegedly fell prey to the Weinsteins of the world and subsequently were pressured to remain quiet.
You can read the rest of her interview with Deadline where she talks about her strained relationships, helping Richard with his drug addiction and more here.
No word yet when Pam will hit theaters, but we'll keep you posted.
Photos: Getty