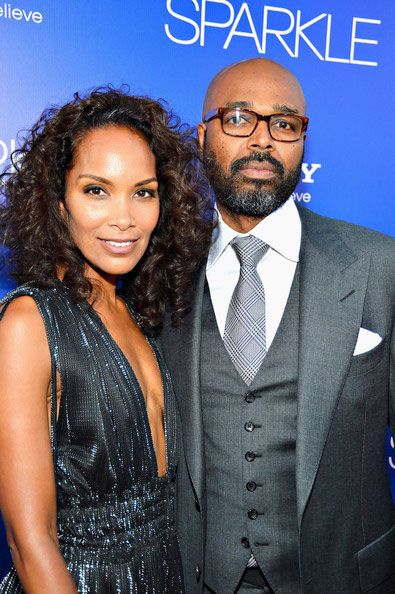 Mara Brock Akil and her husband Salim Akil just added a few actors to star in their upcoming OWN show "Love Is _." Meanwhile, they're superhero series "Black Lightning' was welcomed with suburb ratings. Everything inside…
Mara Brock Akil and her husband Salim Akil's "Love Is _" romantic dramedy is shaping up.
The OWN series just added 5 new series regulars to help tell the story about a power couple who's working to navigate Black Hollywood. The new series is inspired their own relationship, so we expect this one to be extra good. Not that their other projects aren't exceptional. Y'all know what we mean.
Idara Victor, Tyrone Brown, Kadeem Hardison, Lana Young and Yootha Wong-Loi-Sing will join previously announced series leads Michele Weaver, who plays Nuri, and Will Catlett, who plays Yasir.
The husband and wife power duo will serve as executive producers with Mara as showrunner and she's writing the pilot.. Akil Productions will produce in association with Warner Horizon Scripted Television. The passion project had originally been picked up by ABC, but since the script never made it to production, it was reworked for Oprah's network.
Variety breaks down each new character's role in the series:
Idara Victor has been cast in the role of Angela. A member of the same writing staff as Nuri, Angela doesn't always agree with everything Nuri says, mainly because she is a disgruntled drama writer stuck in a comedy she doesn't believe in. Victor has appeared on shows like "Law & Order," "Grey's Anatomy," and "Mad Men." She was also a series regular on the TNT series "Rizzoli & Isles" and recurred on all four seasons of AMC's "TURN: Washington's Spies."

Tyrone Brown has been cast in the role of Sean. Sean possesses great taste and has a lot of opinions, but he lacks follow-through. He was the first one to spot Nuri as a catch and uses his best friend, Yasir, as a wingman to meet her. A year later, when he and Yasir cross paths with Nuri again, Sean is in a relationship and has a child with Camille, giving Yasir the opportunity to pursue Nuri. Brown has appeared on shows such as "Bull," "Chicago PD," and "The Affair." he is repped by Innovative Artists and MKSD Talent Management.

Kadeem Hardison has been cast in the role of Norman. The executive producer of "Marvin," Norman is a tough boss who is hard to impress and even harder to amuse. As the play-cousin to the star of the show, he's under a lot of pressure, and he takes his frustrations out on his room of writers, pressing them all to dig a lot deeper into themselves before they're all fired and replaced. Hardison has appeared on shows such as "Between Brothers," "House M.D.," "Abby," "Just For Kicks," "Girlfriends," and "Everybody Hates Chris."

Yootha Wong-Loi-Sing has been cast in the role of Ruby. Ruby is Yasir's on-and-off girlfriend; they came to L.A. to chase their dreams, but hers are idling and Yasir's never got any traction. Worn out, she's acerbic and moody and fed up that Yasir still does not have a job. She winds up gently set aside when Yasir pairs off (for life) with Nuri. Sing is a Dutch actress and played lead roles on the big screen in the Dutch horror thriller "Sneekweek" and the comedy "Alles Voor Elkaar."

Lana Young has been cast in the role of Nuri in the year 2027. Nuri is first seen in 2027, in her 50s, relaxed, happy, and comfortable in her life and her 32-year marriage to Yasir. She has appeared in the recurring roles of Mrs. Douglas in "The Vampire Diaries," Dr. Jacinta Butler in OWN's "Greenleaf," and Gloria Ruiz in "The Inspectors."
Sounds interesting.
Love Is ___ these two. Creators & Executive Producer @MaraBrockAkil and @thesalimakil bring their inspired-by true love story to @OWNTV this summer. pic.twitter.com/XWUYbs9fOM

— Love Is ___ (@LoveIsOWN) January 17, 2018
"Love Is _" premieres this summer on OWN.
Speaking of new series and things...
He's back. #BlackLightning#GetLitpic.twitter.com/CPjqkvwV1M

— Black Lightning (@blacklightning) January 17, 2018
Mara and Salim's new series "Black Lightning" is doing very well on the CW Network.  And we'd expect nothing less from
The black family superhero series, created by from Greg Berlanti, Salim and Mara Brock Akil, made a splash on Tuesday nights as it raked in strong 0.8 rating among adults 18-49 and 2.3 million viewers, according to The Hollywood Reporter. Woot!
It's the network's first series with a black lead actor and it ranks as the highest-rated premiere in two years. Kill it!
The show follows metahuman Jefferson Pierce (played by Cress Williams) who stopped fighting crime for nearly a decade until he's forced to suit up in order to protect his two daughters.
Be sure to catch all of the episodes on Tuesdays at 9/8c on the CW Network.
EXTRAS:
1. FOX has renewed "911," featuring Angela Bassett, for season 2. https://www.hollywoodreporter.com/live-feed/ryan-murphys-911-scores-earl... ">STORY
2. We'll be seeing more of Bevy Smith on "Page Six" as it has been renewed for a 2nd season. STORY
3.  Kevin Durant is making content moves on Youtube. STORY
Photo: Getty