DJ Khaled has some exciting projects coming down the pipeline in 2018. Catch with his major keys, plus rapper NBA Youngboy proves why he goes by the moniker "youngboy." Get it all inside...
Khaled is gearing up to give aspiring singers and rapper a chance at making it big on his new show "The Four," he just copped a deal with Weight Watchers and he was gifted a custom Gucci jacket courtesy of Gucci's new partner Dapper Dan.
Today, the Miami producer made his way to daytime television with his homie/co-judge Diddy, judges Meghan Trainor, Charlie Walk and host Fergie to promote their brand new singing competition show, "The Four: Battle for Stardom." It was a task getting Diddy and Khaled on the show following the music mogul's extra lit NYE party, but they made it.
The show will start with four performers/finalists who will fight to keep their spot on stage as they're challenged by newcomers who try to knock them out the line up and replace them.
Khaled said he's most excited to have a chance to change people's lives and he urged fans to watch out for his son Asahd Khaled appearing on the show and several surprises.
Peep the clip below:
Khaled and crew also played "Never Have I Ever," and it was hilar. Check it:
In other Khaled news...
PART 5. MAJOR KEY ALERT!!! In full 2018 mode...excited to be living this #WWFreestyle life with you. Down 20 pounds and ready for more. Come with me on my journey to greatness. Bless up Weight Watchers!!! #2018secured@WeightWatcherspic.twitter.com/xaKHpzX5cv

— DJ KHALED (@djkhaled) January 1, 2018
With the new year, comes New Year's resolutions and Khaled is looking to drop some pounds to kick off the new year. He has teamed up with Weight Watchers to do their "Freestyle" program on his journey to a healthier lifestyle. Fans will get to follow the 42-year-old's journey on social media as he has been dubbed the social media ambassador for Weight Watchers. How appropriate. And get this, he's already 20 pounds down. Woot! Peep the announcement above.
Oprah even welcomed him to the WW family:
.@djkhaled Welcome to #WWFreestyle. Can't wait to see you #blessup this program

— Oprah Winfrey (@Oprah) January 2, 2018
Nice!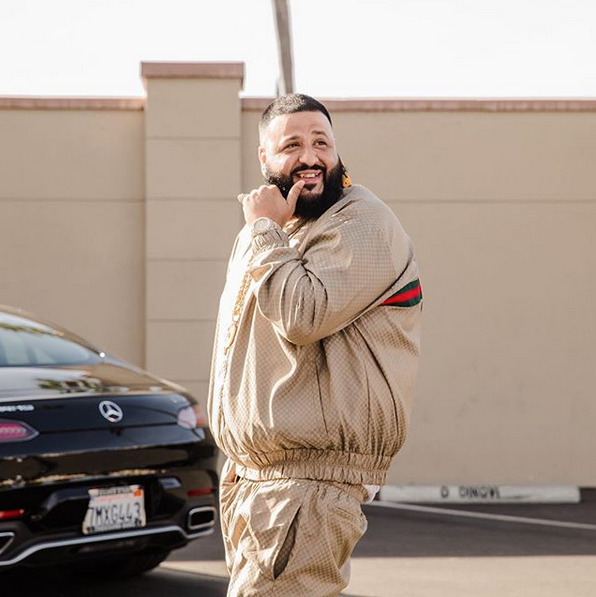 After controversy arose when Gucci literally swiped a Dapper Don-style jacket for their runway show, a new collaboration between the luxury brand and Dapper Don was formed.
Now that the dust has settled, Don is bringing back his old designs with Gucci. He created a custom jacket and pants for Khaled and you KNOW he had to show it off to the masses. Check it below:
2018 is looking #blessed for Khaled.
In foolywang material...
So, social media was buzzing when pics and videos of rapper NBA Youngboy's girlfriend, Jania, sleeping in a hotel lobby surfaced. Don't know who he is?  We just found out ourselves.  But just roll with the story because they had the internet in a whole tizzy...
Word on the curb was that he kicked her out of their hotel room so he could sleep with another woman. It was even said the other woman was his baby mama who often travels with him and his girlfriend.
Chile...
Well, now the young Louisiana rapper is responding to the drama saying he did NOT put her out of his hotel room. He said the reason she left is because she didn't want to sleep with him. Hmm…we guess. Peep his explanation above.
Who knows what really happened. But THIS actually happened a few months ago:
NBA Youngboy & his girlfriend pic.twitter.com/S6ZT9Zk5e8

— RapSpotlights (@RapSpotlightss) January 3, 2018
The rapper had his current girlfriend and baby's mother in a hotel room together and was being mad disrespectful. Peep the clip (if you can stand it) above.
She was then spotted outside with plenty of Louis Vuitton bags from a shopping spree he took her on the next day. We guess he made up for the foolishness in her eyes. Here's to hoping this young lady finds a better way....
Photos: Khaled's IG