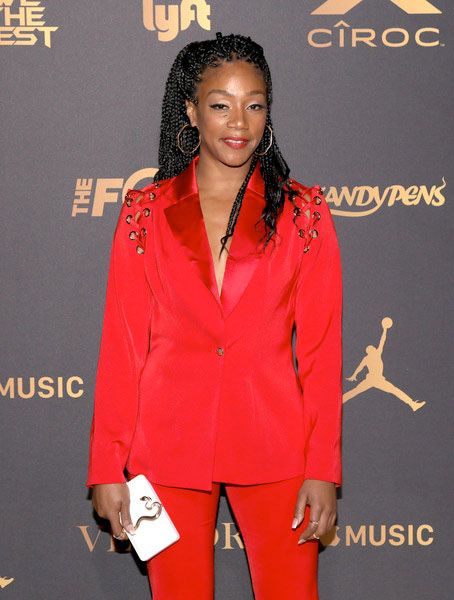 The details in a restraining order Tiffany Haddish filed against her now ex-husband William Stewart have leaked. Get the deets inside…
There's talk about Tiffany Haddish's domestic violence claims in her recently released memoir, The Last Black Unicorn, after she publicly said some of the stories were "tweaked" for a better read.
The Girls Trip star has been vocal about being abused in her past relationships and she detailed the assaulted she allegedly endured while married to her now ex-husband Williams Stewart. Yet, she came out and said not everything that was in the final release of her memoir was 100% true.
But, details from a restraining order she filed against her ex-husband have come to light. And it's bad. RadarOnline got their hands on the restraining order which they report Tiffany filed in July 2011 to the Los Angeles Superior Court.
There are two accounts Tiffany recalls in the documents. One where he chocked her in Montreal where she was performing and another when he choked and body slammed her.
The site reports:
Haddish claimed Stewart attacked her In July 2010 in Montreal, where she was performing with fellow comedians.

"We were in Montreal, Canada, when he choked me in the stairway of the hotel," Haddish alleged in the filing. "I ran away from him. I ran because he was trying to make me stay in the room. But I wanted to stay in the lobby and talk to my fellow comedians." When she was asked if any weapons were used in this incident, Haddish referred to Stewart's "very strong hands." She described bruises on her neck from the altercation.

The star detailed another incident that took place that month when Stewart "choked" her, and she tried to punch him to "make him stop."

"He ran after me and took me down to the ground," she claimed. " I got free and then he got me again. I could not get out or yell for help because he was sitting on me."

In June 2011, Haddish described another domestic violence dispute where she endured a "black eye, bruised neck, elbow, and back."

"He body slammed me and choked me — threw me up against a wall," Haddish claimed. Cops were called during the incident. Haddish was granted a temporary restraining order, but later dropped it to work out her marriage. Two years later, she divorced Stewart for good.
However, William denies ever hitting her or even calling her out of her name. He did a radio interview recently saying the stories in her book about him abusing her are lies. Even Tiffany said some of the stories were "tweaked," but she never disclosed WHICH stories were changed for a better read. She did say she recorded what REALLY happened while doing the voice over for the audio book. So, ywe guess you'll have to cop her audio book for the real deal.
Things that make you go hmm….
Photo: Getty