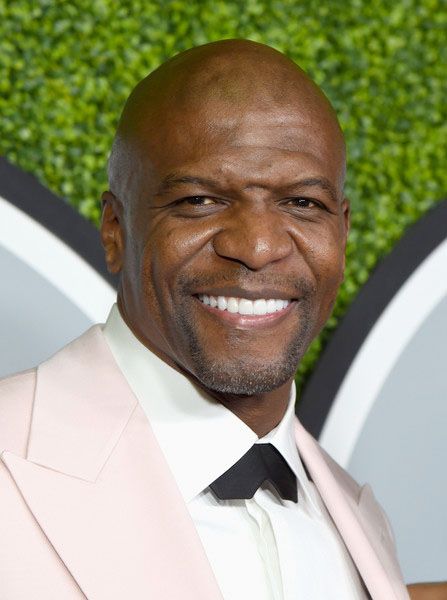 There may be reason to believe people are watching Terry Crews and his family following his sexual assault lawsuit!  He revealed his life could be in danger. Read the eerie tweets inside…
Terry Crews believes someone may be watching him and his family after he came forward about being sexually assaulted by a Hollywood exec.  Not just watching him, but borderline stalking!  Now, he feels they all may be in danger for their lives.
Earlier this month, the "Brooklyn Nine-Nine" actor pulled the trigger on a lawsuit against his former agency, WME, and the former head of the agency, Adam Venit, for sexual assault. Terry claims Adam allegedly grabbed his genitals during a party in February 2016. According to reports, Adam has since apologized and Terry sat down with WME co-boss Ari Emanuel last month. Adam Venit was put on a 30-day suspension and came back to work in a diminished capacity on November 27th. By the way, he's now being represented by UTA.
Now, the 49-year-old actor is fearing for his safety and the safety of his family. In series of tweets, he tells his Twitter followers that he believes he and his family are being "tracked and possibly bugged." He believes his computer has been hacked and said the LAPD told him "these people don't play fair."
He also dropped a nugget about Russell Simmons, who's currently involved in a major sexual assault scandal himself and is currently being investigated.   He said he believes he was pressured to by WME to ask him to give Adam a "pass." 
It would be interesting if there was a link between Russell not getting Terry to drop the story and Russell's own sexual assault and rape allegations coming to light.
Peep the tweets:
My assailant Adam Venit is the founding partner at @WME, a corporation worth over $8 billion.

I believe my family is being tracked and possibly bugged.

(Cont'd)

— terrycrews (@terrycrews) December 16, 2017
I also believe @unclerush was asked to pressure me into dropping my case by @WME execs. Somehow they thought he was the "King of Black people".

Someone hacked into the computer my son and I built together. I have to shut it down and replace the hard drive.
(Cont'd/2) https://t.co/HHcwBN4RH6

— terrycrews (@terrycrews) December 16, 2017
LAPD task force detectives let me know these people don't play fair. There are a lot of secrets to protect, and they will do anything to keep them.

The town is compromised. But me, and my team, are not.

If I were to have a timely "accident" — you know where to look.

(Cont'd/4) https://t.co/Hz1btFZC8r

— terrycrews (@terrycrews) December 16, 2017
@WME general counsel Seth Krauss surreptitiously brought up my wife's name to my former attorney re: my case.@TMZ met me and my wife at the as we left the airport, then mysteriously edited out my comments about how they collude with the studios and agencies.

(Cont'd/) https://t.co/kdtSLBJZGD

— terrycrews (@terrycrews) December 16, 2017
Retaliation in some form is expected- I would be naive to think otherwise...

But vulnerability and openness is actually my best protection.

I'm ready.

(End) https://t.co/tWzsVWzt0m

— terrycrews (@terrycrews) December 16, 2017
We're sure "white media" will try to spin this and say he's crazy, but we believe everything he's saying. Let's keep Terry and his family in our prayers that they remain safe and unharmed. Hollywood definitely has a dark side.
Protect Terry Crews & fam at all costs!
Photo: Getty